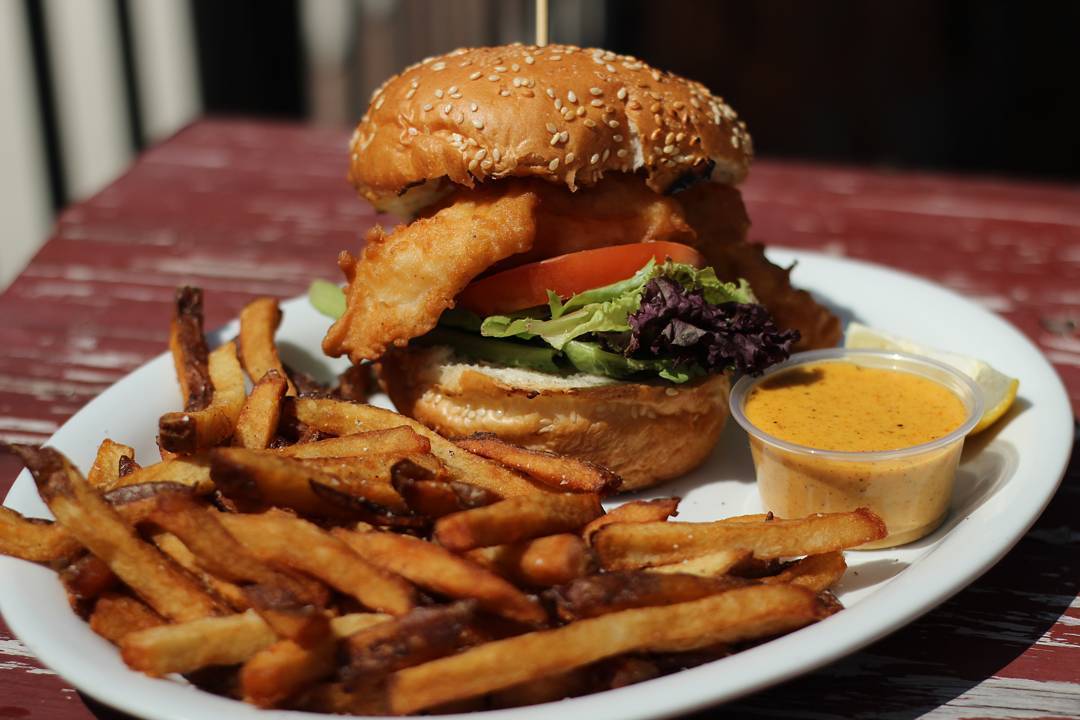 Fishnet
OPEN
Fishnet: Summer temperatures always tend to put us in the mood for seafood, and this new destination inside Mount Vernon Marketplace has everything you need to quell your cravings. The College Park staple recently debuted its second location inside the food hall, and its hosting an official grand opening party on July 12 from 4-7 p.m. to celebrate. The menu offers locally caught fish dishes including fried salmon croquettes, tempura-battered catfish and chips, and Baja fish wraps with citrus slaw and garlic sour cream. There are also nods to chef/owner Ferhat Yalçin's upbringing in Istanbul, where fisherman grill their catch and make it into a sandwich within minutes of pulling it from the sea. Yalçin's versions of the delicacy—called "Balik Ekmek" in Turkish—include a Faroe Island-grilled salmon sandwich and a local catfish version topped with baby greens and tomatoes.
COMING SOON
Walker's Tap & Table: Downtown diners (and Hippodrome theatregoers) may remember chef Chad Wells' innovative dishes at Alewife. During his six-year stint at the now-closed beer bar, Wells became known for his wild boar sliders and pork belly mac-and- cheese fries—which were featured on Guy Fieri's Diners, Drive-Ins, and Dives. He later moved on to work with the Columbia-based Victoria Restaurant Group, and now, Wells is attached to a new project in his native Howard County. He's set to head up the kitchen at Walker's Tap & Table, a seasonal spot slated to open this fall. The menu will feature farm-to-fork fare and scratch-made pizzas fired in the restaurant's own brick oven. The eatery joins newer concepts including The Turn House and The Brewer's Art Tavern in the Howard County dining scene.
NEWS
Ekiben Gives Back: We'd be remiss without giving a shout out to the food scene's favorite steamed bun superheroes this week. Ekiben owners Steve Chu and Ephrem Abebe recently set up shop at the abandoned Old Town Mall in East Baltimore to serve free Neighborhood Bird sandwiches (Taiwanese curry fried chicken thigh topped with spicy sambal mayo, pickles, and fresh herbs) to those in need, as well as passersby. The goodwill initiative is one of many that the Korean fusion restaurant has organized to bolster its mission of giving back to the community. One recent effort has included running a pop-up with Cocina Luchadoras' Rosalyn Vera after she was the victim of a hate crime.
Sundays Makes its Return: Two years ago, fans of Dooby's in Mt. Vernon were delighted to learn that owner Phil Han would be opening a doughnut spinoff inside Cross Street Market in Federal Hill. Though the pop-up stall was short lived (it closed after the renovation efforts at the market began), it made its marks with chocolate-topped Berger Cookie and New York bagel-flavored doughnuts. This weekend, Sundays is making its return with a one-day pop-up at Han's Fat Tiger bar in Broadway Market. Starting at 9 a.m. on Saturday, July 13, the team will serve Boston Cream, Coconut Espresso, and Blueberry Ginger Meringue doughnuts until sell out. Pair the fried favorites with Fat Tiger's signature coffee drinks and egg sandwiches for a fulfilling—and filling—mid-morning meal.
EPICUREAN EVENTS
7/14: Bastille Day at Petit Louis Bistro

There's no better place to celebrate France's Fourth of July than this Roland Park French bistro. At Petit Louis' annual bash, enjoy wine, cheese, live music, commemorative t-shirts, and plenty of berets and mustaches to go around. Tickets are $49 and include the special menu, as well as two drinks.
7/14: No-Fun Brunch

Don't let the name deter you. This booze-free, plant-based brunch is designed for families to enjoy something a little more holistic on their Sunday off. Head to Vent Coffee Roasters to enjoy CBD-infused coffee and health-focused drinks from Baltimore's own "health-tender" Amie Ward. Of course, there will also be a full-blown brunch menu to pair with the drinks. Chefs from Tom Cat's Kitchen will prepare vegan dishes such as jackfruit-and-potato hash, Wisconsin grits with crispy onions, watermelon salad with marinated tofu, and maple plantains.
TO 7/31: Crustacean Invasion at Mt. Washington Tavern
To commemorate Maryland's signature summer dish, this Mt. Washington haunt has created an entire crab-inspired menu running through July. The à la carte list includes a crab and avocado stack, a crabmeat grilled cheese, classic Chicken Chesapeake, crab imperial, and a crab and parmesan-crusted rockfish filet. Grab a drink and head up to the top-level bar to get the full summer experience.