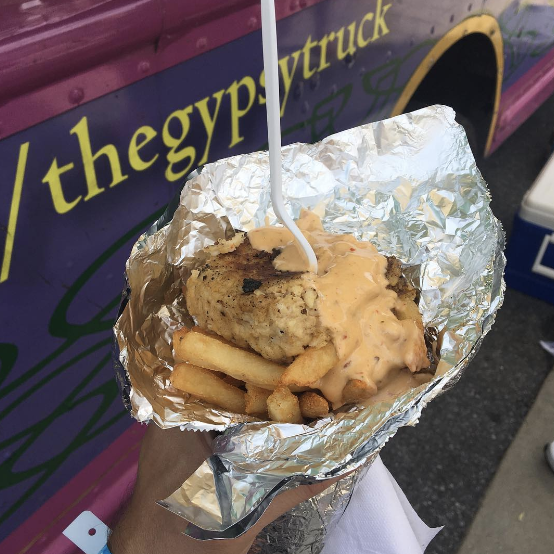 @eatmorebaltimore via Instagram
OPEN
Gypsy's Truckstaurant: Diners no longer have to track down the Gypsy Queen food truck to sample its signature wraps, gyros, and crab cake-topped French fries. After months of delays, the owners have officially opened their new "truckstaurant" tucked off of Clipper Mill Road in Hampden. The hybrid concept uses a large food truck kitchen outside to prepare the dishes that are served in the 90-seat dining room—which boasts a large bar, strung lights, and vintage decor. There's also a greenery-filled patio equipped with a Ping Pong table and plenty of outdoor seating. Menu options include staples from the truck, as well as old favorites from the former Helen's Garden Restaurant that owners Annmarie Langton and Tom Looney operated in Canton for 15 years. Be on the lookout for internationally influenced eats including San Diego-style fish tacos, Persian mango and feta salad, and a Korean kimchi burger. 3515 Clipper Mill Road. 443-869-5602
COMING SOON
Fadensonnen: This fall, Old Goucher will welcome Socle—an innovative food and beverage complex from the team behind W.C. Harlan and Clavel. Aside from housing Sophomore Coffee and farm-to-fork cafe Larder, the revamped old carriage house will also be home to Fadensonnen, a bar featuring draft beers, natural wine, and wild ciders that opens up to a 148-seat open air courtyard. Named after a German poem penned by author Paul Celan in 1968, the biergarten will also boast its own "wine cave" bottle shop and an intimate bar upstairs specializing in all-natural wine and nihonshu (Japanese sake). While the cafe and coffee shop aren't expected to debut until December, Fadensonnen is readying for a grand opening next month. 2223 Maryland Ave.
Nepenthe Brewing Co.: With a newly painted facade by local artist Kelly Walker of Artstar Baltimore, husband-and-wife team Brian Arnold and Jill Antos—along with partner Brendan Kirlin—are now one step closer to opening their expanded homebrew shop and taproom on Falls Road in Hampden. After their former supply shop in Woodberry's Meadow Mill complex was flooded twice, the owners decided to move to a larger space on higher ground. The new digs will not only provide retail space for all of Nepenthe's signature beer-making kits and supplies, but also include a full kitchen, taproom, and on-site brewing facility. A grand opening is slated for this fall. 3626 Falls Rd.
EPICUREAN EVENTS
10/13-14: Oysterfest 12
For two days, East Cross Street in Federal Hill is transforming into an oyster-lover's paradise with raw bars, buck-a-shuck tasting tents, and plenty of seafood specialties to go around. The 12th annual festival hosted by Ryleigh's Oyster will feature classic crab cakes, pit beef sandwiches, whole-smoked fish, and, of course, more than 10 varieties of local oysters served raw and grilled. A jam-packed lineup of local bands will provide the soundtrack for the weekend, which will highlight the eighth annual Baltimore Oyster Shucking Championship on Saturday at 3:30 p.m. 36 E. Cross St. 12-7 p.m., $12-40.
10/16: Smoke Turns 3
Hard to believe that it's been three years since chef Josh White first introduced us to his smoked chicken wings, "Boss Dawg" sandwiches (pulled pork, bacon, slaw, and crispy onions), and catchy odes to his dishes set to the tunes of popular rock songs. This Tuesday, the Cockeysville barbecue joint is celebrating its big birthday in style with an all-day rager. Stop in for specials like $3 coffees and deals on three of the restaurant's "greatest hits" from its run. 574 Cranbrook Rd., Cockeysville. 410-891-8515
SHUT
Baltimore Soup Co.: The South Baltimore location of this homegrown cafe shuttered its doors unexpectedly last week. A sign posted to the door notified customers that the eatery was "busier than expected and sold out of soup." But owners David and Lisa Redmond confirmed to SouthBMore.com later in the week that they had closed the shop for good after only nine months. "We had a good run and loved our guests who supported us, but there just weren't enough to make it work," they said. Luckily, the Towson location is still going strong, serving the cafe's daily rotation of scratch-made soups including Maryland crab, chicken pot pie, sweet potato vegetable, and broccoli cheddar. 2 E. Wells St.
The Nickel Taphouse: Mt. Washington diners are already mourning the loss of the famous beef on weck sandwiches at this neighborhood haunt, which officially closed its doors earlier this week. Owner Robbin Haas took to Facebook to confirm the closure, stating that the team had "made the difficult decision to utilize our resources toward our Baltimore sister locations Birroteca and Encantada. Both of these locations offer more space, as well as private party areas." Since 2013, the Nickel served as a community gathering spot for burgers, raw oysters, and other gastropub fare. "We wish our Mt. Washington neighbors the best of luck and look forward to seeing you at our other locations," Haas said. There's no word yet on what will become of the space, which previously housed other restaurant concepts Blue Sage Cafe and Freda's Kitchen. 1604 Kelly Ave.