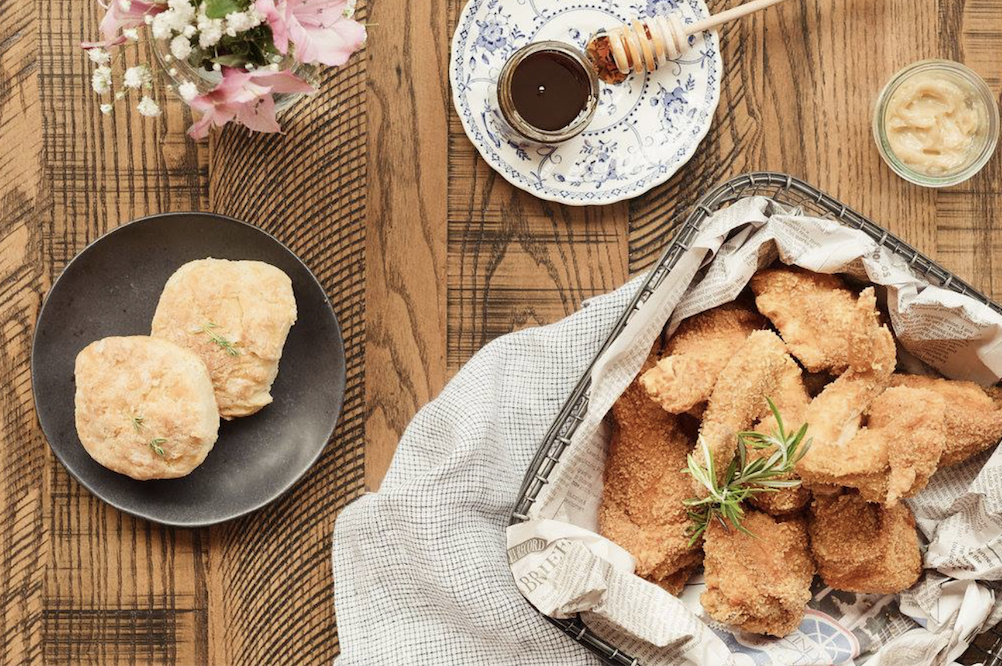 Courtesy of Ida B's Table
COMING SOON
Ida B's Table: Husband-and-wife duo David and Tonya Thomas are going all out to celebrate the grand opening of their new modern soul food spot downtown next month. The restaurant is currently in soft-opening mode, with an official debut scheduled for late-September. The owners plan to introduce the space with a star-studded events lineup including a celebrity cook-off with Hollywood director and Lethal Weapon star Danny Glover on September 22, family-friendly brunch with actress and dancer Maria Broom (The Wire) on September 24, and a special event with culinary author Michael Twitty on September 26.
The restaurant—which is named after pioneering editor Ida B. Wells and underwritten by local journalism nonprofit The Real News Network—will serve Thomas' signature soul food with plates like a catfish Reuben and short ribs in bourbon gravy. It will also highlight a cocktail program spearheaded by Drinkable Genius guru Chelsea Gregoire. 235 Holliday St., 410-844-0444
In Bloom: Speaking of husband-and-wife duos, Kevin Perry and Cecilia Benalcazar are switching things up at Live2Eat, their five-year-old dining destination in Federal Hill. The owners recently joined forces with chef Cyrus Keefer (previously of Birroteca, Alewife, and Fork & Wrench) and Keefer's wife, Angela, to launch a new concept in the Light Street space. Slated to debut at the end of August, In Bloom will feature small plates (think roasted cauliflower and Perry's signature risotto fritters), an in-house pasta program, French bread pizzas, and globally-influenced entrees. 1444 Light St., 443-449-7129
Showroom: Come fall, Station North arts hub Motor House will boast this new café and performance venue. Taking up a 2,800-square-foot space on the building's first floor—which was previously a Ford automobile showroom—the eatery will feature vintage tile floors, bar and table seating for 70, and large windows overlooking North Avenue. With local chef Daniel Horowitz at the helm, the kitchen will churn out dishes including spicy pork-shoulder stew, braised beef short ribs, and hot-pressed sandwiches topped with everything from Texas brisket to Peruvian chicken. In keeping with Motor House's mission, the café will come equipped with its own stage and DJ booth, and feature walls highlighting local artwork. 120 W. North Ave., 410-637-8300
Stanford Kitchen: Soon, Owings Mills locals will no longer need to trek south to get a taste of this swanky steakhouse that operates locations in Columbia and Rockville. Early next year, a smaller spinoff will launch in the 4,200-square-foot space that previously housed Stone's Cove KitBar near the Stevenson University campus off of Owings Mills Boulevard. The restaurant's New American specialties will carry over into the new space, with dishes ranging from wood-fired chicken and pan-roasted cod to New York strip and Eastern Shore crab cakes. 10997 Owings Mills Blvd., Owings Mills
OPEN
DJ's Ice Shack: Big things are happening for Iron Rooster—the Annapolis-based breakfast-all-day brand that set up shop at Canton Crossing in 2015 and opened a spinoff in Cockeysville last year. Not only will the eatery be opening a new location at McHenry Row in Locust Point later this month, but it has also debuted an offshoot ice cream stand across from its restaurant in Canton. Conveniently stationed near the playground at Canton Crossing, the freestanding shack has become a go-to family spot for after-dinner treats. Offerings include ice cream sourced from Trickling Springs Creamery in Mechanicsburg, Pennsylvania, and classic snowball flavors like Tiger's Blood and egg custard with marshmallow. 3721 Boston St.
EPICUREAN EVENTS
TO 8/26: Baltimore Vegan Restaurant Week
There's still time to dig into the dairy-free dishes that local restaurants are trotting out in honor of the first-ever Baltimore Vegan Restaurant Week. Throughout this weekend, more than 30 city spots will continue to run special plant-based prix-fixe menus in conjunction with their regular offerings. Participating spots include The Rowhouse Grille, Luigi's Italian Deli, Joe Squared, Modern Cook Shop, and Cava Mezze.
8/26: The Bubble Room at The Lord Baltimore Hotel
Travel back in time at this 1930s-inspired soiree in The Lord Baltimore Hotel's historic Calvert Ballroom. Dress to the nines (the hotel will provide white gloves for the guys and nosegay bouquets for the ladies) to enjoy live music by Tommy Joy and his 10-piece band, and an a la carte menu with classic cocktails and dinner dishes. Specials of note will include clams casino, Cornish game hen, crab imperial, Baked Alaska, and a traditional Gin Fizz. The Lord Baltimore Hotel, 20 W. Baltimore St., 410-539-8400, 6:30 p.m.
9/14: Dining out for Life
Now in its 24th year, this day-long dining promotion donates a percentage of patron's checks to local meal delivery organization Moveable Feast—which works to feed Marylanders with HIV/AIDS, cancer, and other serious illnesses. More than 50 restaurants scattered from Reservoir Hill to Reisterstown are on board to participate, vowing to contribute 25-50 percent of each check to the cause. 
10/8: The Smoke Show
Mark your calendar for this epic barbecue collaboration between chefs Chad Gauss of The Food Market in Hampden and Josh White of Cockeysville 'cue joint Smoke. The tailgate-style event will feature a menu that fuses the styles of both restaurants, with eats including sliders, ribs, potato skins, tacos, bao buns, and s'mores. There will also be plenty of local beer, wine, cider, and bourbon cocktails to wash down all of the eats. Whitehall Mill, 3300 Clipper Mill Road, 3 p.m., $55
NEWS
Baltimore Whiskey Company: Big changes are on the horizon for The Baltimore Whiskey Company (BWC) in 2018. On the heels of announcing its location in Union Collective next year, the Remington distillery recently leaked the label for its new Epoch Straight Rye Whiskey—which will mark the first on the market distilled in Baltimore in more than 50 years when it debuts in 2018. Luckily, there is plenty of BWC's Charles Street Apple Brandy and Shot Tower Gin (which recently clinched a gold medal at the prestigious San Francisco World Spirits Competition) to hold us over in the meantime. 2800 Sisson St., 443-687-9099
SHUT
PJ's Pub: Johns Hopkins University students and alumni—as well as the Charles Village community at large—are lamenting the loss of this 33-year-old neighborhood sports bar, which closed for good after last call early this morning. Owner Jerry Smith announced his plans to retire in an interview with The Sun earlier this week: "It's time to go to the beach," he said. PJ's was best known as a hangout to tune into college sports while chowing down on tacos, pizza, burgers, and chicken wings. Regulars have taken to Facebook to send well-wishes to Smith, thanking him for the memories and calling him the "Godfather of JHU." 3333 N. Charles St.