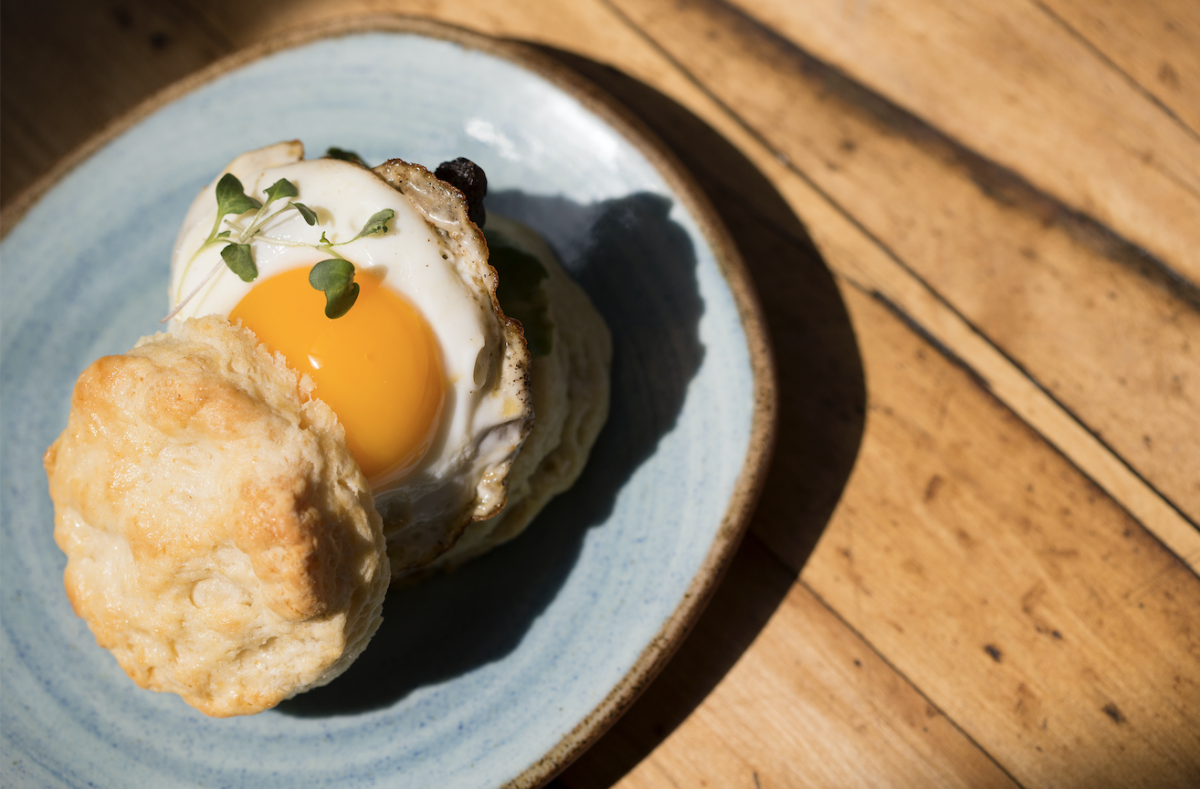 Photography by Jen Rynda
COMING SOON
Ida B's Table: The downtown dining district will soon welcome this new comfort food concept from chef David Thomas, who formerly operated Southern-inspired haunt Herb and Soul in Parkville. Named after pioneering editor and activist Ida B. Wells, the restaurant (which is underwritten by local journalism nonprofit The Real News Network) will serve Thomas' signature soul food with plates like a catfish Reuben and short ribs in bourbon gravy when it opens in July. Other highlights will include a cocktail program spearheaded by Drinkable Genius guru Chelsea Gregoire, an array of morning coffees, and prepared foods to-go during lunch. 235 Holliday St.
Bmore Licks: This yet-to-open ice cream shop will highlight more than 100 handmade flavors when it cuts the ribbon this July. The hard-to-miss building, situated on the corner of Eastern and South Milton avenues in Highlandtown, boasts an enticing exterior with hand-painted murals of ice cream cones and cherry-topped milkshakes. The art reflects the menu, which will list sundaes, shakes, Italian ice, snowballs, and even a few vegan ice cream flavors. Also be on the lookout for a few outside-of-the-box offerings including cones filled with espresso, and waffle-cone tacos and nachos. 2437 Eastern Ave.
Bluebird Cocktail Room: Former Woodberry Kitchen bartenders Paul Benkert and Ben Poole are opening this new literary-inspired bar in Hampden later this month. The 104-seat-space, located one floor above Belgian beer bar De Kleine Duivel, will feature large communal tables, navy blue walls, a gas fireplace, and a long bar that will be used for pub-style dining service. The cocktails (named after the likes of Ernest Hemingway and Virginia Woolf) will be complemented by a menu of European bistro fare including charcuterie, fried sweetbreads, and steak frites. 3602 Hickory Ave.
Sandlot: Though the grand opening of this outdoor oasis at Harbor Point has been delayed a few times due to weather, it is set to officially debut to the public on June 12. The waterfront playground from Spike Gjerde and Corey Polyoka of Woodberry Kitchen will offer volleyball and bocce courts, lounge chairs, an outdoor performance area, and eats served out of tricked-out shipping containers. Aside from cocktails, smoothies, and ice cream, the spot will also feature nachos, sandwiches, and an array eats on a stick (think corn dogs and kabobs.) 1000 Wills St.
OPEN
The Grub Factory: As Charm City's vegan offerings continue to skyrocket, this new dairy-free destination joins the scene in Midtown with specialty platters, sandwiches, and a signature mac and cheese that took home first prize at this year's Vegan Mac and Cheese Smackdown. The café—an extension of the Pan Afrikan Liberation Movement—saw lines out the door for its grand opening last month, debuting dishes like meatless gyros, cheesesteaks, and cashew-kale salads. The new spot also adds to the city's vegan brunch scene, churning out breakfast-all-day options including French toast platters, tofu scrambles, and gluten-free peanut butter pancakes. 1210 N. Charles St.
CH-CH CHANGES
Colette: Foodies flocked to this French favorite in Station North to grab one last order of gruyere beignets last weekend, after management took to social media to announce that the spot would be seeing a major transition in the coming weeks. Owner Adrien Aeschliman, who also operates Bottega around the corner, has decided to move the cozy Sicilian staple into the Colette space following a 10-day renovation. Though Colette will reopen as Bottega later this month, management has vowed to maintain its fan-favorite $10 pasta nights on Mondays. Stay tuned for more details. 1709 N. Charles St.
Cinghiale: Big things are happening at this pasta palace in Harbor East. Not only did the spot recently debut a revamped outdoor patio, but it is also introducing a three-course Sunday brunch prix-fixe featuring a spread of serve-yourself antipasti, Italian entrees, and decadent desserts. Dishes to look out for include over-easy eggs with crispy porchetta, ricotta with granola and strawberry preserves, pork-filled pasta with sage brown butter, and mascarpone panna cotta. 822 Lancaster St., $29, 410-547-8282
EPICUREAN EVENTS
Local Union Hour: Lately, Union Craft Brewing has been on a roll with its Friday-night food mashups. On the heels of hosting pop-ups with local favorites like Ekiben, The Charmery, and Big Softy, the brewery is throwing yet another get-together—this time with South Baltimore staples The Local Fry and Idle Hour. On June 2 from 6-11 p.m., head to the brewery to crack open a can of Duckpin, snack on specialty fries, and get down to music spun by three of Idle Hour's favorite DJs: M. Scott Mayer, DJ Double A, and DJ Mudbone. 1700 Union Ave., 410-467-0290
Meet the Brewer Series at Parts & Labor: The guys behind Diamondback Brewing are making their way to Remington this weekend to unveil a collaborative beer with the team from Parts & Labor. The Locust Point brewery created a Russian-style Kvass specifically for the event, brewed with leftover rye and spelt bread from Parts & Labor and conditioned on raisins and strawberries. Head to the Remington restaurant this Saturday, June 3, from 12-4 p.m. to sample the beer along with $3 snacks and flights of four other Diamondback brews on tap. 2600 N. Howard St., 443-873-8887
SHUT
Annabel Lee Tavern: The local food community suffered a loss last week when owner Kurt X. Bragunier announced that he would be closing this beloved tribute to Edgar Allan Poe due to ongoing financial issues. The restaurant, best known for its gothic décor and walls sprawled with poetry, served its last crab cakes paired with pints of RavenBeer last weekend. There's no word yet on what will become of the shuttered South Clinton Street spot. 601 S. Clinton St.
Langermanns: After eight years of serving shrimp and grits in the Canton Can Company, the owners of this Lowcountry restaurant have decided that it's time to move on. According to the Baltimore Business Journal, the restaurant closed its doors earlier this week due to financial concerns. Langermanns also operated a spinoff in Federal Hill at one point, which closed in 2014 and has since been transformed into German beer bar Das Bier Haus. 2400 Boston St.