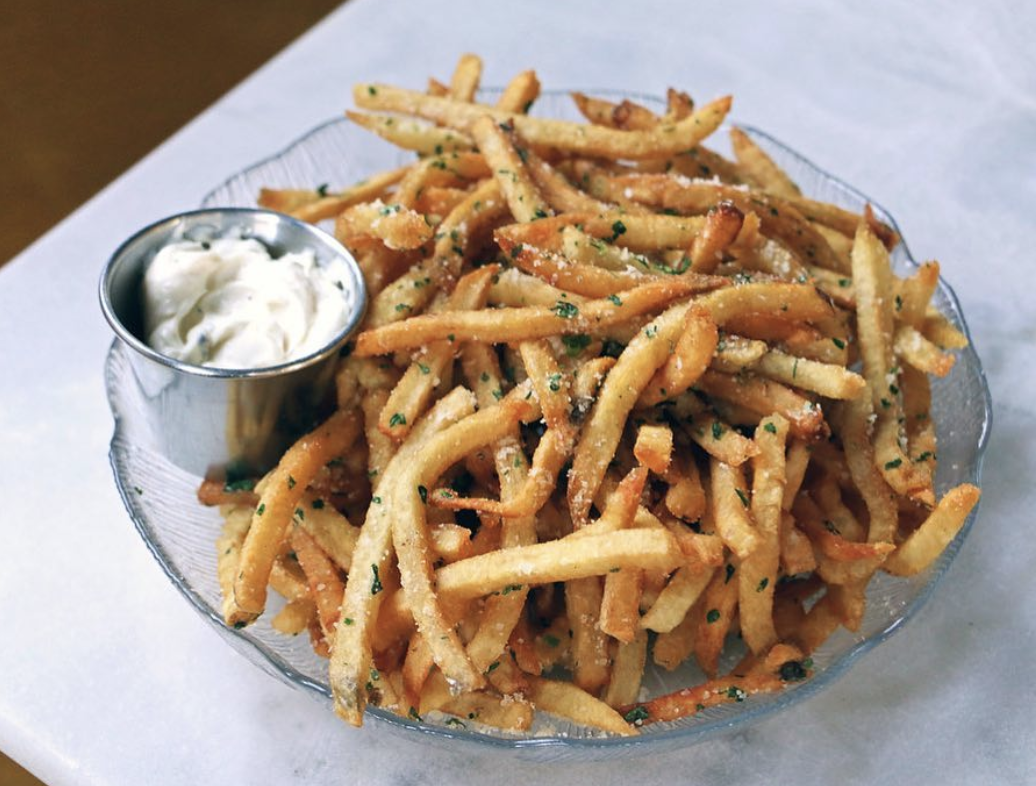 The Bluebird Cocktail Room
CH-CH CHANGES
Little Bird: Hampden locals were still getting to know this six-month-old subterranean spot when co-owners Paul and Caroline Benkert recently decided to close it and pivot in a new direction. Come May, the space will be transformed from a European-inspired cafe to an extension of the Bluebird Cocktail Room—which the owners operate upstairs in the same Hickory Avenue building. "Upstairs will remain the cocktail room, and downstairs will be the pub," explains Paul.
Bluebird's literary-themed aesthetic will carry over into the pub, which will showcase deep blue walls, built-in banquettes, and dim lighting with candles. The food options will differ slightly, however, highlighting more traditional offerings like fish n' chips made with whole fish filleted in house. Other pub additions will include a large global whiskey selection, more beer, a daily lunch menu, and brunch service on the weekends.
"The Baltimore community has been incredibly supportive during these first two years," Paul says. "The Bluebird needs room to grow, and unfortunately, the Little Bird concept doesn't allow that to directly happen." He goes on to say that pub will remedy the long wait times that diners experience at Bluebird on busy nights. "In a single weekend, we lose nearly 400 guests," he says. "We're very much looking forward to providing many of those guests with a similar experience downstairs while they're waiting." 3600 Hickory Ave. 667-303-3263
OPEN
R&R Taqueria: Window signage teasing a new location of this Guy Fieri-approved taco joint has been on display at the corner of Charles and Lombard streets for a while now. And earlier this week, the beloved taqueria finally made its downtown debut. Stop in to see chef/owner Rodrigo Albarran—more fondly known as Chef Rod—serving up the restaurant's signature tacos, burritos, fajitas, and burgers including the "Fuego" topped with sriracha mayo and ghost pepper cheese. Decorated with colorful dia de los muertos wall murals, the 3,600-square-foot space is a far cry from Albarran's original tiny location inside an Elkridge gas station. The new digs offer 80 seats, space for live music performances, a mezzanine level, and a full bar with plenty of margaritas and Mexican beers to go around. 30 Light St. Ste 2.
NEWS
Food & Wine Makers Issue Gives Love to Local Producers: Don't be surprised to see some familiar faces while flipping through the current edition of Food & Wine magazine. The publication's first-ever Makers Issue spotlights more than 30 "game-changing craftspeople who are reshaping cuisine in America and abroad by redefining ingredients, drinks, tools, restaurant design, and experiences." Among those people is our own Spike Gjerde of Woodberry Kitchen, whose writeup mentions his go-to growers including Colleen and Michael Histon of Shepherds Manor Creamery in Carroll County and Rob Miller of Distillery Lane Ciderworks in Frederick County.
James Beard Nominations: Speaking of representing Baltimore on the national level, in case you missed it, Clavel and Chef Cindy Wolf were both names James Beard Semifinalists this week. The Remington mezcaleria was given a nod for Outstanding Bar Program and Chef Wolf was nominated for an impressive 12th time in the category of Best Chef Mid-Atlantic. The more narrowed list of finalists will be out March 27 and the James Beard Awards will be presented in Chicago on May 6. Hoping that beginner's luck—as well as patient perseverance—are on our side this year.
Le Comptoir du Vin: After three months of serving non-stop sourdough and swordfish, the team at this new Station North bistro is taking a brief hiatus to rest, recoup, and conduct some culinary research abroad. The staff is going on a winter vacation to eat their way through Montreal, Copenhagen, and Oaxaca, and will return in time to reopen Le Comptoir du Vin on March 5. When dreaming up their plans for the wine bar, co-owners Will Mester and Rosemary Liss were inspired by the intimate spots they encountered while traveling throughout Europe—so we wouldn't be surprised to see a few new dishes make their way onto the menu after they return from their current trip. 1729 Maryland Ave. 443-297-7384
EPICUREAN EVENTS
3/1-3: Suspended Brewing's One-Year Anniversary Celebration
In the year since this neighborhood microbrewery opened its doors in Pigtown, it's released a stellar beer lineup while also educating the masses about the importance of being socially and economically sustainable. To celebrate its big birthday, Suspended is hosting a weekend-long celebration featuring new releases, raffles all weekend, Friday-night trivia, and a sold-out Sunday drag brunch. Stop by the wood-stained taproom throughout the weekend to toast the milestone with a flight of new beers like the "Clockwork Universe" (French saison brewed with oats and orange peel) and "Caterpillar Schemes," a hazy IPA brewed with 50 percent oats and hopped with azacca and Nelson Sauvin hops. 912 Washington Blvd. 410-926-8847
3/4: Plenty More Fish in the Sea
Salmon and rockfish often take the spotlight in the fine-dining world. But the brains behind South Baltimore staples Minnow and Rye Street Tavern are coming together to host this collaboration dinner in an effort to highlight lesser-known fish that are oftentimes more sustainable. (Think everything from blowfish tails to frog legs.) Rye Street's chef Brian Plante and Minnow's Ben Lefenfeld will present a five-course menu including oven-roasted salmon collars, smoked bluefish pierogies with lemon and capers, and wood-grilled Boston mackerel in a red wine jus. Rye Street Tavern, 13 Rye St. 6:30. $79