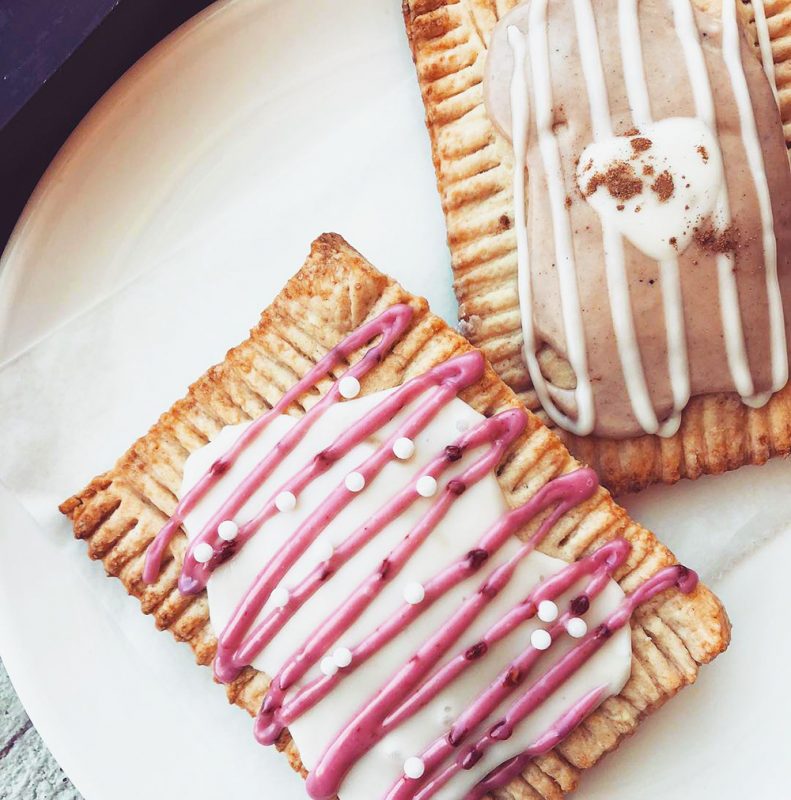 @littlefigbakeshop via Instagram
OPEN
Little Fig Bakeshop: This passion project from chef Melanie Molinaro can now be found inside Stall 11 at R. House in Remington. The plant-based baking business, which began as an ode to Molinaro's late grandmother, now fills a huge display case inside Stall 11 with everything from vegan cookies and muffins to scratch-made pop tarts and Meyer lemon bars. Little Fig favorites include a chickun-and-waffles donut and custom cakes that are dairy and soy free. The baked goods will be available Wednesday-Sunday from 10 a.m. until sellout. 301 W. 29th St.
Blue Dog BBQ Co.: Barbecue buffs Sean Stoll, Jon Royce, and Mike Neall are preparing to officially debut their new pit palace during lunch service on Friday, October 19. Set in the former home of Heavy Seas Alehouse in Little Italy's historic Tank Factory Building, this is the first brick-and-mortar space for the company (not to be confused with the other barbecue joint Blue Pit) and will offer eats like pulled pork shoulder, spare ribs, chicken wings, and locally sourced sausages from Kevin McCormick of High Noon BBQ. All meats are prepared in a wood smoker that is stationed in the building's adjacent courtyard. "Somebody shows up at midnight the day before to light the fire and start smoking the meats," Royce says. "We're not using gas, so we can't just set it and forget it." The eatery will be open for lunch and dinner Tuesday-Sunday. 1300 Bank St.
MOM's Bakeshop: Speaking of baked goods, this cafe adjacent to MOM's Organic Market in Timonium also made its debut earlier this week. The sister-concept will bake all of its own breads using heirloom grains, and use them for an array of vegan and vegetarian sandwiches like a portobello muffaletta, chipotle roasted vegetable panini, and jackfruit barbecue roll. Before grabbing groceries from the market, satisfy hunger pangs with the hearty sandwiches, as well as raw juices, kombucha, soups, and scratch-baked muffins. 20 W. Ridgely Rd., Timonium. 443-921-1390
COMING SOON
AJ's Deli: Though the official grand opening party for this modern delicatessen inside Mount Vernon Marketplace isn't slated until early November, owner Alan Morstein is looking forward to debuting in soft-opening mode this Friday, October 19. The stall will harken back to a deli that Morstein, who formerly owned Regi's American Bistro in Federal Hill, operated in Ocean City more than 35 years ago. But this time around, he is offering updated versions of the classic sandwiches and sides. "It's part of this new wave of delis," Morstein says. "It's not like what my parents used to take me to, and it's not like what I used to take my kids to. It's where my kids are taking me now. It's a whole different style."
Dishes to look out for include Regi's famous cranberry chicken salad, potato latkes instead of French fries, and tuna and egg salad made with avocado as a substitute for mayonnaise. There will also be brisket and turkey carved in-house, and bagels brought in from Davidovich Bakery in New York City. Equipped with eight bar seats, a 42-inch flat screen, and a modern-industrial design, the stall will open in the former home of Edible Favors, which recently relocated to another space inside the food hall. 520 Park Ave.
Clean Juice: Locust Point neighbors will soon be able to grab fresh-pressed juices, açaí bowls, and smoothies at McHenry Row. Come January, former NFL safety Anthony Walters and his wife, Kait, will open the first Maryland franchise of this North Carolina-based juice bar inside the mixed-use development. "I first became familiar with McHenry Row while working as in intern with Under Armour," Walters said in a press release. "I hope people will visit us before and after work, for lunch, and after a fitness session at the local gyms." Set in the former home of Ruby 8 Noodles & Sushi, the shop will be open all day and highlight customizable fruits, vegetables, honeys, oils, and seeds for the smoothies and bowls. 1702 Whetstone Way
EPICUREAN EVENTS
10/19: Maryland Food Truck Week Kickoff
Dozens of local kitchens-on-wheels are gearing up for the return of Maryland Food Truck Week, which will run from October 19-28 with planned rallies everywhere from Arbutus to Elkridge. The festivities will officially kick off with a free foodie festival at South Point in Port Covington this Friday. Grab a drink and enjoy live music while sampling noshes from The Green Bowl, Kommie Pig, Dizzy Cow Pizzeria, Mexican on the Run, Bistro Lunch Box, Farm to Charm, and Quinn's Ice. 101 W. Cromwell St. Free. 5-9 p.m.
10/20 & 10/27: Fall Festival at Rye Street Tavern
Rye Street Tavern is welcoming the chilly temperatures accordingly with an all-ages fall festival on its waterfront lawn. Moms and dads are invited to sip whiskey cocktails at the outdoor bar while watching kiddos paint their own pumpkins, jump over hay bales, and dance to live music. Grilled hamburgers and hot dogs will be available throughout the day, and, if you stick around for dinner, try out the restaurant's new seasonal menu featuring butternut squash lasagna, stout-braised short ribs, and bacon-wrapped rainbow trout. 13 Rye St. Free. 12-5 p.m. 443-662-8000.
10/21: La Cuchara Evenings at the Farm Dinner
Special guest Amy Langrehr of Charm City Cook will be joining chef Ben Lefenfeld for La Cuchara's final farm dinner of the season. Make your way to the picturesque Zahradka Farms in Essex to enjoy a family-style outdoor meal cooked over an open flame. Special dishes incorporating Zahradka produce will include roasted carrots with chevre, wilted kale with burnt oranges and pumpkin vinaigrette, smoked pork shanks with sauerkraut, and turnip cake with salted-caramel buttercream. 2300 Golupski Rd., Essex. 4 p.m. $73