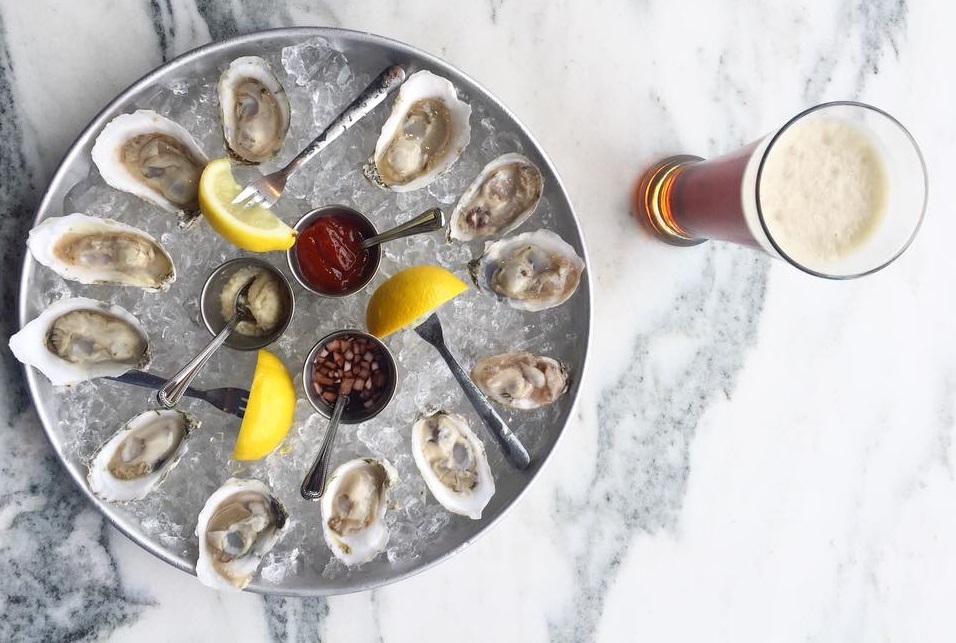 Courtesy of Loch Bar
OPEN
Himalayan Bistro: A bright orange building sandwiched between Blue Agave and Blue Moon Too on Light Street houses this new Nepalese and Indian restaurant that opened last week in Federal Hill. In addition to an affordable lunch buffet, the bistro delivers authentic dishes such as shrimp curry, chicken tikka masala, lamb kabobs, and shrimp chow mein. Vegetarian options—from seasoned yellow lentils to roasted eggplant with garlic, tomato, and ginger—are also plentiful. 1030 Light St., 443-708-3157
Loch Bar: Atlas Restaurant Group, which owns Azumi and Ouzo Bay, expanded its footprint in Harbor East earlier this month with the debut of this long-awaited seafood spot. Stationed in the former home of Lamill Coffee in the Four Seasons Baltimore, Loch Bar features an expansive raw bar and sizable whiskey collection (350 varieties and still growing). Other specialties include lobster rolls, ceviche, and even pastrami sandwiches. 280 International Dr., 443-961-8949
Urban Deli: This new neighborhood deli from longtime Federal Hill resident Laura McCormack celebrated its grand opening last weekend. The shop has a cheerful exterior with bright pops of yellow and serves breakfast, lunch, and dinner daily. Menu highlights include New York-style bagels, Zeke's coffee, homemade soups, paninis, and hometown-inspired sandwiches like the Cross Street Caprese (mozzarella, heirloom tomatoes, arugula, and basil pesto) and the Smokin' Sobo (turkey, spicy mayo, pepper jack cheese, and red onion). 1448 Light St., 443-708-0495
COMING SOON:
Caliburger: This international burger chain, which operates fast-casual eateries everywhere from Saudia Arabia to Sweden, is opening its third North American location in Columbia in May. The Santa Monica-based franchise specializes in burgers, chicken sandwiches, fries, and handspun milkshakes. The spot will also feature the chain's signature FunWall, which projects multiplayer video games that diners can control with their smartphones. 10000 Town Centre Ave., Columbia
New Spike Gjerde Concepts in the Works: James Beard Award-winning restaurateur Spike Gjerde recently announced big plans to expand his empire to Charles Village and Washington, D.C. Come August, Gjerde will debut a new cafe in partnership with Ivy Bookstore owners Ann and Ed Berlin. The spot, opening inside a brand new student housing development at the intersection of St. Paul and 33rd Streets, will serve coffee, sandwiches, and pastries against the backdrop of more than 6,000 books for sale.
Next fall, Gjerde fans can look forward to the reveal of yet another new concept, which will open inside The Line hotel in the Adams Morgan neighborhood of Washington, D.C. In keeping with Gjerde's locavore mission, the yet unnamed restaurant will focus on locally sourced ingredients and whole animal butchery. Set inside a 110-year-old neoclassic church, the 80-seat space will feature dark woods, milk glass windows, and church pew seating.
CH-CH CHANGES:
Michael's Cafe: This family-owned Timonium hotspot recently hired a new executive chef. Mark Davis (whose previous stints include heading up kitchens at Ten Ten and The Highland Inn) plans to incorporate seasonal ingredients from local farmers and producers in his new role. The cafe will launch Davis's new spring menu this month, featuring dishes such as seared scallops with bacon edamame succotash and lemon and pistachio-crusted chicken with baby carrots. 2119 York Road, Timonium, 410-252-2022
Southern Provisions: Under new ownership, the corner restaurant in O'Donnell Square that formerly operated as Jokers N' Thieves has recently been rebranded as Southern Provisions—a Lowcountry spot that specializes in live music, smoked meats, and a lengthy list of bourbon and whiskey. Matthew Lasinski (who also owns Blue Agave in Federal Hill) took over the space last December, and has been working on enhancing the menu and interiors ever since. Earlier this month, the rebrand debuted a new patio with garage-style doors and new menu items such as crawfish rolls, cedar-wrapped salmon, and Cajun chicken chopped salads. 3000 O'Donnell St., 410-675-4029
Wayward Southern Bar & Kitchen: Speaking of Southern concepts, Cowboys & Rednecks recently got a makeover, as well. The Federal Hill bar known for its saloon-style vibe, country soundtrack, and life-sized Jenga was recently sold to the restaurant group behind Bandito's Bar & Kitchen, located just across the street. The space, now called Wayward, has been remodeled with new floors and bar tops, and even features a communal table with a built-in concrete beer trough. The new menu highlights more upscale barbecue fare such as wild boar smoked sausages, braised pork poutine, seared salmon with raspberry balsamic, and smoked Gouda mac-and-cheese topped with Texas brisket. 1117 S. Charles St., 410-223-2269
SHUT:
DuClaw Brewing Company: In a message posted to its Facebook page earlier this week, Harford County-based DuClaw Brewing revealed that it is currently in the process of selling its restaurant locations in Bel Air and Bowie. "The decision to relinquish our physical footprint in Bel Air and Bowie was difficult, but the resulting resources will allow us to better focus on DuClaw Brewing Company's truest passion; making great craft beer and bringing it to beer lovers everywhere," the post reads. Although DuClaw has announced that the new owners operate Green Turtle franchises in the area, there's no official word on what will become of the brewpubs.
Padonia Ale House: After 36 years in business, this Timonium fixture shuttered its doors on April 3. Longtime owner Marc Loundas notes that the 13,500-square-foot live music venue was too big to maintain, mentioning that peak times were primarily on weekends. No word yet on the new tenants.
Strapazza: This stalwart Towson pizza shop closed its doors suddenly earlier this month for reasons that are still unknown. Messages to Strapazza owner Michele D'Agata were not immediately returned. The restaurant, which was a staple in the community for 25 years, was best known for its lengthy menu listing Italian pastas, pizzas, and seafood dishes.