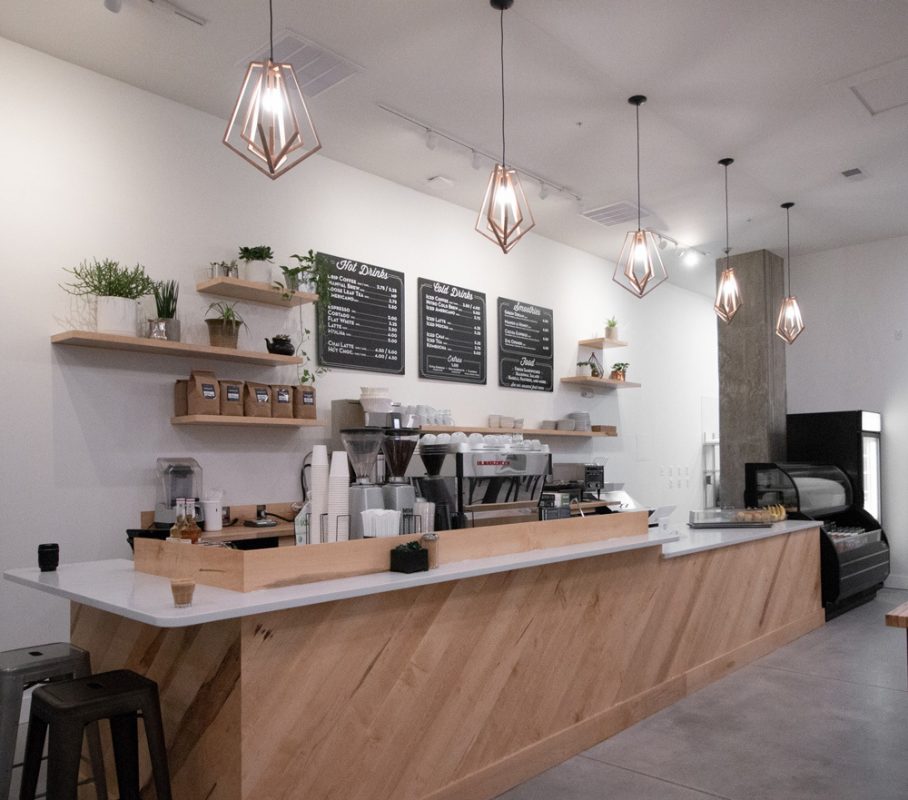 Courtesy of Milk & Honey Market
OPEN
Milk & Honey Market: It's been two years since Milk & Honey Market closed its original location in Mt. Vernon, and now, the spot has finally made a comeback in Station North. Located on the ground floor of the artsy Nelson Kohl apartment building near Penn Station, the cafe offers a menu of warm and cold coffee drinks, smoothies, sandwiches, salads, and pastries. The new space is bright and inviting, with white walls, modern light fixtures, comfy couches, and lots of interior greenery. On the heels of the Station North opening, owners Ernst and Dana Valery are also planning to expand with a second location in Pigtown. The forthcoming cafe will be housed in the new Bath House Square project in development on Washington Boulevard. 20 E. Lanvale St. 667-309-3506
Farm to Face: Regulars of the Baltimore Farmers' Market & Bazaar no longer have to wait around until Sunday mornings to get their hands on a seasonal falafel wrap from this longtime vendor. Farm to Face owner Miranda Betts recently moved into her own brick-and-mortar space on Harford Road in Hamilton. The former home of Zeke's Coffee, which relocated to larger digs up the street last year, is now a permanent shop for Betts to serve her organic falafel in wraps. The crispy chickpea balls are topped with seasonal fruits and veggies (think everything from beets and strawberries to apples and arugula) and signature sauces before being tucked into traditional or leafy lettuce wraps. 4607 Harford Rd. 443-438-5559
Haven Street Ballroom: The owners of the modern-industrial event venue Main Street Ballroom in Ellicott City have launched a second space on North Haven Street in Highlandtown. Sandwiched between Urban Axes and Monument City Brewing Company, the airy space features white walls and high ceilings on the inside, and a bright exterior mural with pops of pink and yellow—which was designed by frequent Monument City collaborator White Coffee Lettering—on the outside. The venue is now booking events being held after May 1, 2019. 1 N. Haven St.
COMING SOON
Döner Brös: After spending a year roaming around on their Oktoberfest-inspired food truck, Döner Brös owners Alex Politsch and Steven Banks are putting the finishing touches on their brick-and-mortar eatery in Charles Village this week. The spot will open to the public on Monday, December 17, serving salads, wraps, and fries topped with authentic döner kebab meat cooked on a vertical rotisserie. Döner Brös neighbors THB Bagels & Deli, Bird in Hand, and Red Star Bar & Grille in the Nine East 33rd development near the Johns Hopkins University campus. "Hopkins was always a home run for the food truck so it was only natural for us to open our first store here," Banks said in a statement. "We are excited to add another unique cultural option to the already eclectic and dynamic neighborhood." 9 E. 33rd St. 844-366-7277
NEWS
Wayward Smokehouse Expanding to White Marsh: Federal Hill locals should prepare to see familiar signage while spending time around The Avenue at White Marsh in 2019. The team behind Wayward Smokehouse on South Charles Street has announced plans to take over the former Don Pablo's space off of Honeygo Boulevard. The plan is for the restaurant to combine Wayward's Texas barbecue vibe with The Curious Oyster, a new concept that focuses on sustainable seafood. 8161 Honeygo Blvd. White Marsh
Guinness Partners with Sierra Nevada for Fire Relief: In the wake of the deadly wildfires that recently spread throughout Northern California, Sierra Nevada recently established the Camp Fire Relief Fund to help rebuild communities affected. Doing what they do best, the brewing behemoth also created the Resilience Butte County Proud IPA, with proceeds directly benefiting the fund. Our own Guinness Open Gate Brewery & Barrel House is one of 1,200 breweries nationwide that has vowed to brew and sell the beer in hopes of providing more relief.
"I grew up in California and even though I'm now on the East Coast, the wildfire tragedies still feel close to home," Open Gate brewmaster Peter Wiens said in a statement "Ken Grossman and the rest of the Sierra Nevada family are industry icons, and I'm honored to join their effort to help rebuild the lives of those devastated by the Camp Fire." The IPA will be available in the Guinness taproom and upstairs 1817 restaurant starting December 13. One hundred percent of all proceeds will benefit the rebuilding efforts. 5001 Washington Blvd., Halethorpe. 800-909-2645
EPICUREAN EVENTS
12/13: 3rd Annual Christmas in Mexico at The Charmery
The Charmery co-owner David Alima and Clavel chef Carlos Raba have been hard at work preparing for their third-annual Christmas in Mexico celebration this week. The duo will be getting into the holiday spirit with fried ice cream treats that resemble adornos de navidad (Christmas ornaments). A portion of all proceeds will benefit Guardian Gym—a California-based boxing and jiu jitsu nonprofit that Raba supports. 801 W. 36th St. 6:30-8:30 p.m.
12/16: Prima Pop-Up at Le Comptoir du Vin
New Station North restaurant Le Comptoir du Vin is teaming up with yet-to-open Old Goucher spot Sophomore Coffee to host a special breakfast pop-up this weekend. Mix up your regular Sunday brunch routine with a traditional Turkish breakfast (think boiled eggs, veggies, cheese, and flatbread) paired with warm drinks provided by Sophomore. The team will be pouring Toby's Estate coffees, as well as local Sparrowtail Tea blends. 1729 Maryland Ave. 10 a.m.-3 p.m. $12