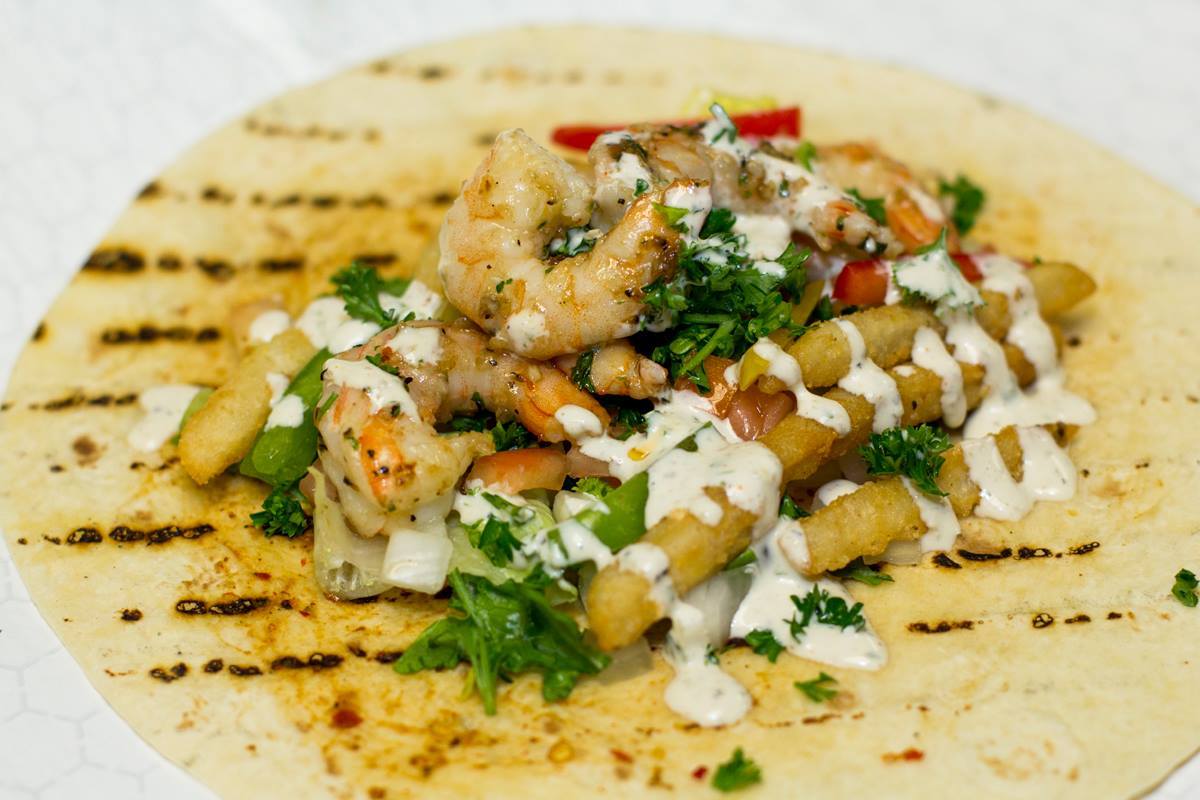 Courtesy of Nailah's Kitchen
OPEN:
Nailah's Kitchen: Govans gained some international flair last week with the debut of this West African eatery on York Road. The brainchild of Senegal native Mohammed Agbodjogbe, the restaurant serves authentic staples such as lemon-marinated chicken, peanut butter stew, juices made from rare African fruits, and Thiebou Djeun—Senegal's national dish that combines stewed fish with tomato sauce, eggplant, and white cabbage. The 112-seat interior, also inspired by Agbodjogbe's heritage, features West African artwork and a stage for Senegalese music performances. The new spot sits just a few blocks away from communal food incubator B-More Kitchen, which will also join the Govans food scene later this summer. 5722 York Road, 443-461-5600
Inka Grill Fusion: Speaking of international cuisine, this Peruvian destination opened its doors in Pikesville last weekend. Set in the former home of Mari Luna Latin Grill on Reisterstown Road, the menu lists dishes such as Peruvian paella, whole red snapper, and marinated mussels alongside a variety of ceviche, sushi, and pasta. 1010 Reisterstown Road, 443-898-8713
SPAGnVOLA: Travelers passing through BWI now have a new option to satisfy sweet tooth cravings, thanks to the opening of this Maryland-based chocolate shop on Concourse A. Named one of the top 10 chocolatiers in the world by National Geographic, the shop features showcases filled with gourmet chocolate bars, bonbons, and truffles. The opening comes in the midst of the airport's major restaurant expansion, which recently saw the opening of Harbor Grille, and will soon yield dining destinations from former Top Chef contestants Bryan Voltaggio and Mike Isabella. Baltimore Washington International Thurgood Marshall Airport, 410-859-7111
PIZZA PRESS:
Bagby Pizza Co.: Fleet Street staple Bagby Pizza Co. is continuing its expansion into the county with a third location slated to open in the brand new Foundry Row development in Owings Mills by the end of 2016. The fast-casual BYOB spot will feature the company's signature thin crust pizzas topped with locally sourced ingredients and a menu of house-made desserts. The 50-acre community developed by Greenberg Gibbons will also house eateries such as Bar Louie, Nalley Fresh, Mission BBQ, and Zoe's Kitchen when it premieres this fall. 10100 Reisterstown Road, Owings Mills
Paulie Gee's: After countless delays, this long-awaited Hampden pizzeria finally graced us with its presence earlier this month. The Chestnut Avenue space has been completely transformed from its former state as the Hampden Republican Club, now boasting Neopolitan fireplaces, communal wood tables, and exposed bulb lighting. The Brooklyn-based chain, named after its founder Paulie Giannone, serves brick-oven pies topped with everything from mozzarella and baby arugula to lemon bitters and orange blossom honey. Vegan options are also plentiful. 3535 Chestnut Avenue, 410-889-3535
BrickNFire Pizza Co.: After winning a Shark Tank-style restaurant contest hosted by the Marriott, BrickNFire owner Megan Lanasa opened a brick-and-mortar home for her mobile pizza kitchen last weekend. The new 30-seat spot inside the Marriott Inner Harbor at Camden Yards features wood accents, high-top tables, and a signature 800-degree pizza oven that warms pies topped with soppressata, basil, house-blend cheeses, and a variety of vegetables. 110 S. Eutaw St.
CHEF CH-CH CHANGES:
Alewife: Cyrus Keefer fans will be happy to hear that the chef was recently hired to head up the kitchen at Alewife. Although he has been a bit of a nomad over the past few years—with brief stints at Banditos, Birotecca, Fork & Wrench, and 13.5% Wine Bar—Keefer recently told The Sun that he's in it for the long haul. The new menu at Alewife features Keefer's take on street food, with dishes ranging from coconut chicken spring rolls and crispy beef salad to pork belly tostada and a banh mi dog with chicken liver mousse. Former Alewife executive chef Chad Wells recently moved on to oversee operations of Victoria Restaurant Group in Howard County. 21 N Eutaw St., 410-545-5112
Germano's Piattini: Husband and wife owners Germano Fabiani and Cyd Wolf recently welcomed chef Daniel Rosen to the kitchen at this Little Italy mainstay. Rosen, who hails from the Philadelphia dining scene, will feature seasonal dishes such as beet carpaccio, roasted calamari, chickpea soup, and shaved carrots with lemon vinaigrette. 300 S. High St., 410-752-4515
EPICUREAN EVENTS:
Fork & Cork 2.0: A handful of the city's top culinary talents are coming together to present the second iteration of this monthly dinner series, which kicks off next month. Chefs and sommeliers from Aggio, Wit & Wisdom, Fleet Street Kitchen, and La Cuchara will fuse their talents to serve collaborative five-course meals during each event. The first dinner will be held at Aggio on August 16. 614 Water St., 410-528-0200, $114
Trifecta Food Truck Festival: The Maryland State Fairgrounds is transforming into a foodie mecca on July 30, bringing together more than 25 of the area's favorite food trucks. Snack on gyros from Greek on the Street, pulled pork from The Smoking Swine, burgers from Kooper's Chowhound, and plenty of others at the first-ever fete, which will also feature outdoor games and live music from Bosley, Gypsy Soul Revival, and Kelly Bell Band. 2200 York Road, 410-252-0200, $15
Chicagomore Pop-Up at Artifact: One of Spike Gjerde's best buds is coming to town this weekend, hosting a two-day pop-up at Artifact Coffee with a menu full of shareable street food. Chef Cleetus Friedman—formerly of Chicago hotspots City Provisions and Fountainhead—will be taking over the restaurant on July 22 and 23, serving dishes such as tomato caprese lettuce wraps, catfish tacos, sausage flatbread, and a Chicago-style crab cake with pickled pepper and celery salt. The event will also feature Windy City-brewed beers and a DJ spinning old-school hip hop. 1500 Union Ave., 410-235-1881
The Charmery Third Anniversary Party: Speaking of throwbacks, Hampden's favorite ice cream parlor is celebrating its third birthday with a '90s-themed bash on Saturday, July 23. From 6-10 p.m., dig to a carefully curated soundtrack while sampling eight new flavors inspired by old-school R&B hits. A few flavors of note will include sourdough and jam, fresh mint and honeydew, and a savory riff on a Philly cheesesteak. (Possibly a nod to Will Smith's roots in The Fresh Prince of Bel Air?) 801 W. 36th St., Free, 410-814-0493