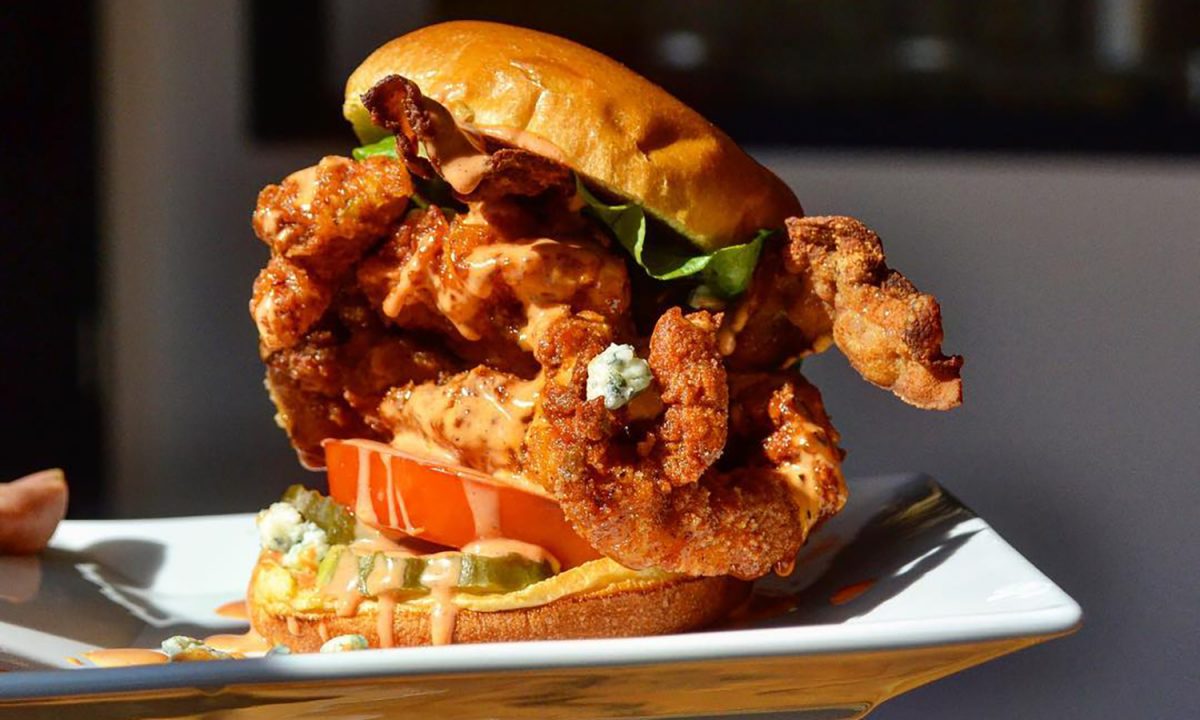 Papi Cuisine via Facebook
COMING SOON
Papi Cuisine: Take one scroll through this caterer and private chef's Instagram, and you'll soon be salivating over the honey-glazed stuffed salmon, gooey mac-and-cheese, and baseball-sized crab cakes. The account has amassed nearly 140,000 followers, and soon, all of the acolytes will be able to stop into its new brick-and-mortar to sample the fare without having to pre order. Papi Cuisine—not to be confused with fellow Fells Point eatery Papi's Tacos—is expected to open in the former home of Bad Decisions and Baltimore Built Bistro on Fleet Street later this summer. Chef Alex Perez, who currently operates out of Bmore Kitchen in Govans, and business partner Berry Clark plan to offer their signature Carribbean-fusion dishes like honey jerk turkey wings, seafood alfredo penne pasta, and Buffalo chicken burgers. Adding to the excitement, Perez also recently released an e-cookbook featuring some of his signature recipes.
Nalley Fresh: Workers surrounding the Court Towers office building in Towson will soon be able to add Nalley Fresh to their list of accessible dining options. Earlier this week, the local salad chain announced that it has signed a 10-year lease for a 2,300-square-foot cafe inside the Pennsylvania Avenue property. Come September, diners will be able to enjoy Nalley's signature DIY salads and wraps, as well as a full breakfast menu—something unprecedented for the brand. The new spot marks the chain's eleventh location in the Baltimore area.
Lew Gambino's: The name of this refreshed concept taking shape in the former home of Ciao Bella in Little Italy is a nod to its operators—Ciao Bella brother-and-sister team Tony and Lisa Gambino, and former Raven Ray Lewis. Lewis has been a regular at the restaurant for more than a decade and was recently brought on as a partner as it starts a new chapter. While the restaurant remains open throughout the renovation process, a grand opening for Lew Gambino's, which will emphasize Italian staples using local ingredients, is slated for August 26. Stay tuned for more details.
OPEN:
Atelier Culinaire: Speaking of Little Italy, this fine-dining destination staffed by culinary students at Stratford University reopened earlier this month. The spot took a hiatus throughout the spring and early summer, but is back up and running Wednesday through Friday nights with a new menu of seasonal dishes. Throughout the summer, the white-tablecloth spot, which is known as a launchpad for rising chefs, will feature options like fried green tomatoes with Sambal aioli, mango-roasted chicken, filet mignon, and pan-seared scallops with butternut squash purée.
Royal Farms Chicken: Although it's not the full Royal Farms experience without a bustling convenience store or gas station attached, Cross Street Market is giving locals a taste of our favorite fried chicken with a new stall that debuted inside the renovated Federal Hill space last week. Of course, the menu features RoFo's "World Famous" chicken boxes that come with western fries and a warm roll. But the spot also features crispy chicken tenders, sandwiches, and sliders. Royal Farms is the latest vendor to open inside Cross Street, which is also expected to debut Annoula's Kitchen, Burger Bar, Pizza di Joey, and Sobeachy Haitian Cuisine by the end of the summer.
EPICUREAN EVENTS
7/25: Common Grounds
Head to Aveley Farms Coffee Roasters in Harbor East for the inaugural installment of this speaker series about where our food comes from. In the first discussion, Keffa Coffee founder Sam Demisse, Ceremony Coffee buyer Ashley Whelan, Paisa Coffee founder Yolima Toborda Rojas, and Aveley's own Corey Voelkel will address coffee sourcing and sustainability. Voelkel has teamed up with the owners of Diamondback Brewing in Locust Point to co-host the event, which will offer attendees one free beer or coffee and plenty of snacks to munch on during the talk.
7/31: Breakfast for Dinner at Foraged
Sometimes the most important meal of the day, aka breakfast, can be eaten for dinner. That's why next week, chef Chris Amendola is welcoming The Corner Pantry's Neill Howell to Foraged in Hampden for an epic "brinner" mashup. Expect dishes like complimentary scones, a tomato tart, fried Sapidus oysters, cream chipped pork tongue, and offerings drizzled with Amendola's house-made maple and black walnut syrups.
SHUT
Poké World/Utepia Tea: It appears that this downtown poké and bubble tea destination at Power Plant Live has closed for good. A sign taped to the front door earlier this week indicated that it had closed, and the phone line for the restaurant is currently disconnected. Luckily for poke lovers, Charm City has plenty of raw fish to go around—with other Hawaiian hotspots including Hilo inside R. House, Poké Bowl in Federal Hill, and Fod Poke Bar on Calvert Street.