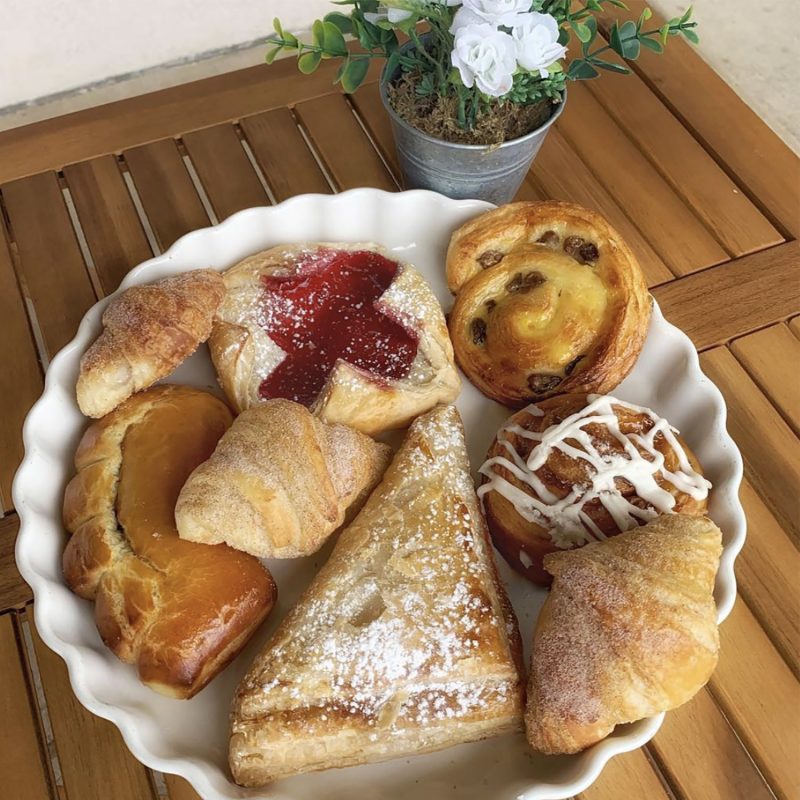 Roggenart
COMING SOON
Pekara: Former Roggenart regulars will be happy to hear that a new iteration of the now-closed Mt. Washington cafe is opening in Roland Park next month. Pekara, the Serbian word for bakery, is the brainchild of Serbian-born owner Radomir Mihajlovic and head baker Borislav Petkovic—both of whom previously worked for Roggenart. The duo will bring the bakery's signature European breads and pastries to the new shop, which is expected to open on West Coldspring Lane across from Miss Shirley's in November.
Be on the lookout for a variety of fresh-baked loaves (think white, rye, challah, spelt, and multigrain varieties), as well as fruit tarts, Danish and French pastries, and Petkovic's savory Burek pie made with flaky phyllo. Mihajlovic says that the coffee program will be simple to start, but he hopes to add more complex drinks as time goes on. After weeks of gas and electric delays, he's excited to finally unveil the spot to the community. "I've lived in Roland Park for 30 years, so I know a lot of the neighbors," he says. "Everyone just keeps asking and asking about it. I can't wait for us to open."
BRUNCH BULLETIN
The Urban Oyster: Five months after opening a permanent home for her roving oyster bar in Locust Point, chef/owner Jasmine Norton has added weekend brunch into the mix. Every Saturday from 11 a.m. to 3 p.m., head to the bright McHenry Row spot to indulge in options like a plump crab cake and fried oyster benedict, Cajun jambalaya topped with a runny egg, and a shrimp BLT sandwiched between two waffles. To make the deal even sweeter, every fourth Saturday diners will be able to sip cocktails and enjoy all of the mid-morning fare during an intimate drag brunch hosted by Dee Dee Dereon, with performances by Kayden Amore Chloe and Venus Fastrada.
The Night Brunch Festival: For more than a year, Treason Toting Company co-owner Jason Bass and local DJ Ryan Rhodes (more fondly known as DJ Impulse) have been hosting evening brunch pop-ups—which inevitably turn into all-out dance parties—at area bars and restaurants. Now, they're throwing the first-ever Night Brunch festival October 4-6 at Harbor Point. The three-day celebration will feature eats from the likes of Clavel, The Local Fry, The Urban Oyster, Home Made, Orto, and Vida Taco Bar. Plus, enjoy photo booths, a Truly cocktail bar, and, of course, plenty of live music.
EPICUREAN EVENTS
10/5: Cōl Bōl Tire Shop Pop-Up
The former Parts & Labor space will fill with the scent of classic Liberian cuisine by chef Carleen Goodridge this weekend. As part of the ongoing Tire Shop series that activates the Remington restaurant with local chef pop-ups, Goodridge is hosting an authentic takeover with recipes that reflect her family's heritage, including jollof rice and nut-based palm butter soup. To add to the experience, there will also be Afrobeat music spun all afternoon, a photo backdrop created by Regal Clothes, and West African-inspired brews from Washington, D.C.-based Sankofa Beer Company.
10/5: Stein Day // Lagerfest 2019 at Diamondback Brewing
Head to Diamondback in South Baltimore this weekend the welcome fall in an Oktoberfest-style tented biergarten on the brewery's patio. Throughout the day, take in the live sounds of D.T. Huber & The Whale Show, The High and Wides, and Fried Pickin' while sipping special releases like the "Forte" German-style pilsner and "Everything All the Time" Helles lager. There will also be plenty of offerings to line your stomach including sausages by Snake Hill, a whole-hog barbecue by John Brown Butchery, and Diamondback's own Bavarian soft pretzels.
SHUT
Melody Cafe: Last week, Mt. Vernon said goodbye to this coffee shop, study spot, live performance venue, and all-around community hub. The subterranean space—opened by Darryl Strange and his teenage son Juwan Davis in December 2017—closed its doors for good last week after its landlords gave the owners a 60-day notice to vacate back in July. The owners recently took to social media to clarify that it wasn't their decision to close. "We want to thank each and everyone of you for your dedication, your support, your love, and most importantly your encouragement," they shared on Instagram. "Being a small business is hard, but we are here having started off with just a few drinks and a prayer to having formed many relationships with many people and businesses." In addition to its coffees and breakfast plates, Melody became known for its frequent open mics, karaoke nights, spoken word performances, and movie viewing parties.