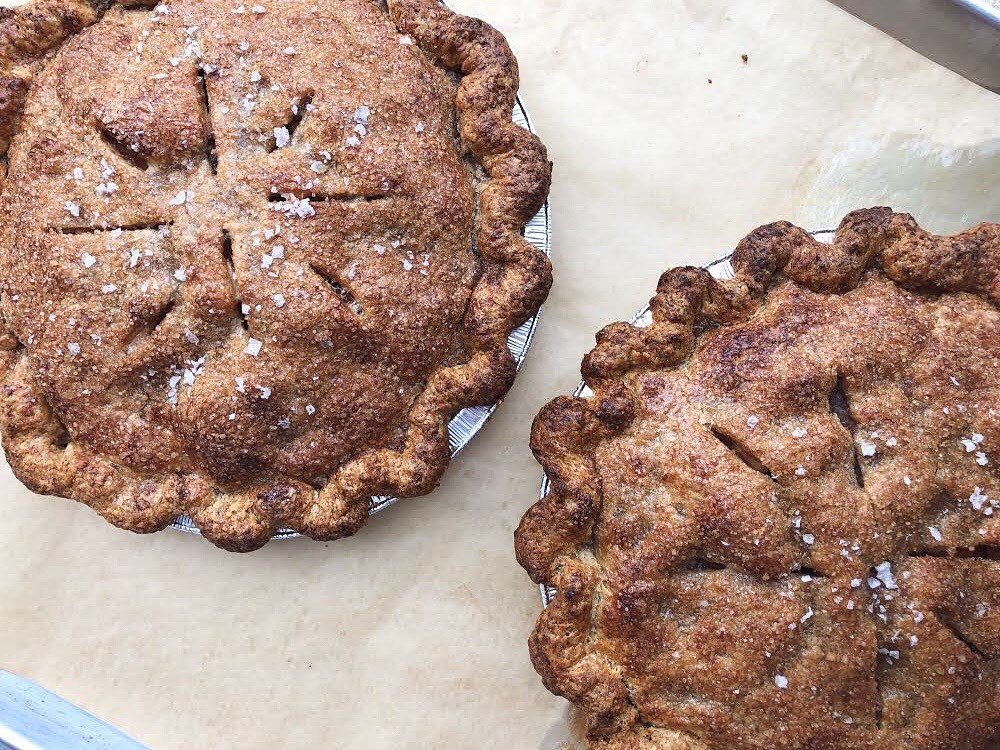 PI DAY PARTIES
Union Craft Brewing: Enjoy both savory and sweet flavors at Union Collective this Saturday, March 14, when Well Crafted Kitchen and Bramble Baking Co. will be serving slices of pizza and pie from 12-3 p.m. Purchase a slice from Well Crafted and enjoy $1-off at Bramble, and vice versa. Slices and handpies will be available from Bramble, with flavors including Salted Honey Lavender and the Maple Bourbon Pecan. 1700 W 41st St.
Dangerously Delicious Pies: This Baltimore favorite is celebrating Pi Day—and an early St. Patrick's Day—at its Canton location on Saturday. The shop is turning BYOB from 3-6 p.m., with live music by Irish Relative Anonymous. Enjoy your brew and indulge in a slice of the famous Baltimore Bomb pie, a fun take on the city's iconic Berger Cookies. Drink more than 3.14 beers and expect special prices in return. 2839 O'Donnell St.
Other eateries around town are also offering aptly priced specials to celebrate the holiday's famous date. Blaze Pizza in Towson will offer $3.14 pizzas from 3:14 p.m. to close, Oliver Brewing Company will pour $3.14 pints of Sound Check beer from 12-6 p.m., Verde in Canton will pair its Neapolitan pies with $3.14 Limoncello shots, and Molina Pizza at R. House will feature a buy-one, get-one for $3.14 deal on all of its pizzas throughout the day.
(RE)OPEN
The Verandah: After a nine-month hiatus, this Indian restaurant on the Avenue in Hampden is celebrating its grand reopening during dinner service Thursday. Owner Radhika Sule—who also operates a location inside Broadway Market in Fells Point—took the time off to reimagine a new small plates concept for the Hampden cafe, which she says will give diners the opportunity to "try out several unique dishes instead of one big meal." Among the new dishes on the tapas-style menu are shrimp masala, Vada Paav (Indian-style vegetarian sliders), apricot-glazed chicken wings, salmon with mango chutney, and a pistachio-crusted roulade with lemon cream for dessert. Debuting along with the revamped menu is a completely renovated space featuring warm woods, a mix of bar and traditional table seating, and a transition from counter service to full table service in the dining room. The spot is BYOB—without a corkage fee—and also offers nonalcoholic drinks including mango lassi and ginger-mint lemonade.
COMING SOON
The Food Market and The Charmery Expanding to Columbia: Speaking of The Avenue in Hampden, two of The Verandah's most popular neighbors are widening their footprint to Howard County later this year. The Howard Hughes Corporation, which is overseeing the mixed-use development of Downtown Columbia, announced earlier this week that chef Chad Gauss will be bringing his fun spins on classic comfort foods to the new Central District near The Mall in Columbia in late 2020. In addition to the beloved lunch, brunch, and dinner menus, the new Food Market will also provide a custom coffee program for workers in nearby office buildings. City-defining ice cream shop The Charmery will also expand this summer with a new shop in Columbia's Merriweather District, which is anchored by Merriweather Post Pavilion. Customers can look out for signatures like Old Bay Caramel and Maryland Mud, but given owners David and Laura Alima's commitment to creativity, we wouldn't be surprised to see a few flavors inspired by Merriweather's music lineup, as well.
SHUT
Shiso Tavern: This Canton eatery has been a go-to for top-notch sushi and cocktails for more than seven years. But earlier this week, a post to the tavern's Facebook page announced that the restaurant will close for good on Sunday, March 15. "We take with us many memories and hope you will join us this weekend reminiscing on the good times and celebrating new adventures," reads the message from management and staff. There's no word yet on what will become of the space on O'Donnell Square, which was known for its colorful rolls, wok dishes, and daily drink specials.