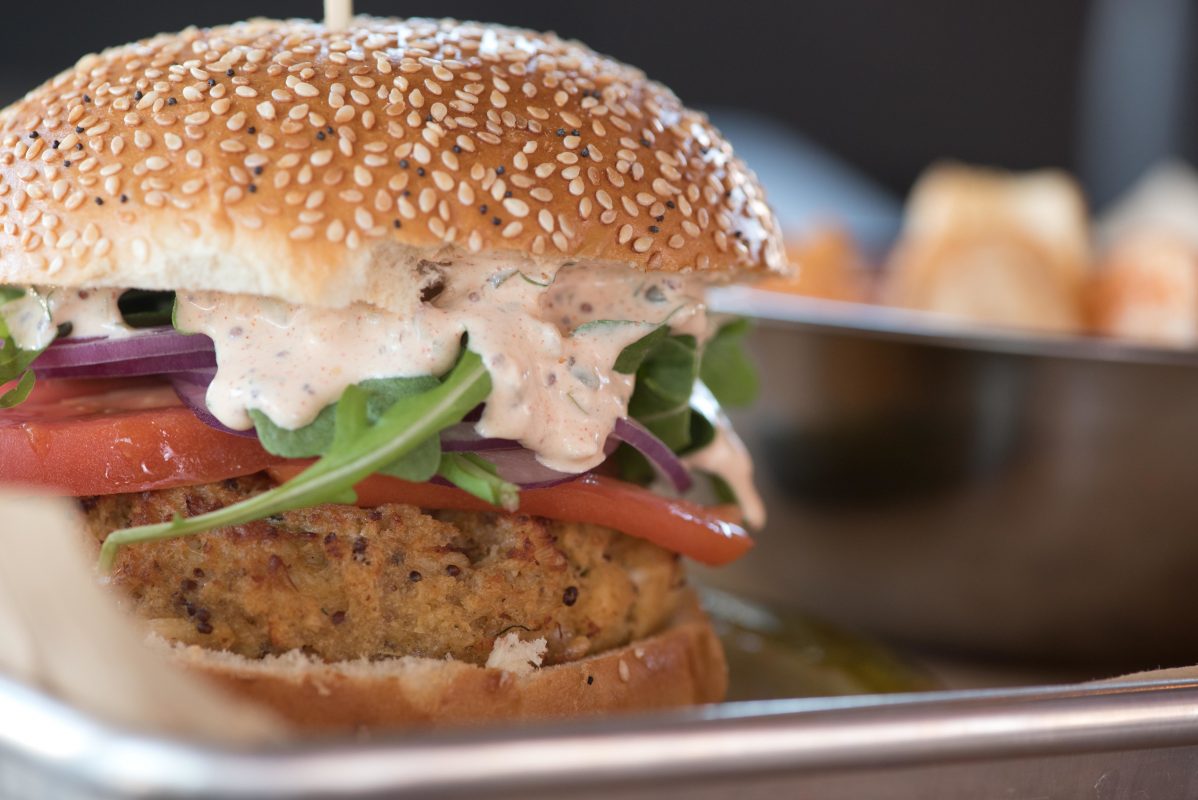 RegionAle: Hearty sandwiches are enough to win us over. But pairing a classic Nashville hot chicken or Wisconsin grilled cheese with local beer, wine, and pre-mixed cocktails from a wall of self-serve taps? Now we're really all in. This aptly named cafe has been charming Ellicott City diners with its all-American sandwiches and regional beers ever since it opened in 2016. But next month, Baltimore diners won't have to travel west to get their fill. RegionAle will debut its second location—complete with what is projected to be the city's largest self-pour beverage wall—in the American Can Building in Canton on Tuesday, February 18. Swing by to get your hands on geographically-inspired eats—including a New York-style Italian hero, pressed Florida cubano, Oregon tuna steak, and, of course, a Maryland crab cake—while downing the DIY beverages.
The Manor Restaurant & Ultralounge: Next week, the famed Mt. Vernon mansion that formerly housed The Brass Elephant—and its most recent iteration, The Elephant—will once again come back to life as a restaurant. But this time around, the concept will also be part-dance lounge. Robert Gay and Josh Persing, the duo who previously operated GAY Lounge just down North Charles Street, are set to officially unveil The Manor Restuarant & Ultralounge on Friday, February 7. Executed by former Baltimore Country Club chef Parker Greene, the menu will offer oven-fired pizzas, chicken sandwiches, and more fine-tuned dishes such as smoked duck with preserved cherries. Veteran bartender Melissa Ray will spearhead the beverage program with a focus on snack-and-cocktail pairings, and the lounge will feature live DJ entertainment on weekends and frequent drag performances throughout the week.
OPEN
&pizza: North Baltimore diners no longer need to venture to Federal Hill to chow down on the more-than-a-foot-long personal pies at this Washington, D.C.-based chain—which appointed Erik Bruner-Yang of Maketto fame as its executive chef last summer. The artsy pizza brand launched its second Baltimore shop on St. Paul Street in Charles Village this week. Decorated with stark red and white walls, the hangout near the Johns Hopkins University campus tops its dough with everything from pepperoni and ricotta to mushrooms and fig balsamic. During the grand opening celebration on February 4, &pizza will offer $5 pies to all customers, as well as free pizza for a year for the first 37 people through the door in celebration of the brand's 37th shop.
NEWS
True Chesapeake Oyster Co. Launches Brunch: Now that this newbie inside Hampden's historic Whitehall Mill has had a few months to find its footing, the team is ready to roll out brunch service. Starting on February 9 and continuing every Sunday from 10:30 a.m.-2:30 p.m., executive chef Zack Mills and his team will churn out mid-morning meals including fried chicken and French toast drizzled in bourbon maple syrup, a crab cake benedict with roasted squash, buttermilk biscuits with ham gravy, and, of course, spicy baked oysters sourced from the True Chesapeake farm in Southern Maryland. No brunch is complete without boozy beverages, and—in addition to the requisite mimosas and Bloody Marys—the bar team will be pouring drinks from their brand new winter cocktail menu. Highlights include the vodka and vermouth-infused "Saint Jerome," (a nod to the St. Mary's County creek where the farm resides) and the non-alcoholic "Jicaro" made with housemade horchata and allspice.
David Thomas Crowned Chopped Champion Again: A familiar face graced our screens earlier this week when Ida B's Table chef/owner David Thomas competed on Chopped Champions. The soul food specialist won a match of Food Network's famed cooking show in 2018, and took home the top prize yet again on an episode that aired Tuesday. His most recent win advanced him to the Grand Champions competition, which will air on Tuesday, February 18. "This journey is extremely humbling, and it's not over yet," reads an Instagram post from Thomas, who will be screening the finale at the restaurant for diners looking for a place to tune in. "Thank you to everyone who has supported me on this journey and who continues to support me every day."
SHUT
Bar Louie: Three of five Maryland locations were victims of Bar Louie's bankruptcy claims that made headlines earlier this week. The cocktail bar known for its happy hour specials and gastropub fare closed sites in Owings Mills, Wheaton, and Rockville—three of 38 underperforming locations that the were closed across the country. Luckily, the bars in Hunt Valley and White Marsh are still going strong, and the chain is hoping to emerge from bankruptcy within 90 days.
Uncle Wiggly's Deli & Ice Cream: Towson natives are reeling from the loss of this York Road staple, which has closed its doors. For nearly 20 years, Uncle Wiggly's has been a go-to for nostalgic desserts, overstuffed sandwiches (like the fan-favorite "Ravenette" that layered turkey with bacon and roasted red peppers), and catching up with friends and neighbors over drippy ice cream cones. A notice posted to the front door of the shop indicates that it was evicted last month. Uncle Wiggly's closure marks the end of an era for the shopping center on the 6900 block of York Road, which also said goodbye to neighboring consignment shop The Lily Pad last weekend.