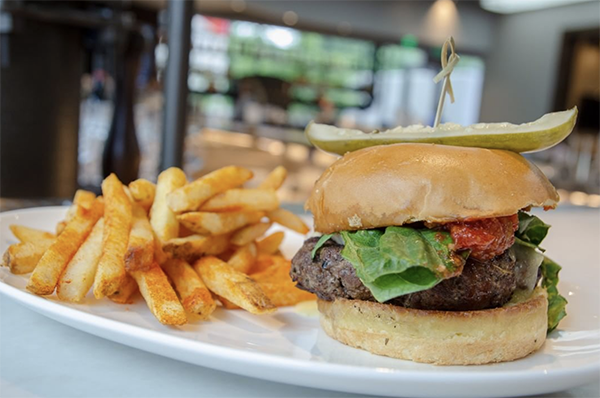 Cured
OPEN

Cured and 18th & 21st: After much anticipation, the team behind Howard County's Iron Bridge Wine Co. has finally cut the ribbon at this hybrid concept inside the new One Merriweather building in Columbia. The building houses a casual Mid-Atlantic eatery called Cured up front, as well as 18th & 21st in the back —a speakeasy-style jazz club named after the amendments that enacted and later repealed Prohibition. The menus in both dining rooms are spearheaded by chef Christopher Lewis, a local industry veteran who most recently ran the kitchen at Iron Bridge. To celebrate the grand opening and Capital JazzFest happening just a few hundred yards away at Merriweather Post Pavilion this weekend, 18th & 21st will highlight performances by local jazz musicians all weekend long. 10980 Grantchester Way, Columbia, 667-786-7111
COMING SOON
The Pizza Trust: Just when we thought Belvedere Square Market had everything, a new pizza joint is being thrown into the mix later this summer. James Clark, who owns Clark Burger inside the Senator Theatre across York Road, is debuting this new spot that will serve quick-fire pizzas, wings, fries, and salads. The menu of personal pies includes varieties like the "Mobtown" (garlic oil, mozzarella, caramelized shallots, roasted red peppers, and toasted pine nuts), the "Dirty Bird" (truffle bechamel sauce, herb chicken, bacon bits, and B-More Saucy buffalo drizzle), and the "Trust," which tops hand-stretched dough with house red sauce, green peppers, and sweet and spicy Italian sausage. 529 E. Belvedere Ave., 443-961-8111.
Donut Alliance: After one year of peddling their tasty treats at local eateries and cafes, husband-and-wife team Jeff and Emily Arenberg are settling in a brick-and-mortar of their own. Slated to officially open on Harford Road in Lauraville later this month, Donut Alliance will feature a daily selection of the couple's signature vegan varieties including strawberry lemonade, maple facon (vegan bacon), and classic Boston cream. "We're avid bakers," Emily says. "So we're always trying to get to where non-vegans can't tell the difference." 4311 Harford Rd., 410-627-4597
Sophomore Coffee: This yet-to-open coffee shop introduced itself to the scene with a pop-up at Hunting Ground last weekend, and it will be back at the Hampden vintage shop this Saturday from 11 a.m. to 3 p.m. Stop by to sample the signature brews (either hot or iced) in advance of Sophomore Coffee's debut in Old Goucher in the coming weeks. Stay tuned for more updates. Hunting Ground, 3649 Falls Rd., 11 a.m.-3 p.m.
NEWS
The Elk Room: It's been an exciting week for Atlas Restaurant Group's speakeasy-style cocktail bar in Harbor East. On Wednesday, the dimly lit hangout was awarded a coveted spot on Esquire's annual list of the "21 Best Bars in America." The write-up gives shout-outs to industry veterans Shaun Stewart (who actually recently moved on from Elk Room) and Andrew Nichols, and praises the duo's creative drinks including "The Poe's Raven"—a smoked rum and coconut cocktail that was inspired by the rum-ham bit in It's Always Sunny in Philadelphia. "Being named one of the Best Bars in America is a result of all of the hard work, passion, and dedication that our team puts into the Elk Room each and every day," says Atlas managing partner Eric Smith, who oversees the beverage program. "We are very appreciative of the recognition, and will continue to raise the bar when it comes to cocktails and service." In previous years, Esquire's list has included The Brewer's Art, Rye, and Mt. Royal Tavern. The Elk Room, 1010 Fleet St., 410-244-5830
EPICUREAN EVENTS
6/1: Lobster Roll Fridays Return to The Corner Pantry
You know it's the start of summer when chef Neill Howell brings this Friday tradition back to The Corner Pantry in Mt. Washington. Starting this Friday, June 1, Howell will be whipping up his classic Maine lobster rolls on housemade bread served with an order of crispy chips. Swing by the Falls Road haunt on Fridays throughout the summer starting at 11 a.m. to taste the signature summer dish. 6080 Falls Road, 667-308-2331, $28.
6/2: Great Grapes Wine & Food Festival
Throw on a pair of sunnies and head to Oregon Ridge Park this Saturday to sip more than 100 Maryland-made wines from the likes of Boordy Vineyards, Linganore Winecellars, Basignani Winery, Olney Winery, Royal Rabbit Vineyards, and more. Plus, there will be a la carte local beer, food truck fare, live music, and a playground area with crafts for kids. If that's not enough to convince you, '90s chart-toppers Vertical Horizon (think "Everything You Want" and "Best I Ever Had") will perform a headlining set at 7 p.m. Oregon Ridge Park, 13401 Beaver Dam Rd., Cockeysville, 1-8 p.m., $29-39