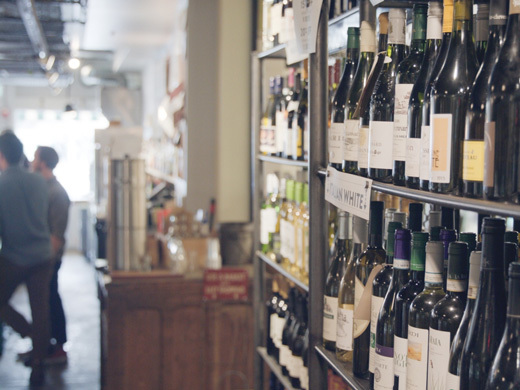 Courtesy of Grand Cru
COMING SOON
The Remington Bottle: Many know Jayce Flickinger as the newest owner of Grand Cru—the beloved Belvedere Square bar-and-bottle shop that has been around since 2003. Now, he's expanding his knowledge of wine and spirits by opening a new store in the former home of Remington Wine Co. on West 29th Street. Expected to debut by the end of March, The Remington Bottle will offer a wide range of local and domestic beer, canned seltzer drinks, worldly wines, and craft spirits. Flickinger, a former Remington resident who was the opening general manager at Parts & Labor, is also looking forward to hosting frequent tasting events as a way to connect with the community.
"Remington is this very in-flux neighborhood," he says. "It's a very diverse place where you have people who are moving in, and people who have been there their whole lives. So the goal to make it a successful neighborhood shop is to be able to offer something for everyone." Ahead of the grand opening this spring, the team is making slight upgrades including adding more coolers for craft beer, and sprucing up the interior with new logos and fresh coats of paint. Though he wants the new shop to have the same inviting feel as Grand Cru, Flickinger says he's looking forward to opening a space that he can build from the ground up.
"I'm excited about the differences between the two businesses," he says. "Grand Cru is 15 years old and it's established, so you can't shake the nest too much because the bees get upset. But with this, we get to start from scratch." 329 W. 29th St.
Growler USA: The team from this yet-to-open craft beer bar—the first Maryland location of an Oregon-based chain—has been visiting local breweries across the city in anticipation of its grand opening in Hampden in the next few weeks. Sandwiched between MOD Pizza and CinéBistro at The Rotunda, Growler USA will feature 100 American-made craft drafts, including many local options from the likes of DuClaw, Checkerspot, and Raven Beer. Complete with flat screens, exposed brick, and custom beer-logo artwork, the modern-industrial taproom will also serve a full pub grub menu highlighting burgers and sandwiches. 711 W. 40th St.
Pure Raw Juice: Since opening in 2015, this Federal Hill-based juice bar has expanded with a second location in Towson and a yet-to-open shop at the Rotunda in Hampden. Now, the fuel-up fixture announced that it is returning to its South Baltimore roots with a fourth location at A2—a retail-and-residential community adjacent to Anthem House in Locust Point. Locals can expect to see the bar's signature smoothies, acai bowls, and juice blends including the beet-infused "True Blood" and the lemon "Ginger-Aid." Although a grand opening date still hasn't been set, construction on the 1,300-square-foot space is expected to begin later this year. 900 E. Fort Ave.
EPICUREAN EVENTS
2/22: Big Softy Pop-Up at Ground & Griddled
Close out the workweek by treating yourself to breakfast at this special R. House pop-up. Craig Falk of The Lunchbox Lady is taking over service at Ground & Griddled starting at 9 a.m. to serve up another one-time-only menu with his migrating pop-up Big Softy. This time, be on the lookout for dishes such as fluffy pancakes, crab quiche, and homemade brioche rolls with raspberry jam. 301 W. 29th St. 9 a.m.
2/24: CSA Fair at Union Collective
For newbies thinking about joining a local Community Supported Agriculture (CSA) program, there are typically a lot of questions that come to mind. What are the benefits? How much does it cost? What even is a CSA? Well Crafted Kitchen inside Union Collective has organized this community get-together to educate the masses about the benefits of getting produce and protein straight from local purveyors. Swing by Union from 1-4 p.m. to meet with many different farmers and producers—including Calvert's Gift Farm, Moon Valley Farms, Loaf Bakehouse, and Liberty Delight Farms—offering everything from fruits and veggies to fresh bread and all-natural dog treats. Attendees who sign up for a CSA during the fair will receive 50 percent-off all Well Crafted pizzas. 1700 W. 41st St. 1-4 p.m.
SHUT
Hungry Andy's: For years, Fells Point locals have satisfied hunger pangs with the loaded pit beef sandwiches at this South Broadway staple—which was taken over by Damon Chapman and his wife, Rashawn, last year. But, sadly, this month will be the last to fill up on the Hungry Andy's grub. The owners recently announced that they would be closing the restaurant on February 28 in order to focus on the catering and special events side of their business. "While the decision was not easy, it was best suited for our family," reads a message posted to Instagram last week. "We appreciate all of the love and support." The owners also plan to continue their community outreach efforts (a recent fundraiser collected more than $1,000 to feed neighbors in need) in the next chapter. Swing by for one last pit turkey wrap, Buffalo burger, or crab cake combo with Old Bay fries before the doors close for good next week. 629 S. Broadway