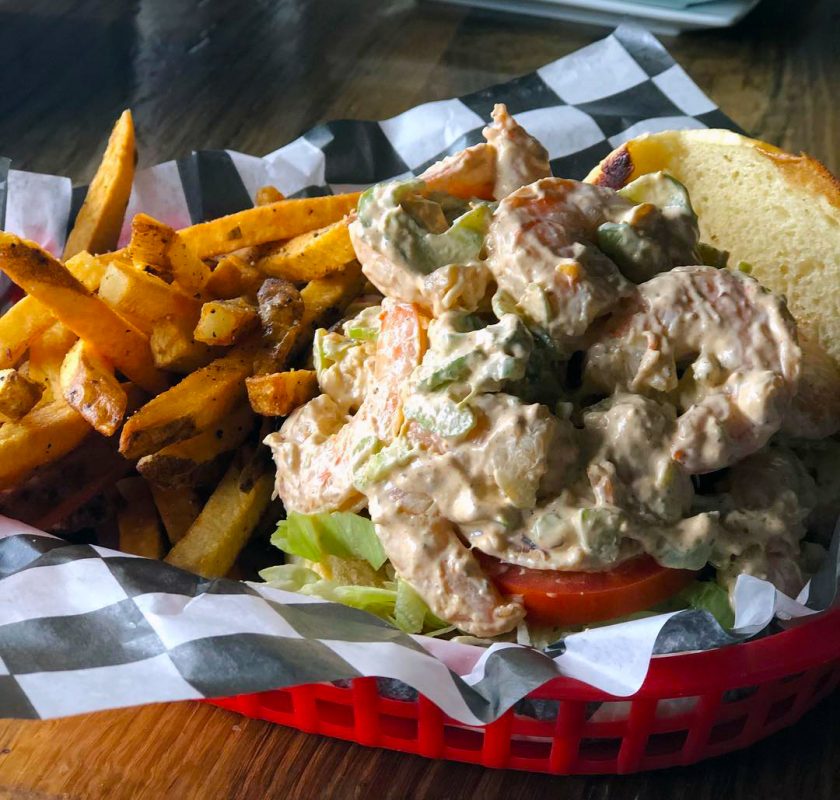 Lee's Pint & Shell
OPEN
Tiki Lee's: Fans of Lee's Pint & Shell in Canton will be happy to hear that this new sister-spot has officially debuted on the water in Sparrows Point. The dockside oasis at North Point Cove serves as an ode to owner Dave Carey's late father, Lee—an avid fisherman who loved spending time relaxing outdoors. During the official grand opening last weekend, revelers flocked to the long-awaited destination to cool off with frozen cocktails and vodka drinks while enjoying summer fare like crab cakes, shrimp salad wraps, and house salads topped with jerk chicken. Diners can experience the hyper-local feel inside (the dining room includes nods to Old Bay, the Orioles, and Bethlehem Steel) or the island vibe outside, which is equipped with palm trees, strung lights, ample boat slips, and plenty of sand to feel between your toes. 4309 Shore Drive, Sparrows Point. 443-242-6698
COMING SOON
Venice Tavern: In the realm of old-school Baltimore dive bars, Venice Tavern is one of the greats. The Highlandtown hangout has been around since 1933, when original owners Frank and Victoria DeSantis opened it in the basement of their home after the repeal of Prohibition. Soon, fourth-generation owner Damion DeSantis will expand the pub's legacy by opening a second Venice Tavern on Eastern Avenue next to La Scala in Little Italy, according to liquor board documents. The new Venice Tavern marks Damion's return to the building—which previously housed his former concept Dego Dames before it closed in 2010. This time around, the new space will take after the beloved cash-only flagship in Highlandtown, which has built a reputation for its $3 pints, well-worn pool table, and walls collaged with portraits of boxing champions. 1018 Eastern Ave.
(RE) OPEN
Bluebird Pub: Just a few days after its grand opening on May 10, this refreshed concept below The Bluebird Cocktail Room in Hampden was forced to close due to a flooding issue that caused significant damage to the subterranean space. But now, after a few weeks of cleanup and repairs, the pub is back at it for take two. Resuming normal hours—noon to 10 p.m. Thursday through Sunday and noon to midnight on Fridays and Saturdays—the bar will highlight a menu of elevated pub fare and a strong lineup of whiskey drinks. Pair eats like a foie gras burger and vegetarian broccoli sandwich with cocktails including an Old Grand-Dad bonded bourbon Old Fashioned or a barrel-aged Cachaça Sour shaken with lemon juice and sugarcane. 3600 Hickory Ave. 667-303-3263
EPICUREAN EVENTS
5/31: Clavel Pop-Up at Union
Chef Carlos Raba is rounding up his team from Clavel and heading to Union Craft Brewing for this Friday-night pop-up in Hampden. Snag a spot on Union's patio to kick off the weekend by sipping craft beers and filling up on tacos and ceviche by Clavel. The soundtrack for the free event will be provided by DJ Rezzy Ron. 1700 W. 41st St. 6-9 p.m. Free
5/31: Getcha Lechón Pig Roast at Broadway Market
El Tigre, the outdoor bar program at the newly renovated Broadway Market, is launching food service with a Latin-style pig roast on the market's patio this Friday. Flock to Fells Point to enjoy a plate of slow-roasted Liberty Delight Farms pork with bottomless beans, rice, tostones, and all the fixins'. In keeping with El Tigre's tiki theme, bartenders will also be pouring plenty of custom cocktails made with rum and Illegal mezcal. 1640 Aliceanna St. 6-10 p.m. $25
6/2: Coffees of Antioquia Tasting at Vent
If you're in need of a hangover helper come Sunday, Vent Coffee Roasters is hosting this intimate tasting with its direct trade partner from Antioquia, Colombia. Stop by to sample three Colombian coffees while chatting with experts about coffee production and farming. The event is free, but registration is required in advance. 1700 W. 41st St. 1-2 p.m. Free
SHUT
Baltimore Built Bistro: We're always sad to report the loss of a corner bar in the city, especially when it's as short-lived as this Fells Point watering hole. B3 took over the former home of Bad Decisions just under a year ago, and shuttered its doors for good last week. "The team at Baltimore Built Bistro would like to thank everyone for their support," reads an announcement posted to Facebook on May 24. "Unfortunately, we are closing our doors permanently." Throughout its 10-month run, the neighborhood spot became known for its next-level bar snacks, loaded burgers, and signature cocktails like the Coldbrew Crush with espresso vodka and salted caramel Baileys. 1928 Fleet St.
Gourmet Again: Pikesville locals are mourning the loss of this decades-old fixture best known for its deli counter, salad bar, prepared foods, and kosher catering. Shoppers visiting the store earlier this week were surprised to see a sign posted to the front door announcing the closure. "The food business is very difficult, cutthroat, and competitive," owner Andy Hoffman told Jmore earlier this week. "I couldn't compete with the big guys. I just didn't have that kind of purchasing power." The closure is yet another hit to the community, which also said goodbye to mainstay Jewish deli Suburban House in 2017. All catering credits and gift certificates are being honored by former Gourmet Again general manager Jerry Schlichting, who now owns Clean Cuisine catering in Owings Mills. 3713 Old Court Rd., Pikesville.
Red Star Charles Village: This weekend will be the last for diners to chow down on burgers in the wood-stained dining room at Red Star in Charles Village. Marketing and operations manager Willy Dely recently confirmed to the Baltimore Business Journal that the extension of the original Red Star in Fells Point will officially close its doors on June 2. The restaurant opened in the Nine East 33rd development near the Johns Hopkins campus in the summer of 2017, offering a menu of burgers, sandwiches, pizzas, and bar snacks helmed by chef Francisco Lopez. It later became known for hosting weekly pint nights, half-price wine specials, and weekend drag brunches. The original Red Star, as well as its Fells Point sister-spot Waterfront Hotel, are both still going strong. 3224 St. Paul St.