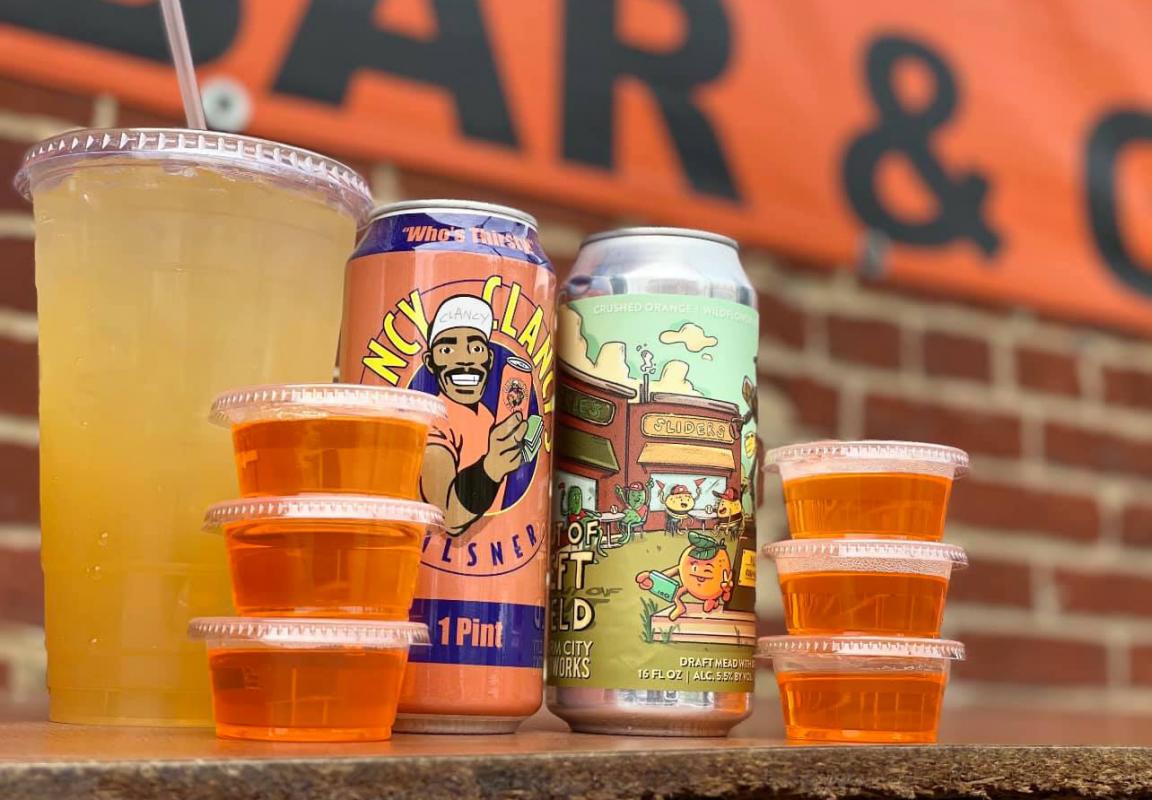 —Courtesy of Sliders Bar and Grille
There is so much to get excited about as the O's head back to Birdland for the home opener against the Red Sox on Thursday, April 8 at 3:05 p.m. Aside from safely bringing back the Opening Day traditions that we sorely missed during last year's postponed season—when the birds played their first home game to a fanless stadium in July—tomorrow's match up will also mark first baseman Trey Mancini's official return to Camden Yards after a yearlong battle with colon cancer. 
Plus, a locally inspired lineup of pregame festivities will include an original poem by Kondwani Fidel, the ceremonial first pitch thrown by Mayor Brandon Scott, a tribute to sports superfan Mo Gaba, recognition of frontline workers, the presentation of the Birdland Community Hero award to Dave Seel of the Baltimore Restaurant Relief Fund, and the singing of the National Anthem by West Baltimore's own multidisciplinary artist Zadia. All of which are meant to celebrate the resilience of the community and the return of our favorite pastime after such a challenging year. 
Outside of the ballpark, bars and restaurants all over town are getting in on the excitement by offering food and drink deals in honor of the opener. With a high of 70 degrees in the forecast, we can't think of a better excuse to log off early, throw on an orange mask, and head to a local spot to snag takeout or a socially distanced table with a prime view of the game. Here are the specials not to miss: 
AJ's on Hanover: This Federal Hill corner spot is opening its doors at 1 p.m. for anyone who is playing hooky, or just in search of an icy Deep Eddy's Orange Crush ($7) before heading to the stadium. Other festive specials will include $5 Peabody Heights Old Oriole Park lagers, $6 Orioles bombs, and $12 Orange Crush buckets. Delia Foley's Pub—AJ's sister-spot located just a block over—is offering similar specials, as well as $15 Miller Lite buckets. 
Bon AppleCheese Charcuterie: If you're looking for ballpark snacks to munch on while watching from home, this Patterson Park pickup window has you covered. The special "CharcuterO's" ($30) and "Baseball" ($40) boxes come complete with the requisite meats, cheeses, fruit, and, of course, peanuts and Cracker Jacks. Pre-order online to pick up your box on Thursday starting at 3:30 p.m. 2500 Foster Ave.
Dough Boy Fresh Pretzel Co.: After moving out of its previous production facility in Dundalk, this pretzel pop-up recently found a new home at 1101 South Hanover Street in Federal Hill. Though it will take some time for the team to get up and running, they are celebrating the move with a pop-up at the new space—which will feature plenty of loaded pretzel bites to go around— from 1-8 p.m. on Opening Day. In order to put proper safety protocols into place, the team asks that anyone planning to stop by RSVP via Facebook. 
Mt. Washington Tavern: You can always count on this Mt. Washington neighborhood haunt for specials on game days. Head to the tavern's upstairs Skybar to soak up some sun while enjoying free hot dogs and popcorn during the game. Be sure to order a cold pint or icy Crush to wash it all down. 
Peabody Heights Brewery: This Abell brewery—which just so happens to be located at the former site of Old Oriole Park—is ringing in the start of the season with the release of three new ballpark-inspired cans. Visit the online shop to score an exclusive Opening Day Hazy IPA mixed six pack. Cans include the Bat Flip (a dry, hazy IPA made with Vic Secret, Galaxy, and Mosaic hops), the Double Header (a hazy double IPA blend of Mosaic, Citra, and El Dorado hops) and the Hot Corner (a dry triple IPA brewed with Citra, Galaxy, and Idaho hops).
Pickles Pub: Maintaining its time-honored traditions, this O's headquarters—located a stone's throw from the stadium—is opening its doors bright and early at 8 a.m. Early risers can enjoy $2 16-oz. Miller Lite and Coors Light bottles, as well as fun giveaways from 8-10 a.m. Throughout the day, stop by to take advantage of $9 32-oz. Crushes while chowing down on crab pretzels, Old Bay wings, crab tots, and the famous beer battered pickles. 
The Rowhouse Grille: Speaking of opening early, this Federal Hill hangout will start pouring pints at 11 a.m. Order a cold one, or crack open a $3.50 can of Natty Boh, while catching the game on one of the bar's many big screens. 
Sliders Bar and Grille: Famously located 771 feet away from home plate at OPACY, this legendary sports bar is backing the birds with free breakfast sandwiches from 7-9 a.m. for those who have reservations. Plus, fan-favorite O's vendor Clancy Haskett, more fondly known as Fancy Clancy, will be on site slinging his custom-brewed beer all day long. 
The Sporty Dog: Nothing says baseball season like hot dogs, and this homegrown purveyor recently added its "O Dog" back onto the menu to celebrate. Available Thursday for delivery via Doordash and Grubhub, or pickup from its North Charles Street production space, the Orioles-inspired offering tops an all-natural beef frank with Old Bay mac and cheese and lump crab meat. 
THB Bagelry & Deli: This local cafe chain is always down to back local sports teams the best way it knows how—with colored bagels. So, it should come as no surprise that all locations will fill their bins with orange-and-black bagels on Thursday. Enjoy the one-day-only offering with a classic schmere or your favorite sandwich fillings.