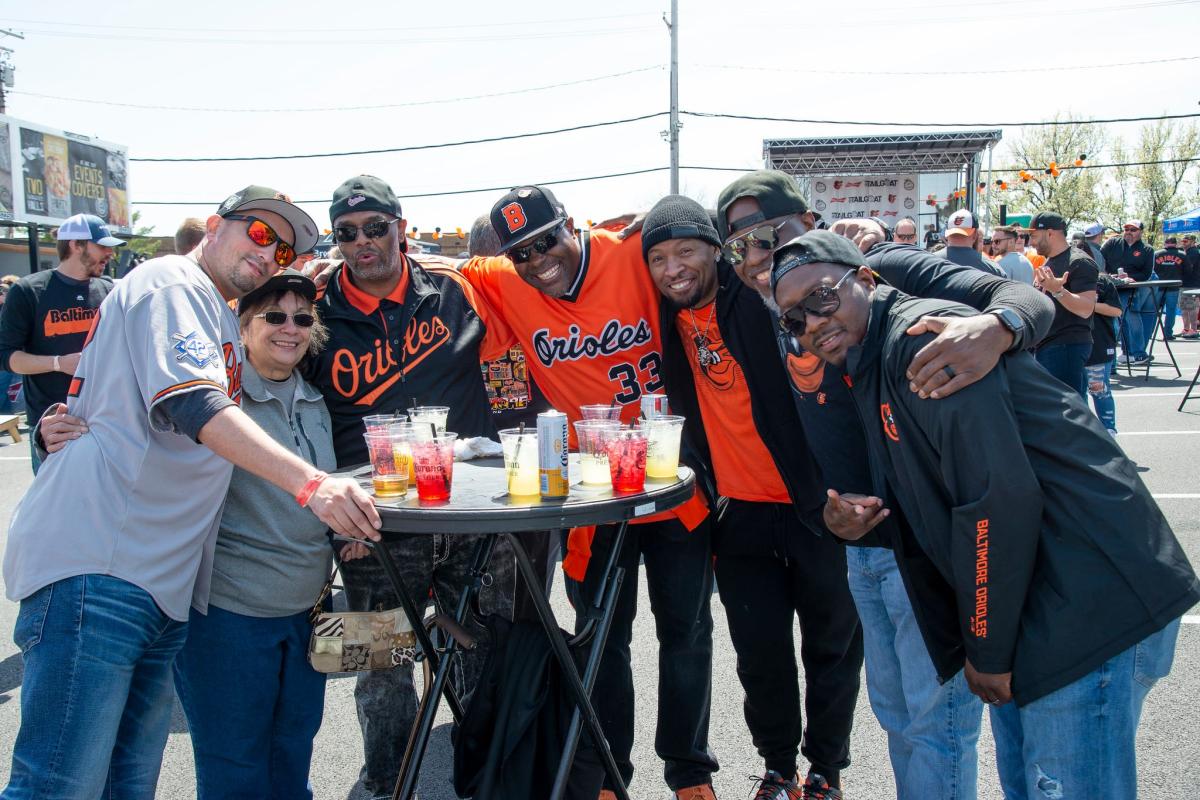 Jimmy's Famous Seafood is bringing back its signature Opening Day tailgate in Lot N of M&T Bank Stadium. —Courtesy of Jimmy's Famous Seafood via Facebook
A road start to the season left Orioles fans waiting a week for Charm City's greatest unofficial springtime holiday. But this Friday, you can finally don your orange and black, hop on the light rail, and get to the Yard to see Adley Rutschman and the Orioles take on the New York Yankees for the home opener—which has been postponed to Friday, April 7 at 3:05 p.m. due to severe weather. Whether you have a ticket or are in need of a local spot to rejoice in the return of baseball, we've got you covered. 
WALKING DISTANCE TO CAMDEN YARDS 
Section 771: The game-day headquarters previously known as Sliders Bar & Grill is unveiling a full rebrand just in time for Opening Day. Along with its new name, an homage to its location exactly 771 feet away from home plate, the bar now boasts an updated interior with massive hangar doors that open up to the patio, as well as multiple outdoor flat screens. The menu has also been revamped, but you can expect fresh-squeezed Orange Crushes and cold cans of Natty Boh like always. The Opening Day party starts bright and early at 6 a.m. 504 Washington St. 
Pickle's Pub Just beyond the left field gates of Camden Yards, this pregame standby is also opening at 6 a.m. to ring in the new season in Birdland. Early risers will be treated to free breakfast, along with witnessing sports radio station 105.7 The Fan broadcasting live on site. All day, staff will be welcoming O's fans with their famous Pickle Shots, Orange Crushes, and a long list of bottle and draft beers. If you can't snag a spot at the bar inside, the front patio has plenty of overflow space. 320 Washington Blvd. 410-752-1784
Crossbar Featuring tons of drink specials, this Federal Hill biergarten will open at 11 a.m. to welcome O's fans playing hooky. Enjoy $3 Natty Boh tallboys; $5 Miller Lite half-liters and Orange Bombs; $5 pretzels and sausages; $7 Miller Lite liters; $9 Summer Shandy liters; and $15 domestic beer buckets. 18 E. Cross St. 443 438-4013
Delia Foley's This South Charles Street staple is a perfect stop on the way to Camden Yards. Starting at 11 a.m. post up at the bar to enjoy $15 domestic buckets and $5 O's Bombs. As things fill up, the second floor will open at 1 p.m. 1439 S. Charles St. (443) 682-9141
Gameday Firehouse Pregame or stick around to watch the game at this firehouse-turned-sports hangout located just a stone's throw from Camden Yards. The Ravens tailgate hotspot is showing out for opening day with a DJ, barbecue food truck, and drink specials from 11:00 a.m. to the end of the game. 1202 Ridgely St. 410 234-0734
Jimmy's Famous Seafood and TailGOAT: In what should come as a surprise to no one, this Dundalk seafood stalwart is going all out with one of its traditional tailgates in Ravens Lot N. An $80 ticket ($40 for kids 16 and under) gets you access to an open bar, buffet, and lawn games for three hours leading up to the first pitch. EDM music duo Loud Luxury will provide the soundtrack for the party. M&T Bank Stadium, Lot N.
Magerk's Pub If you find yourself in Federal Hill for the game, Magerk's has you covered with specials on beer buckets and O's Bombs all day. They're opening at 10:30 a.m., so feel free to stop on the way to the game or hang for the whole day with tons of TV's on with sound. 1061 S. Charles St. 410-576-9230
Pickett Brewing Company Just a short walk from Camden Yards, this Pigtown brewery is opening its taproom at 10:00 a.m., making it a perfect pregame destination. To commemorate the day, the team is rolling out its brand new baseball-inspired Turn Two light lager, and welcoming Glizzy's Wagyu Dogs food truck to satisfy your ballpark food cravings. 1130 S. Paca St. 
Pratt Street Ale House: Per tradition, this downtown Orioles headquarters is pulling out all of the stops for Opening Day with doors opening at 6 a.m., when classic rock station 100.7 The Bay will begin airing live from the bar. Join the party and take advantage of discounted drinks, as well as menu classics like nachos and baseball-sized crab cakes. 206 W. Pratt St. 
Wico Street Beer Company Another Pigtown independent brewing option, this beer haven is relaunching its El Steezo Mexican lager, now fit with an Orioles-themed can design. Wico opens at 10:00 a.m., with Catalyst Hot Dogs on site and a DJ spinning tracks from 12-3 p.m. 1100 Wicomico St. 
OTHER BIRD-WATCHING BARS AROUND TOWN 
Leinie's Lodge and Beer Garden: Take in the home opener from this Power Plant Live destination. Doors open at noon, when the Lienenkugel's-centered bar will offer $5 Orange Crushes, $5 Skrewball shots, and $3 Miller Lites. 4 Market Pl. 410-908-0650
Nacho Mama's With locations in Canton and Towson, this Tex-Mex hangout has lengthy lists of specials to keep baseball festivities going all day long. At the Canton location, sip $2 Natty Boh drafts, $3 24-oz. Natty Boh cans, $5 Graceland margaritas, $15 domestic beer buckets, and $20 buckets of imported beer. If you're in Towson, look out for $2 Budweiser, $2 Corona Premier, $2 Guinness Blonde, and $2 16-oz. Natty Boh cans. Multiple locations. 410-675-0898
Mama's on the Half Shell: At Nacho Mama's sister-spot in Canton, take advantage of $5 oyster shooters, $6 Orange Crushes, $6 draft beers, and $15 domestic beer buckets. 2901 O' Donnell St.