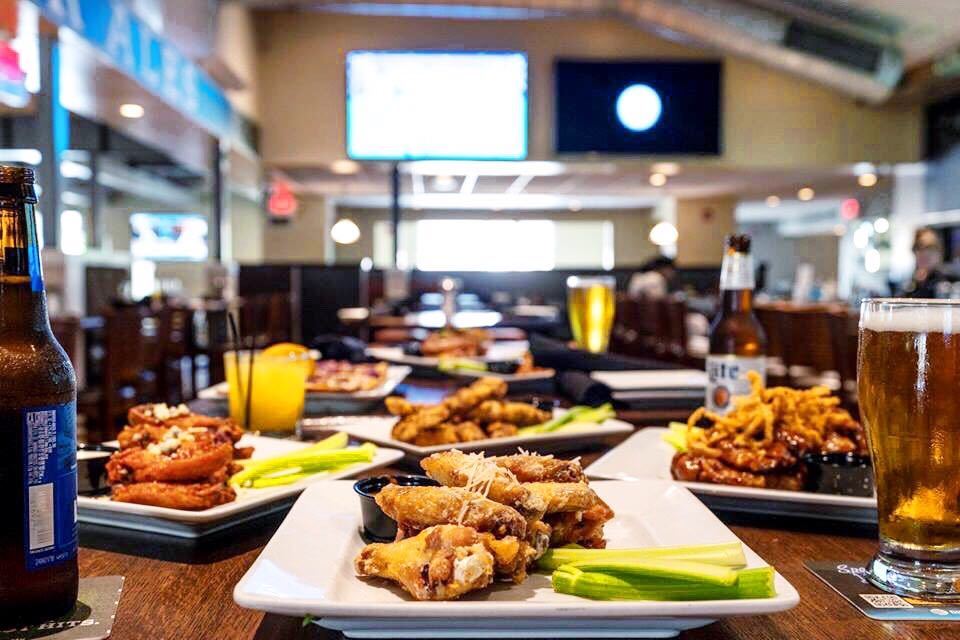 Pratt Street Ale House
Whether you're a new recruit or a diehard fan, there's no escaping the Ravens hype that washes Charm City in a wave of purple as the NFL season gets underway. Less than a week away from the home opener, the Ravens Flock is hungry for some big wins—and we're hungry for big specials at some Baltimore's best restaurants, bars, and tailgates. (With all eyes on Lamar Jackson, try not to get distracted by delicious wings and discounted kegs.) Grab your Ravens gear, gather your squad, and check out these game day deals you won't want to miss.
Drinks for Days

Fish Head Cantina: Serving up drink specials including $2.50 Natty Bohs, $4 craft drafts, and $5 Crushes, Fish Head Cantina has a lot to offer Ravens fans. Swing by the stylish tiki bar for drink deals, live music—oh, and did we mention the entire game day menu is 25 percent off? Whether you're loading up on nachos or sushi, this is a can't miss for foodie fans. 4802 Benson Ave, 410-247-2474.
Grotto Pizza: For fans who love the Ravens and also pizza, Grotto Pizza has the best of both worlds. Grotto's game day menu features $6 personal pizzas and chili dogs, as well as $7 loaded nachos. And don't worry—they've got drinks covered, too, with $4 Coors Light big beers all day. Plus, if you're feeling lucky, you can play the Pig Skin Pick 'Em for a chance to win a $500 Amex gift card. 7075 Minstrel Way, Columbia, 443-583-8200.
Italian Disco: As if delicious pizza and burgers weren't enough to entice you, Italian Disco celebrates Ravens games with $10 domestic beer pitchers and $8 pizzas or orders of wings. Do some game-day bird watching on any of this chic Harbor East hangout's flat screens, enjoy the throwback disco vibes, and dig in. 1006 Fleet St., 410-605-0444.
Lee's Pint & Shell: Lee's Pint & Shell opened up to its Canton neighborhood about three years ago after a major rebranding, and it's been packed practically every day since. Game days are no different, except you might notice a higher-than-usual number of patrons decked out in purple. For the Ravens flock, Lee's serves up $2 Miller Lites and $4 Jack Daniels shots and cocktails, as well as $4 Ravens Bombs (you'll have to stop for yourself to find out what's in a Ravens Bomb—we don't want to spoil the surprise). 2844 Hudson St., 410-327-2883.
Mt. Washington Tavern: If you're looking for a lunch spot that rewards Ravens pride before game day, look no further than Mt. Washington Tavern's Purple Fridays. Come for lunch specials, including the Blackjack Burger or the Black and Purple Salad, and stay for the drink deals like $2 Narragansett lager cans, $4 Old Hilltop drafts, and $6 Tito's vodka drinks. While you're at it, try your hand at a final scorecard prediction for a chance to win a $25 tavern gift certificate. 5700 Newbury St., 410-367-6903.
Pratt Street Ale House: Just a short walk from the stadium, Pratt Street Ale House offers Ravens fans a taste of local brews, with $5 pints from Oliver Brewing Co. The game-day fixture also highlights $5 glasses of wine and a selection of $3 beers to enjoy before, during, and after the game. Plus, satisfy your hankering for wings with 10 for $12, 20 for $23, and 30 for $34. 206 West Pratt St., 410-244-8900.
Sports Bar Scene

Donna's Tavern: Between the $1 Naturday cans, $2 Bud Lite drafts, and $3 Pinnacle grape bombs, and free shooters after every Ravens touchdown, Donna's Tavern in Dundalk can keep you busy on a game day budget. And don't worry, they won't let you go hungry—take advantage of delicious deals like an $8 crab pretzel. 6607 Pine Ave, Dundalk, 410-633-6677.
Game: Located just a stone's throw away from M&T Bank Stadium, Game makes birdwatching easy with 25 flatscreens and six 100-inch projection screens. Traditionalists can stick to delicious wings, but go for the crab cakes if you fancy some local flavor. With $10 32-oz. drafts and Orange Crush buckets, and $20 domestic buckets, Game has plenty to offer dedicated sports fans. To show their appreciation, they'll cover your first round after the game. 1400 Warner St., 410-385-0100.
The Greene Turtle: If you like apps, the Greene Turtle in Fells Point is the place for you, with a range of $5 and $7 appetizers on game day, as well as burger specials starting at $6. And if that's not enough to float your boat, throw in a bucket of five Bud Lights for $13 or a pitcher for $9. Grab your Ravens gear, get your squad together, and stop by this beloved hangout to turn the Greene Turtle purple. If you're not around Fells Point, all Greene Turtle locations will offer their own NFL game day deals. 277 South Broadway, 410-342-4222.
Looney's Pub: With an extensive game day menu, you'll want to head back to Looney's Pub again and again to try the different combo specials, like the $17 dozen wings and domestic pitcher deal. If you're just looking for food, don't worry—get two footlong hot dogs for $10, or try the buffalo shrimp for $14. If drinks are more your speed, Looney's has you covered with everything from $4 stadium cup drafts and $12 Orange Crush buckets to the $20 White Claw and Bud Light bucket. 2900 O'Donnell St., 410-675-9235.
Tailgate Checklist

Mother's Grille: At some point this season, be sure to stop by the legendary Purple Patio tailgate that Mother's Grille hosts before every Ravens home game. Just a few blocks from M&T Bank Stadium, Mother's paints the outdoor parking lot to look like a football field—although you might not be able to see the details under a crush of purple-clad partygoers sipping $35 all-you-can-drink beers and Bloody Marys, watching the pregame on one of 65 TVs, or getting amped beneath the DJ booth. 1113 S. Charles St., 410-244-8686.
Jimmy's Famous Seafood: If you're a tailgate buff, you've got to try out Jimmy's Famous Seafood's self-proclaimed TailGOAT (that's Greatest Of All Time) and decide for yourself whether it lives up to the name. At a new location just steps from the stadium, TailGOAT boasts an open bar with eight beer selections, a hand-crafted buffet, and live music to prove that the only season worth celebrating is football season. 333 West Ostend St., 410-633-4040.
Bmore Around Town: BMore Around Town stands as the pioneer of the #PurpleTailgate, organizing blowouts for home games and road trips for the most dedicated fans. This year, #PurpleTailgate patrons will enjoy an open bar with unlimited beer cans and Deep Eddy crushes, catering from All Y'all BBQ and Mother Shuckers oysters, and raffles to benefit the Kamryn Lambert Foundation. 152 West Ostend St., 443-865-5935.