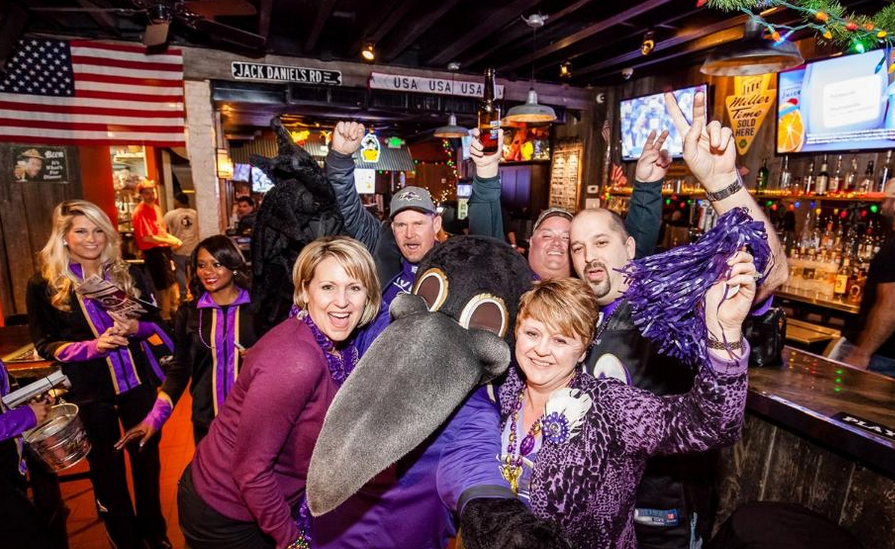 Baltimore Ravens
Whether you're a die-hard Ravens enthusiast who has been painting the town purple all week long, or a fair weather fan who is just now jumping on the bird bandwagon, it's time to start thinking about where you'll be cheering on the birds during the highly-anticipated Divisional Playoff game this weekend.
As we all know, tasty game-day eats and satisfying drinks are essential to all football festivities, so here are our picks for the best bars and restaurants to watch the Ravens take on the Patriots this Saturday afternoon.

(And, if you'll be watching up in the Foxborough area on Saturday, we've got recommendations for that too.)
Jimmy's Famous Seafood: This family-run restaurant, which is frequently visited by Ravens players who are fans of its fresh local seafood, will be featuring $5 bombs, $3 draft beers, and shrimp and wing specials during the game on Saturday. 6526 Holabird Avenue, 410-633-4040.
Nacho Mama's: With walls covered in old-school Colts jerseys and black-and-white football photographs, this Canton bar is an ideal place to celebrate the Ravens playoff run. Grab some friends and sip on a famous hubcap margarita or enjoy $2 Natty Boh bottles while rooting for the birds. 2907 O'Donnell St, 410-675-0898.
Mt. Washington Tavern: This neighborhood tavern is always spreading the Ravens cheer with weekly Purple Friday celebrations and endless game-day specials. Offerings for this Saturday's game include $3 16-oz. Natty Boh cans, $7 Deep Eddy vodka doubles, $4 Blue Moon drafts, $8 chicken quesadillas, $10 jumbo lump crab dip, $8 slow roasted Buffalo wings, and $10 loaded tots. 5700 Newbury St., 410-367-6903.
Kooper's Tavern: All three Kooper's locations in Fells Point, Lutherville, and Jacksonville will be offering the same specials in honor of the big game. Enjoy $3 Miller Lite drafts, $4 Blue Moon and Leinenkugel drafts, $5 Ravens bombs, $6 cheese nachos, $7 cheeseburger sliders, and $7 Old Bay or Zingin' wings. Multiple locations including 1702 Thames St., 410-563-5423.
Kislings Tavern: This corner sports bar is a go-to hangout for all sporting events, and this weekend's football game will be no exception. Top-notch bar fare—including its award-winning original wings—reigns supreme, and Kisling's will be offering $5 Ravens bombs during Saturday's game. 2100 Fleet St., 410-327-5477.
Apropoe's: With a television screen almost everywhere you look, this trendy Harbor East hotel bar inside the Marriott Waterfront is the perfect spot to grab a drink and watch the game with friends. Although the Ravens and the Patriots may still be duking it out long after typical happy hour, Apropoe's will be featuring happy hour specials like $2 fried chickpeas with Old Bay, $4 Crab Louie Deviled Eggs, $5 burgers, $3 Heavy Seas Loose Cannon drafts, and $5 glasses of Chardonnay until the game ends. 700 Aliceanna St., 410-895-1879.
Turp's Sports Bar & Restaurant: Ravens fans frequently flock to this cheerful sports bar in Mt. Vernon, so be sure to arrive a few minutes before kickoff to get a good seat. Saturday's specials will include $2 Natty Boh cans and $2 purple shooters. 1317 N. Charles St., 410-347-0349.
Looney's Pub: It seems like this popular Canton bar has specials for every occasion, and for Ravens games, they surely aren't lacking. Pull up a barstool and enjoy discounted offerings including $2.50 domestics, $4 Maryland craft beers, $4 Guinness and Blue Moon drafts, $5 crushes and Bloody Marys, and wings for $9.99. 2900 O'Donnell St., 410-675-9235.
The Admirals Cup: This Fells Point bar on the corner of Broadway and Thames will be serving a complimentary pregame buffet at 3 p.m. Bartenders will also be pouring customers free shots after all Ravens touchdowns, which could get dangerous if Joe Flacco has a Tampa-Bay-type situation, and there will be live music following the game. 1647 Thames St., 410-534-5555.
The Boathouse Canton: What better view to take in the Ravens-Patriots game than on the waterfront docks in Canton. Boathouse will be featuring $4 Ravenade drinks, $2.50 Natty Boh drafts, and its regular brunch menu with $5 mimosas and Bloody Marys. The game will be featured on every TV in the bar. 2809 Boston St., 410-773-9795.
Bookmaker's Cocktail Club: Even though this bar is much swankier than its Federal Hill neighbors, Bookmaker's is still getting in on the football game fun. The bar will feature $2 Natty Boh drafts, a $5 Jack Rose cocktails (classically applejack, grenadine, and lemon or lime juice), as well as 1/2 off all of the menu's flatbreads. 31 E. Cross St., 443-438-4039.
Anastasia: This Fells Point spot is usually known more for cocktails and dancing than beer and cheering, but it will be featuring 1/2 price pizza and wings, buckets of beer on special before and during the game, and all TVs, with surround sound, will be tuned into the game. Anastasia will even have a 9-foot screen projecting the game. 1640 Thames St., 410-534-6666.
No Way Jose: This Federal Hill spot known for its Mexican fare will feature its regular brunch menu from 11 a.m.-3 p.m., including $15 pitchers of Bloody Marys, mimosas, and margarita. Once brunch is over, it's happy hour until 7 p.m. with $3 Mexican beer, $5 rail drinks, $5 tacos, guacamole, queso, wings, and taquitos. Drink specials during the game include $10 buckets of 12-oz. beers, $4 Fireball shots, and $4 Deep Eddy vodka drinks. 38 E. Cross St., 410-752-2837.
Grillfire Arundel: If you're an Annapolis Ravens fan, this Arundel Mills restaurant is offering $3 Natty Boh tallboys; a $2 slider bar with options like Buffalo chicken, pulled pork, fried chicken, and shrimp po'boy; turkey chili nachos for $13; and a Ngata Burger (2 8-oz. sirloin-brisket burgers with BBQ sauce, bacon, pineapple, pepper jack, and fried onions) for $18. 7793 Arundel Mills Blvd., Hanover, 410-799-2883.
Michael's Cafe: Game-time specials featured at this trendy Timonium spot will include $3 Maryland drafts, $3 Union and Brewer's Art cans, $2.50 Coors Light, Miller Lite, Bud, and Bud Light bottles, buck-a-shuck oysters, a mighty chili dog for $9, and a crispy chicken pretzel roll sandwich for $11. If you're looking to liven up your Purple Friday this week, Michael's will also be hosting a pep rally with cheerleaders, Ravens alum, and beer specials this Friday at 6:30 p.m. 2119 York Rd., Timonium, 410-252-2022.