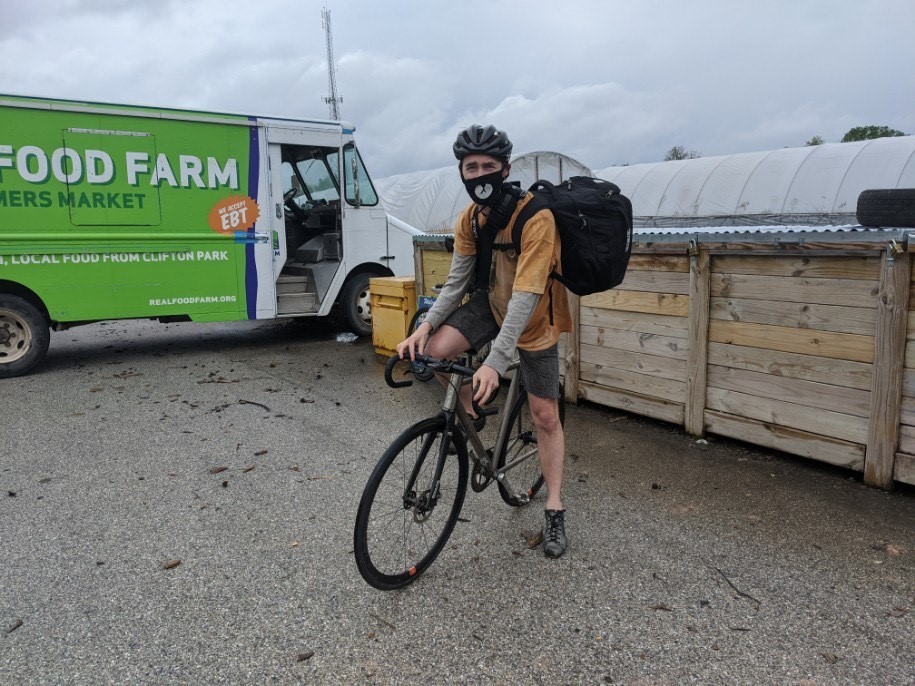 Courtesy of Civic Works
Normally, as spring spills into summer, Real Food Farm fires up its farmers market sales. But in the wake of the coronavirus, that endeavor has halted. Instead, the Civic Works program, which operates two farm sites in Northeast Baltimore, has pivoted to supporting older adults across the city.
When lockdown measures and social distancing practices were first enforced, food and farm manager Gwen Kokes—along with director of elder services, Lauren Averella—decided to put the food they had to good use.
"I knew our older adults were going to be anxious leaving their homes," Kokes says, "so Lauren and I made deliveries to apartment complexes."
Now eight weeks into the initiative, Real Food Farm continues to donate 3,000 pounds of food each week to seniors free of charge. Taking their commitment to sustainability and building greener neighborhoods a step further, the team at Civic Works reached out to their friends at bicycle advocacy organization Bikemore to make deliveries more environmentally friendly.
"These bikers just have a sense of adventure," Kokes says. "Biking 10 miles for them seems like nothing, and they don't mind coming back to put more in their packs."
Real Food Farm has also turned to local businesses in an effort to reduce emissions and pollutants in the process of transporting the produce, and other essential items, to the recipients' doors. Every item is purchased within a 100 mile-radius, including hand sanitizer from Mount Royal Soaps, bamboo toilet paper from new startup Lor Tush, and individual meals from Wild Thyme food truck—which make use of the produce from the farm.
"Everything we do, we do in relationships so that we can lean on each other in the future and in times like this," says Kokes.
The Civic Works team has worked to expand their customer base by putting flyers up around the city and reaching out to elder services at housing co-ops. Older adults call in on Mondays and Tuesdays to place orders, and the team works to get through at least 60 calls every hour. On Wednesday, they get to work preparing and packing the orders so that deliveries can be made before the weekend begins. "The idea is that we are providing for a week," explains Kokes, "but there is no limit on what they can order until our inventory runs out."
To keep the couriers and clients safe, a six-foot distance is always maintained and no bagged orders are touched without gloves, which are changed between every order. Clients are also instructed to come to the door only after the delivery person has left.
While starting the initiative was a smooth process, Kokes is now focused on endurance. The initiative has enough funding to continue through the end of June, but organizers are constantly working to find a long-term solution since elderly adults will most likely be the last demographic to safely leave their households.
Every Monday, customers call to voice their appreciation for the meals and let the organizers know how grateful they are to be cared for. Kokes hopes that the initiative has helped to show people how they can depend on local food producers not only in times of emergency, but in their daily lives.
"We are showing how important it is to stick to our communities," she says, "and rely on each other in our neighborhoods in ways that we haven't really thought about before."