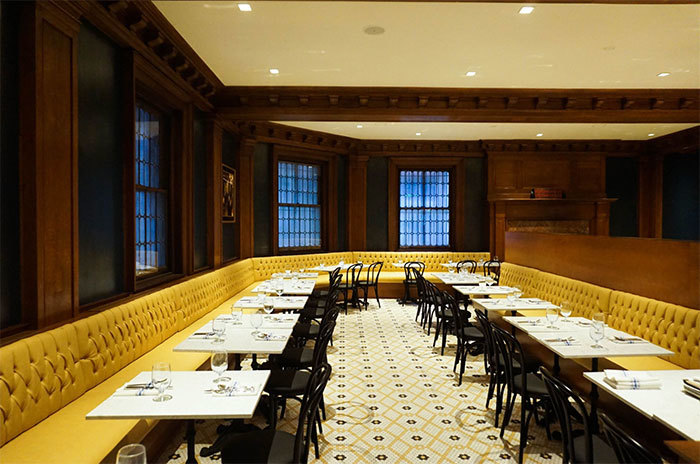 Dave Seel
Earlier this week, longtime local publicist and hospitality advocate Dave Seel started the Baltimore Area Restaurant Industry Relief Group, a Facebook page for a reeling restaurant community in the aftermath of statewide closures amid the COVID-19 contagion.
Seel started his grassroots group on Tuesday morning, a day after Governor Larry Hogan announced the closing of area restaurants and bars, many of which have decided to stay open for curbside delivery and to-go orders. Within 24 hours, the page had more than 600 members.
"My mom is a life coach," Seel says. "She's always said, 'Put your anxiety into action.' That's what I'm doing here. This is the World War II of our generation."
Seel is hoping that the page will serve as a central hub for service industry professionals, including restaurateurs, chefs, cooks, and servers, to find resources in a quickly unfolding crisis that threatens to leave many in dire straits.
In a business where many hospitality professionals live paycheck to paycheck, the closing of restaurants and bars both in Maryland, and around the country, has had a profound impact on an industry that employs 16.54 million people in the U.S.
We spoke with Seel to hear more about his advocacy work in the community and why it's important to support our local businesses now, when they need it most.
Give us a sense of why it's hard to make a living in the hospitality industry?
Only a few people, usually two people in an entire restaurant—the general manager and the chef, and maybe a sous chef—are salaried. In this country, servers and line cooks are paid minimum wage or just higher than minimum wage starting at $12 to $15 an hour, and then it's tip based. For some people like bartenders, I would guess that 60 percent of salaries are tips. Take that away and they can't survive. And many of these people don't have savings accounts—if they do, they're likely small.
Why did you decide to form this group?
I was talking with a friend of mine, Angie Lee, who is the operations manager at Atwater's. On Monday, after Governor Hogan's announcement, she shared with me a James Beard Foundation webinar. For me, the big takeaway I had was the way federal assistance is going to be disseminated through the states. Unemployment and all that advocacy work has to be focused on a state level. Governor Hogan will decide what assistance is given. I saw friends in the industry asking where to go, and I was like, 'I need some place to consolidate these resources, focus on the advocacy, and share.' People need a rally point. That's what this group has become, and my hope is that we can all get through this together.
So give us some specifics on what your goals are for the group.
Angie and I are working on a Maryland restaurant relief proposal—this is something that is being handled state by state. John Shields [of Gertrude's Chesapeake Kitchen] and Ned Atwater [of Atwater's] are going to look over it. We are drafting a petition form to say we are a group of Baltimore-area hospitality people—and what we need is pretty simple: We need assurance that we are not going to lose our homes. We need food and shelter.
I want people to know that they are not alone. They will be helped. If someone is struggling or goes homeless or needs food, we will help them. Restaurant owners have had to lay off a ton of people and may be losing their own businesses. There's a lot uncertainty out there. This group is to answer questions as we figure them out.
What points are you planning to make in the petition?
There will be this mass group of people who don't have access to food. Soup kitchens and community centers are not going to work because we can't be together. There needs to be some sort of solution where people can use credits or get [food stamps] to be able to purchase food. And we want assurance they won't be evicted. On the back side of this, there needs to be employment opportunities. How can we re-purpose these people, most of whom are young? If we're going to be dealing with healthcare shortages, let's take all of the restaurant people and employ them for the time being.
What will the long-lasting impact of restaurant and bar closures be?
We will have no restaurants. We will have homeless people. We will have all of the ripple effects as we did with The Great Depression.
With all the turmoil in the world, why is this an important concern for the general public?
People can eat at home—it's not about the food. It's a matter of culture and community. Everyone can cook food at home, but these places are community gathering places that are vital to our culture in Baltimore and the world of food and restaurants. Dining is integral to our reality as humans. If we're just going to let the people who are bringing those experiences into your lives fall by the wayside, we are dismissing a core part of who we are. These people are the artists, the musicians, the culture bearers.