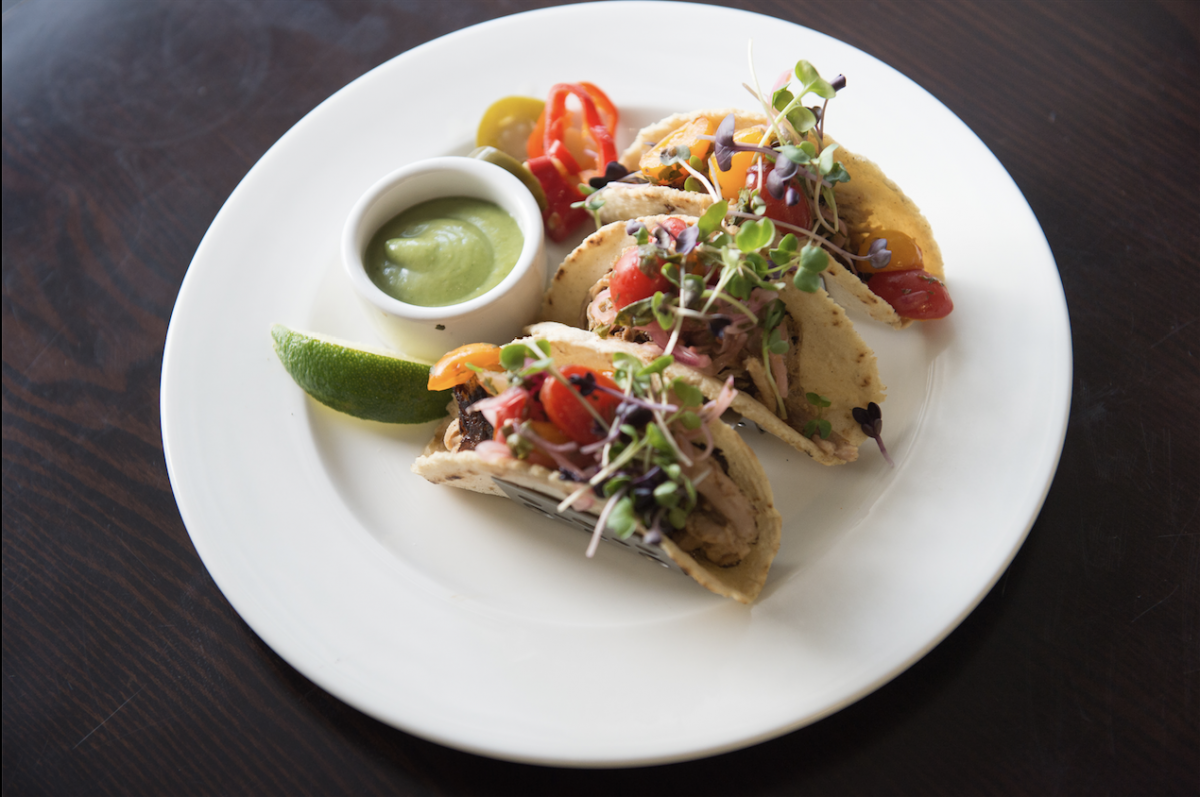 Courtesy of Dave McIntosh Photographics
In true Charm City fashion, local business owners are doing their part to help after Hurricane Harvey devastated Houston and other parts of Southeast Texas and Louisiana last week—leaving more than 30,000 people displaced. Among the business owners aiding relief is chef Chad Gauss, who has vowed to donate 50 percent of all brunch sales at his Pikesville restaurant La Food Marketa to relief efforts this Sunday, September 3.
"Any time that there's a problem that comes out of people's control, no matter how hard you try to prepare, it's just never enough," Gauss says. "We thought it would be a good opportunity to put some good will out there and pay it forward to another part of the country."
The fundraiser will feature the spot's signature south-of-the-border-influenced brunch plates including turkey sausage tacos, classic Huevos Rancheros, and griddled French toast with a pineapple-almond crumble.
"A lot of people are looking for a way to give and don't quite know how to," he says. "This is a really uncomplicated way for people to support. And they get something in return."
Here are a few other local businesses doing their part to give back:  
Abbey Burger Bistro: Co-owner Jason Zink is planning a fundraiser to benefit his friends Andrew and Chris Fox (the brothers behind Annapolis hotspots Vida Taco Bar, Fox's Den, and Level) who opened Baltimore-inspired restaurant 495 Chesapeake Eats in Rockport, Texas only six months ago. The tavern, which the storm devastated in its wake, serves as an ode to Charm City with staples like crab cakes, pit beef, Maryland crab soup, and jumbo shrimp with Old Bay. On Wednesday, September 6, from 5 p.m.-2 a.m., both of Abbey Burger Bistro's locations in Fells Point and Federal Hill will be donating $4 of every $6 Deep Eddy vodka drink to help the restaurant rebuild, and continue giving Texans a taste of Baltimore. "I've known Chris and Andrew for 20 years," Zink says. "If anybody can rebound, it's the two of them." 811 S. Broadway, 410-522-1428
Avenue Kitchen and Bar: The former Le Garage space in Hampden is hosting a special wine tasting to support the cause. Snag a seat at the bar on Tuesday, September 19 to sample 12 worldly sauvignon blancs and a few from Texas. All proceeds from the event will be donated directly to the Red Cross. The ticketed sampling costs $25, and all attendees will be offered a 20 percent-off discount for their meal following the tasting. 911 W. 36th St., 443-961-8515
Becket Hitch and Wee Chic Boutique: These Lutherville neighbors are partnering with local infant support organization ShareBaby to help send diapers to families affected by the disaster. On Saturday, September 2, both boutiques will be donating a portion of their sales to the Texas Diaper Bank, which works to donate diapers and other supplies to infants and seniors in need. Multiple locations including 2360 Joppa Road, Ste. 110, 410-296-4818
The Charmery: In an effort to do their part, husband-and-wife owners David and Laura Alima are recreating one of the signature flavors from their favorite Houston creamery Chocolate Wasted Ice Cream. Swing by the Hampden shop this weekend to sample the spin on a Chocolate Wasted classic, which mixes a cherry and poppyseed base with white chocolate bits throughout. All proceeds will benefit the Chocolate Wasted owners and their efforts to help the community rebuild. 801 W. 36th St., 410-814-0493
Old Westminster Winery: Vigneron Drew Baker posted a video to Facebook earlier this week pledging Old Westminster's support of the victims in Houston. The winery has set a goal of raising $10,000 throughout the month of September by donating 20 percent of all online and tasting room sales to the Red Cross. 1550 Old Westminster Road, Westminster, 410-881-4656
Parts & Labor: Spike Gjerde's Remington meat mecca is supporting the cause the best way it knows how—by breaking down a whole prime steer sourced from Southwest Baltimore's Old Line Custom Meat Company. This weekend, 100 percent of all sales from the cuts—both in the restaurant and its butcher shop up front—will be donated directly to flood victims in Houston. 2600 N. Howard St., 443-873-8887
Relief Show Featuring SONiA disappear fear: Local indie musician Sonia Rutstein, more fondly known as SONiA disappear fear, has organized a benefit show at the Corner Community Center in Roland Park this Sunday, September 3 at 7 p.m. The concert's lineup also features performers Tret Fure, Tom Prasada Rao, Seth Kibel, Sarah Pinsker, and George Jessup. Tickets range from $10-18, with proceeds benefitting the Hurricane Harvey Relief Fund established by Houston Mayor Sylvester Turner, as well as other charities including the Houston Food Bank and Organizacion Latina de Trans en Texas. 5802 Roland Ave.
Baltimore Ravens Make Sizable Donation: The Ravens announced Thursday that the organization would be donating $1 million to disaster relief efforts in Houston. The funds will be given to the United Way of Central Houston, and divided among the United Way Relief Fund for Hurricane Harvey, the Salvation Army of Houston, and the Red Cross. The organization is urging fans to join the NFL in donating to the Red Cross here. 
Sweet Elizabeth Jane: This Ellicott City boutique—which was hit hard during the flood devastation on Main Street last summer—is no stranger to the concept of rebuilding. "The generosity of so many of you got us through, so we know that any amount is helpful," the shop posted to its Facebook page. In keeping with this sentiment, Sweet Elizabeth Jane will be donating 15 percent of all sales to relief efforts from September 2-4. 8289 Main St., Ellicott City, 410-465-6400