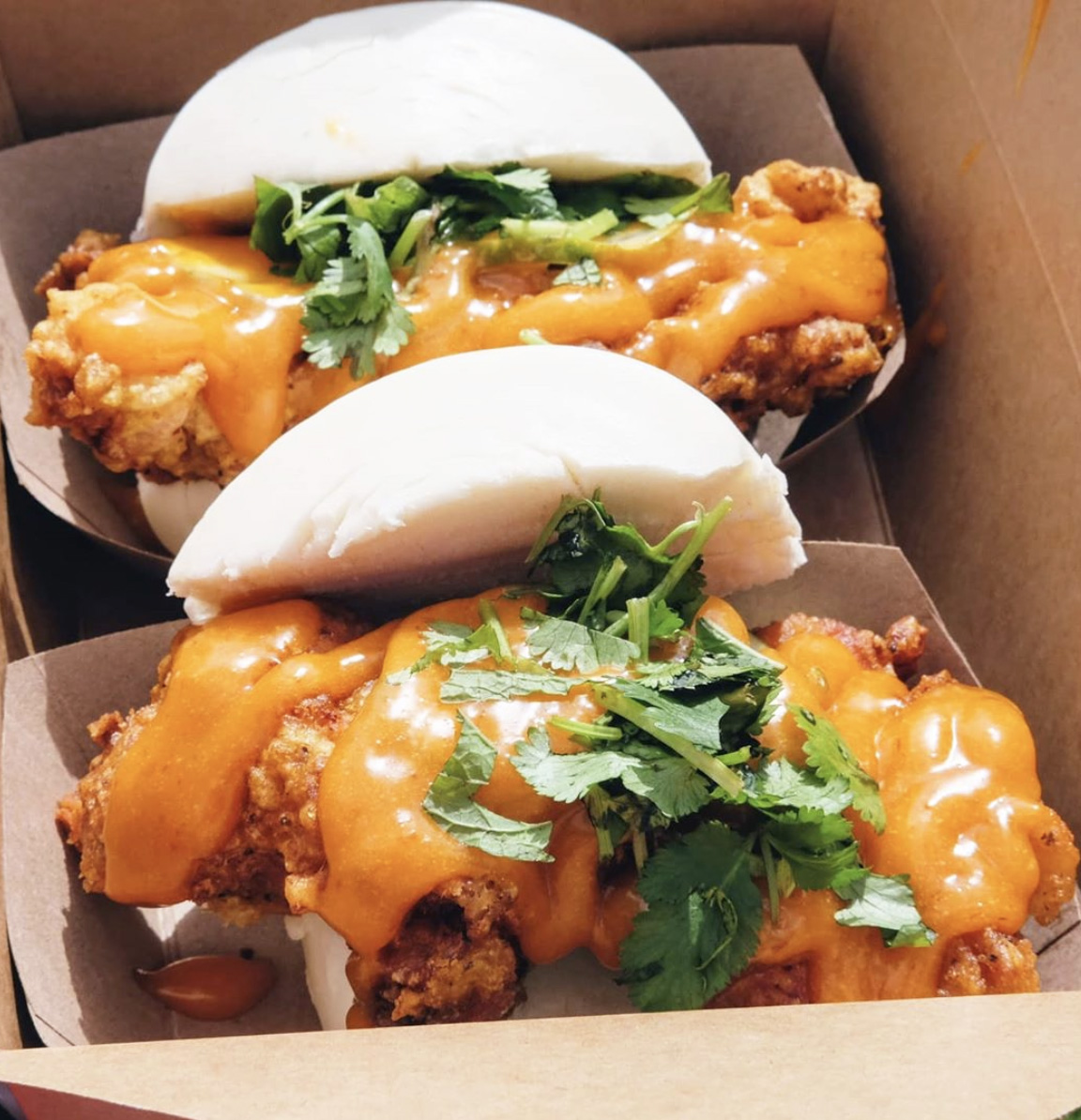 When Ekiben co-owner Steve Chu got a call from a friend asking to donate a few of his signature steamed buns to local hospital workers in the wake of the coronavirus outbreak, he was more than happy to help. 
"We can't do anything to help them except try to keep their spirits up," Chu says. 
At the time, hospitals were overflowing with patients and the shutdown had hit local businesses especially hard. In fact, Chu says at one point, Ekiben almost went out of business.
Then, an opportunity presented itself inspired by his friend's request: "We wanted to do something to help us to help them," Chu says. 
This was the inspiration behind Ekiben's "Buy a Hero a Bun" program, in which customers can spend anywhere from $10-100 to send sandwiches to feed healthcare workers at 17 hospitals across the city.
Ekiben continued to donate sandwiches as the weeks went on, but the team wanted to do more. With assistance from The Power of 10 Initiative, a nonprofit that supports neighborhood restaurants, as well as Baltimore City Councilman Zeke Cohen, they set up shop in community centers all over the city, distributing around 2,000 steamed buns per session.
"It was great to have the means to just go outside and work again," says Chu, whose team often worked farmers markets and community festivals pre-COVID. "Everyone really missed it."  
When natural disasters strike, communities often turn to restaurants and local businesses for help. A pandemic, says Cohen, is no different.
"They understand their role as business owners, but also as community members," says Cohen, who represents Baltimore City's first district that includes Ekiben's flagship store on Eastern Avenue in Fells Point, "and that if people are suffering, they have an obligation." 
In March, as local restaurants were forced to grapple with the immense challenges of shuttering their dining rooms, laying off staff, and pivoting to carryout and delivery service, many managed to still find ways to give back to those in need.
Days after stay-home orders came down, dedicated workers from Mera Kitchen Collective, Alma Cocina Latina, Wilde Thyme Baltimore, True Chesapeake Oyster Co., and many others got to work preparing meals for local donation drives.
"We knew that, because of the inequities in the city, there were going to be massive gaps," Mera Kitchen Collective co-founder Emily Lerman told us in June about her team's ongoing efforts to distribute meals to underserved communities. "We thought, 'If we can do this, it's a win on every level.'"
Others, like Ekiben, Cocina Luchadoras, and Motzi Bread, implemented pay-it-forward models that allow customers to add extra items to their orders to be donated later.
Sotto Sopra, an Italian fixture in Mt. Vernon, recently introduced its own buy-one, give-one special running through the month of August. Customers can purchase a meal (everything from fettuccine bolognese to pork ossobuco) and have the same dish delivered to a friend, neighbor, frontline worker, or someone experiencing homelessness free of charge.
"I thought it was a great way to put a positive spin on this pandemic," says owner Riccardo Bosio.  
So far, the restaurant has delivered 30 free meals as a part of the special. Bosio even recalls one woman who called from New York to purchase two meals, one of which was for her daughter.   
Many bars and restaurants have also donated food, latex gloves, and masks to hospitals, according to Darin Mislan, owner of The Admiral's Cup Restaurant & Bar in Fells Point.
"Our industry responds well to these types of crises," says Mislan, who is also president of Fell's Point Main Street. "We're always the go-to when there's a hurricane or something. So the first week we were closed we were like 'Okay anything that is perishable we're going to try to donate.'"
Cohen points out that Admiral's Cup has demonstrated leadership throughout the pandemic, often rallying for safer practices in all local restaurants. On August 7, Mayor C. Bernard "Jack" Young announced that restaurants could reopen at 25 percent capacity. But Mislan and his staff felt uneasy about operating inside with coronavirus cases still on the rise. So, he opted to continue outside-dining only until further notice and 40 other establishments in the area followed suit. Mislan says it was important to him that the decision was unanimous.  
"When I weigh those things, I don't think the risk is worth it for any reward at this point," he says.
As Cohen sums up, the restaurant industry continues to set an example of unity and hospitality even under the most challenging circumstances. 
"For me, the pandemic has heightened the profound disparities within our city and our community," he says, "but it has also demonstrated a level of leadership and compassion among our small businesses and community restaurants."