Something to Singh About
Ananda, a sister restaurant to the Ambassador Dining Room, lives up to its blissful name.
Just one bite in to my artfully arranged seasonal salad with three towers of watermelon supporting a carefully perched piece of feta, and I find myself fantasizing about moving to the Maple Lawn community where Ananda is located. Clearly, the locals appreciate it. On a Sunday evening, the Indian restaurant is buzzy with diners, many of whom I hear cooing to owner (and serious dreamboat) Binda Singh that they love having such a special spot within waking distance of their own Howard County 'hood.
Located just a few miles south of Columbia, Ananda is the sequel to Baltimore's popular Ambassador Dining Room, which is tucked away in the quaint Hopkins-adjacent Tuscany-Canterbury neighborhood. The operations are family affairs—Singh and his older brother, Keir, co-own both restaurants, while their sister, Kinday, runs the kitchen at Ananda. For years, the family had been seeking a spot to expand their brand, before settling on this stately stucco structure, which was two years and $3 million in the making.
It's no easy feat to recreate the romantic elegance of the Ambassador—with its garden setting, roaring fireplaces, and genteel nod to Colonial India—set inside a '30s-era Tudor-Gothic apartment building. But Ananda (which means "bliss" in Sanskrit) manages to be even more magical. In addition to two seating areas—a more formal dining room with reclaimed stained-glass windows from a Bolton Hill mansion, as well as a recreation of the Ambassador's year-round veranda with glass garage doors—there's a stunning marble bar area and two private dining rooms for parties. Also worth noting, in addition to dinner service, Ananda is open for lunch and has a so-called daily "bliss hour" (from 4 p.m. to 6 p.m.) for small plates and cut-rate specialty cocktails (put the Mumbai mule on your drink list), plus wine and beer.
While Ananda's menu echoes the Ambassador's lineup, the dishes—northern Indian in origin—are cleaner and even more refined. There's also an ostensible farm-to-table focus thanks to the restaurant's relationship with Howard County growers. In addition to expertly prepared Indian staples such as lamb vindaloo, chicken korma, alu gobi, and palak paneer, also on offer are house specials such as a moist halibut cold-pressed in organic coconut milk and enrobed in banana leaves, a kerala cake (lump crabmeat tossed with local Silver Queen corn and toasted mustard seeds), and kulu kofta (tender, braised spring lamb, which gets its zing from diced Vidalia onions and a good kick of garlic).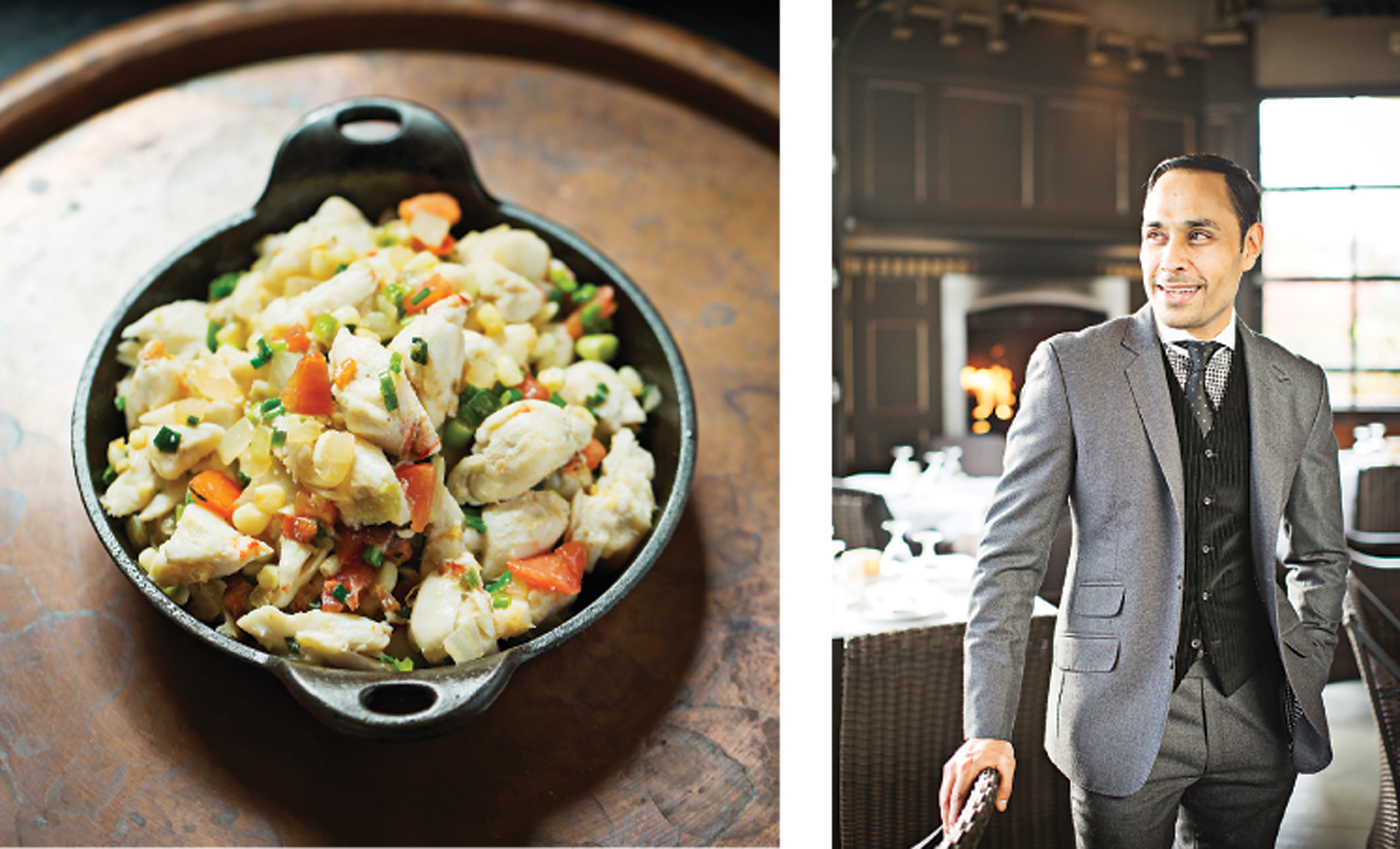 Crab Malabar; Ananda co-owner Binda Singh. —Photography by Scott Suchman
For the sake of comparison, we started our meal with the bengan khas (baby eggplant simmered in fresh tomatoes and topped with a creamy yogurt-and-mint sauce and served with garlic naan for dipping), our go-to dish when dining at the Ambassador. The flavorful eggplant dish did not disappoint and was every bit as delicious here. The avocado-and-roasted-corn salad with red peppers tossed in white balsamic vinaigrette is also deserving of a shout out. It was a nice, light way to start the meal and highlighted the traditional fruits and vegetables of India. We also sampled the onion bhajia, thinly sliced sweet onions flash-fried in a spicy chickpea batter. It was less to our liking, slightly greasy and a bit bland, but the only misstep to an otherwise impeccable meal.
Our entrees were spectacular, too, including the crab Malabar, a traditional coastal Indian dish with colossal hunks of crab seasoned with a symphony of Indian spices, and a vegetable-centric, but surprisingly hearty, jalfreezi with cauliflower, broccoli, peas, sugar snap peas, and potatoes. The smoky reshmi kebab—moist breasts of free-range chicken marinated in yogurt, lime juice, and pistachios, and cooked in the tandoor oven—was the first dish to disappear. (In fact, we liked it so much, we immediately placed a second order to go.) Another greatest hit was the grilled shrimp adrak. A mint, mango, and avocado chutney added texture and brightness and was served on the side. Desserts (consider the creamy house-made rice pudding or the peach-strawberry crumble, if it's on the menu) were equally exemplary.
As has always been our experience at the Ambassador, the service was unerring. Our waiter, an 18-year Ambassador veteran, was both knowledgeable and passionate about the place. "I wait for the sun to come up so I can get here," he offered when asked about his new gig. We share his sentiments completely.
Anyone interested in a '40s fixer-upper in Baltimore County?