Review: Bondhouse Kitchen Makes a Splash in Fells Point
The restaurant takes over the corner location that previously housed the Get Down and Fletcher's.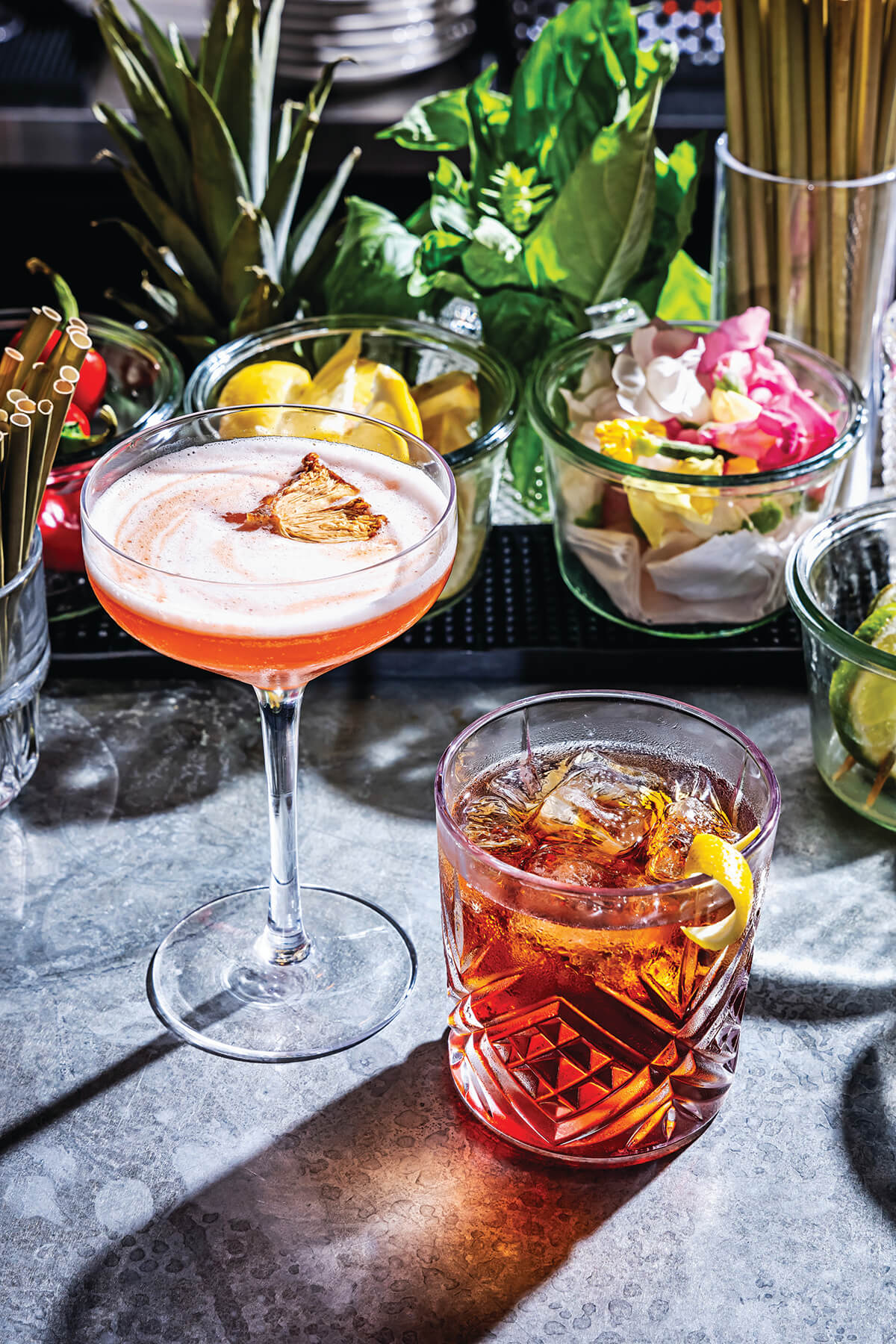 The most popular drink on Bondhouse Kitchen's extensive and creative cocktail list isn't Margaret from Fresno, a refreshing mix of Fresno-infused tequila, pineapple sour, and simple syrup. It's not the Farmer's Daughter, a delicious combination of vodka, cucumber juice, lemon, basil, simple syrup, and club soda. It's whatever pops into the bartender's mind.
Listed first among the 10 cocktails on the menu is Bartender's Choice. The drinker picks the spirit, and after answering a few questions about their tastes, the mixologist does the rest.
When we visited for happy hour on a sunny day, it felt like a bourbon kind of evening. Bartender Todd Dalgliesh took it from there, whipping up a whiskey-based libation with sweet vermouth, Aperol, yellow chartreuse, and lemon zest. It tasted like an unsweetened bourbon tea—and it hit the spot.
"We wanted to allow the bartenders to be creative and allow people to try something they normally wouldn't," general manager Kate Bennett says.
That's evident on the seasonally inspired food menu, as well. Chef Arthur Palarata, formerly of Woodberry Kitchen, offers dishes not found in many other restaurants, including the spatchcock chicken, Maryland blue catfish and chips, and lamb ragu. There are comfort-food favorites like burgers and chicken corn dogs, and a fantastic mac and cheese. Served piping hot in a small cast iron crock, its crispy crust and gooey cheddar mix creates a decadent treat. The dish is one of five snacks available for $6 each during happy hour. (Drinks are discounted as well.)
The restaurant opened in November in a corner location in Fells Point that has previously housed the Get Down and Fletcher's. Fans of those spots wouldn't recognize its interior. The space went through an extensive renovation that moved the location of the bar and created a farmhouse feel. Most impressive is the outdoor dining space on Bond Street, which Bennett calls the "barn." A permanent wooden structure surrounded by plants and flowers, it's an oasis in the middle of its bustling neighborhood.
The cocktail menu will change seasonally, Bennett says, and was designed to meet a variety of tastes. It's not driven by one spirit. The Negroni Bianco features Forager gin, Lillet, dry vermouth, and Maraschino liqueur. The Ouroboros is made with mezcal, Aperol, yellow chartreuse, and egg white. The Walking Dead is a combination of pineapple-infused rum, white rum, apricot brandy, lemon, and club soda.
If none of those appeal, ask your bartender for their choice. You won't be disappointed.