Restaurant Redux
Bottega is back—and better than ever.
When Bottega opened in Station North back in October of 2013, it accomplished a rare feat. From day one, it shot straight to the top of the restaurant charts and was on everyone's gastronomic hit list. (We knighted Swiss-American owner Adrien Aeschliman "Best New Chef" in 2014.) Located along a shabby stretch of Maryland Avenue, this spectacular BYOB speck of a spot, with worn wood floors salvaged from a West Virginia barn, turned out innovative Italian countryside dishes in a simple setting. And even the coolest kids among us were willing to settle for a 5:30 p.m. reservation on a Tuesday night for the pure pleasure of a seat at one of the 11 tables.
So when owner Aeschliman, who spent time working in a trattoria in Tuscany's Mugello Valley, announced that Bottega would close while he developed a second concept, fans eagerly awaited its return—to no avail. Summer turned to fall, and Bottega's doors remained closed. The palate-weary diner in me, who has witnessed far too many openings and closings, believed that Bottega was gone for good. But come last Halloween, Bottega was open for business again.
After what Aeschliman calls "a long summer vacation"—during which he took time to make plans for his soon-to-be Station North French bistro, Colette—he reopened Bottega with brother-in-law Sandy Smith back in the kitchen.
Ordinarily, such a long break would be the death knell for even the most beloved of spots. Restaurant patrons are notoriously fickle. We fall in love, and we get the message when it looks like things are going south. Yes, it can be hard to have loved and lost, but these days there's always somewhere new to go.
Thankfully, Bottega is not only back, but more charming than ever. In the interim, Aeschliman has reduced the number of tables from 11 to nine to keep the intimate vibe going strong, refinished some of the wood surfaces, and restructured the still-small chalkboard menu to refine the appetizers and appeal to more palates. On a menu largely revolving around pork, rabbit, and duck, fish has wisely been added to the roster. Entrees are now a la carte, and diners can mix and match with contorni (side dishes). Given the size of the menu, the offerings remain impressively creative and diverse. On any given night, you'll find pappardelle with duck ragù, chicken-liver mousse with cherry jam and pickled mustard seeds, or pork shank with roasted turnips and bok choy.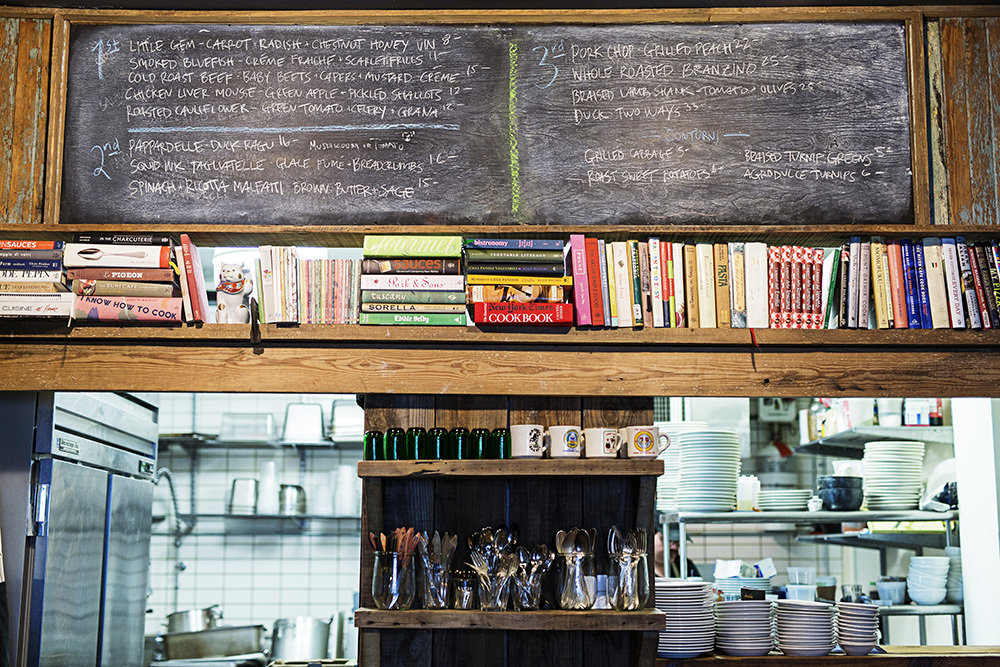 Early on a Sunday evening, our party of four committed to almost every dish on the menu. When the grilled escarole with white bean and anchovy arrived—wilted, charred, bitter, and briny thanks to the white bean-and-anchovy dressing thick enough to support a spoon—we felt smug that we had intuited exactly the right appetizer to order. ("Good menu juju," is what one of my dining companions called it.) But then the next dish arrived: baby carrots with an aura of cumin, coriander, and caraway, tossed with frisée-like shavings of Brussels sprouts and served on a bed of whipped ricotta. Before long, arguments broke out over which appetizer was better, but we soon called a truce and agreed they were equally astonishing. Then came several pasta dishes, including a hearty tagliatelle with an earthy boar ragù and the signature squash tortelli with fresh sage and pine nuts I recalled from a previous visit. Even my husband, gluten-free for more than 18 months now, went weak in the knees in the presence of these plates. ("This had better be worth it," he muttered between forkfuls. By the end of the meal, he agreed, it had.)
When the entrees arrived, including a succulent duck two ways (a confit thigh, and a pan-seared breast), a whole bronzino stuffed with scallions and sprinkled with fat crystals of Maldon salt, and a seared lamb shoulder encrusted with rosemary and thyme, we continued our membership in the Clean Plate Club. The contorni were more of a centerpiece than a side note—from a mix of terrific tubers (sweet potatoes and sunchokes) to forest-fresh Trumpet mushrooms. At the end of our meal, we appreciated that the only dessert option was the trademark salted-caramel pie with chocolate glaze and Teddy Graham crust, since it saved us from difficult decision-making.
Throughout our meal, our server was cheerful and charming and quick to clear without making us feel rushed. My only complaint? Bottega doesn't serve coffee. That said, as is the key with all lasting love, I'm willing to forgive—and forget. Welcome back, Bottega. Just promise that you'll never leave me again.