Puttin' On the Ritz
Bygone takes nouvelle cuisine to soaring heights.
Even before you head up to Bygone at the top of the Four Seasons, the restaurant sets the stage with a dress code posted next to the elevator entrance. Just in case there's any doubt that you're about to enter a splendored world of hand-blown Zalto wine glasses, custom gold-rimmed Lenox china chargers, and arrangements fashioned from flowers and feathers, the style strictures—"Collared shirts are required for Gentlemen," "Ladies may not wear baseball caps or beanies"—set the record straight about fine dining in Harbor East. And as you ascend 29 floors up to this rarified world (with an assist from a top-hatted elevator operator), there's one more thing you need to know: Hold on to your wallet—sitting in the lap of luxury doesn't come cheap.
With panoramic views, and soaring nearly 314 feet from Earth, Bygone takes the term "haute cuisine" literally. And the impact is dizzying—despite the oversized retro clock at the entrance, you'll likely lose all sense of time and space when you dine and drink here. You might even forget that you're in Baltimore altogether, except for the fact that beyond the towering walls of windows, Charm City glimmers with all of her unmistakable landmarks below—the Domino Sugars sign, the Key Bridge, and Camden Yards.
Welcome to Atlas Restaurant Group's latest foodie fantasy, established in December of 2017, but, as the name suggests, seemingly out of another era, like a lavish set piece for Baz Luhrmann's The Great Gatsby, complete with gueridon trolley service and yards of velvet curtains that separate many of the seating nooks and add to the theatricality. If it's an escapist dining experience you're after, beeline for Bygone.
The décor takes a cue from the glamour of the 1920s and '30s, but the menu is a nod to the nouvelle cuisine of the '60s, created as a more delicate alternative to traditional French cooking, with lighter sauces (though plenty heavy by American standards) and ingredients and flavors that had not been combined before. While Cordon Bleu-trained executive chef Matthew Oetting is interested in the past, he brings vintage dishes into the present in the form of respectable riffs such as scallops bourguignonne, a squab and foie gras eggroll, and duck flambé with lavender honey glaze.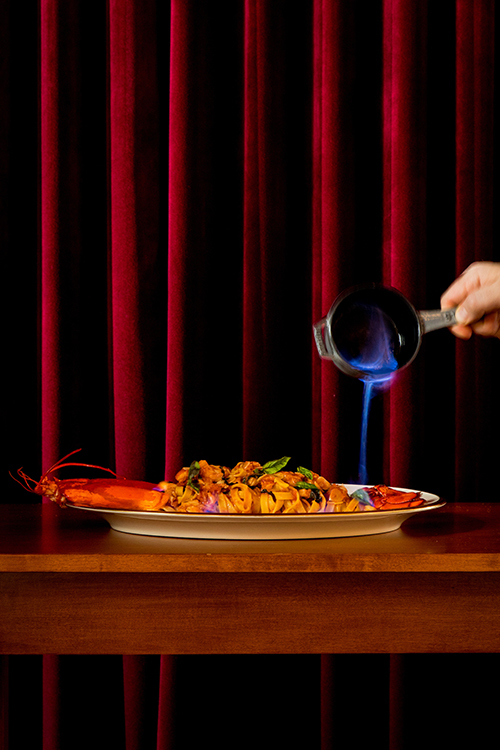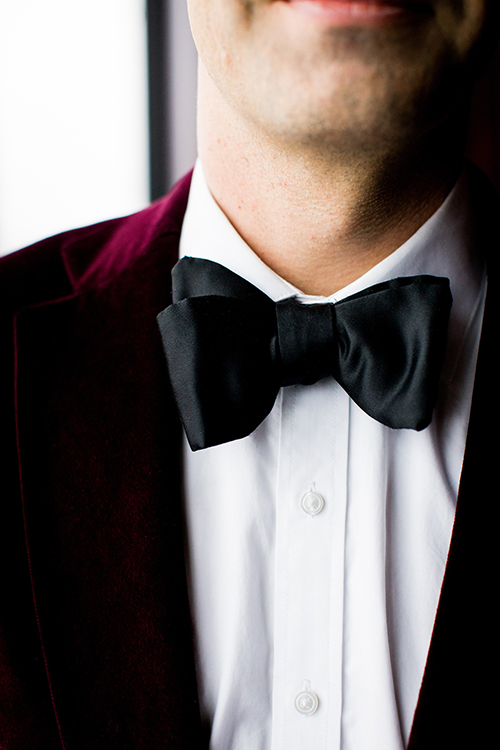 Lobster Diable and a bow-tied server. —Justin Tsucalas
Our dinner at Bygone began with drinks at the dimly lit bar, which is a mandatory stop for anyone investing in a meal here. Bar manager Will Escalante presides over an unprecedented whiskey selection (more than 600 bottles), though we went for a couple of classic vodka martinis served in delicate coupe glasses and garnished with gargantuan green olives. We could have lingered at the bar forever, but once we were seated for dinner, the opening bites of both the house-baked gruyère and pretzel rolls continued to lay the foundation for a mostly wow-worthy meal.
The house-cured gravlax starter with dill crème fraîche and "everything" spice with brioche toast points is a killer combo full of flavor and interesting textures. The tuna ravigote starter (made with canned tuna back in the day), gets recast as crudo with sashimi-grade fish, freshly grated horseradish, a cucumber fan, Champagne-marinated cherry tomatoes, and traditional ravigote sauce—a mixture of herbs including chervil, shallots, and tarragon. Entrees are similarly reimagined classics. 
Take the grand Beef Wellington, a seared piece of house-butchered prime rib wrapped in Rainbow Swiss Chard and shitake mushroom duxelles, all tucked inside a pocket of pastry. Though the puff pastry was more doughy than delicate, the meat was incredibly tender and juicy. Swiss Chard is also employed as bedding for a delicate, pan-seared piece of golden Dover Sole Meunière, freshly flown in from Holland and served with a sauce of capers, lemon, and roasted chestnut-brown butter that adds notes of nuttiness and makes the flavor profile more modern. The golden-crusted fish was exquisite, and almost too much for one person to eat, but prepare yourself for sticker shock—the à la carte dish is a jaw-dropping $95.
If you're watching your dining dollars, a lunchtime visit is still a splurge, but less so than dinner. The menu focuses predominantly on soups, salads, and sandwiches. Consider the Crab Louie, clumps of Venezuelan crab meat mounded on a simple salad of romaine, topped with hard-boiled egg and avocado, and dressed with a creamy and kicky dressing. On the more indulgent end, we enjoyed a marvelous, but messy, lobster club, including Bibb lettuce, tomato, red onion, fried shallots, and six ounces of Maine claw meat spilling out of a house-made brioche bun slathered with honey mustard and avocado mayo. Don't miss the sweet and smoky lobster bisque. My companion's comment that she wanted to "lick the bowl"—as she came up for air between sips of the cognac cream broth—said it all.
Service was unerring, though overly eager at times. During dinner service, as if on cue, our waiter said, "May I?" a few too many times as dirty dishes were cleared and new ones arrived. Several times, we caught him peeping out from behind the velvet curtains to gauge our reactions, but it's hard to fault someone for caring too much. As we headed to the elevator with our parting gifts in hand—chocolate truffles nestled in a tiny gold box—we looked forward to an encore performance.
---

BYGONE 400 International Dr., 443-343-8200. HOURS: Lunch: Mon.-Sat. 11 a.m.-3 p.m.; Dinner: Sun.-Wed. 4-10 p.m.; Thurs.-Fri. 4 p.m.-midnight; Sat. 5-midnight. PRICES: Appetizers, soups, salad: $10-44; entrees: $24-95; desserts: $9-16. AMBIANCE: Retro glamour.