Review: Chachi's in Old Goucher Puts Its Own Spin on Rotisserie Chicken
Husband-and-wife team Karl and Stephanie Diehn have elevated their birds to star status with their own style of trimmings.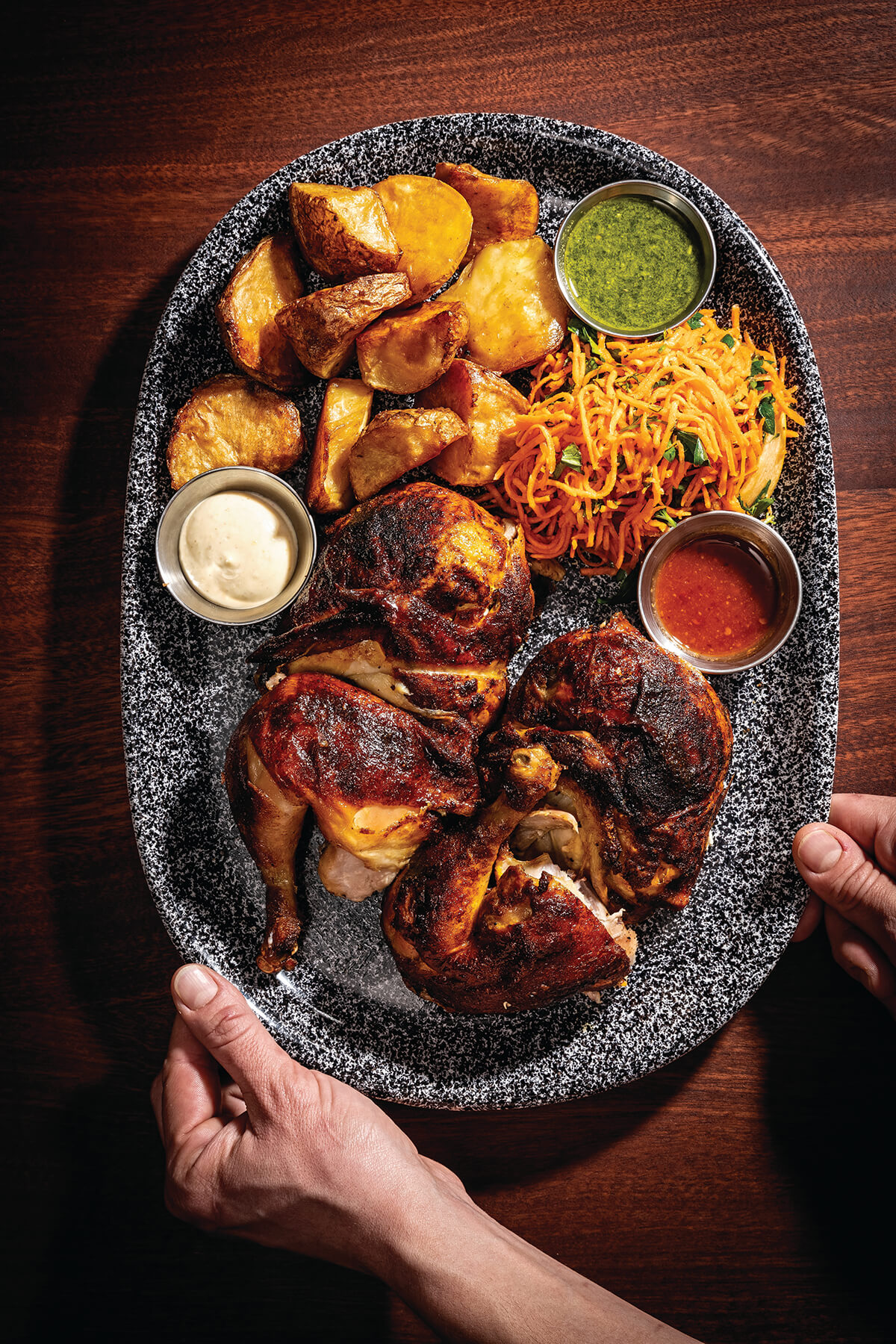 Promising a "chicken for every pot" may have been a political slogan back in Herbert Hoover's day, but today that chicken, a symbol of prosperity, would have to be prepared in a rotisserie. The owners of Chachi's in Old Goucher came to that conclusion when choosing on-the-spit birds as a signature dish for their restaurant. We're glad they did.
Husband-and-wife team Karl and Stephanie Diehn, both restaurant veterans—he of Dylan's Oyster Cellar; she of Clavel, among others—went a step farther by placing potatoes in the bottom of the rotisserie to catch drippings from the 3 1⁄2-pound juicy chickens, resulting in chunky mounds of roasted deliciousness. They also added seasonal salads and soups to a tightly scripted menu. In case you're wondering if the restaurant is named after the character played by Scott Baio in the TV show Happy Days, it's not. Chachi is a nod to Stephanie Diehn's family nickname.
Finding the place, which opened in September in the former Larder space, can be a little like finding train platform 9 3⁄4 in a Harry Potter movie if you're a muggle. But persevere. Even though the address is 2223 Maryland Ave., the entrance is off West 23rd Street, where the tiny storefront with about 20 seats shares a courtyard with the wine-and-beer tavern Fadensonnen. You can also eat outside, where cafe tables are scattered among ivy-tendrilled walls. There is also covered, communal seating with several heaters and a main fire hearth. On our visit, we nestled close to the blaze, awaiting our meal with mugs of hot mulled cider.
Before being seated, diners place their orders at Chachi's indoor counter. A cute menu, formed with magnetic alphabet letters, is on the wall. Salads and soups change seasonally, but year-round, you can choose a whole, half, or quarter chicken, all of which have been dry-brined for 24 hours and seasoned with herbs and spices before cooking. The dish is accompanied by several house-made sauces from the four that are offered: garlic mayo, sweet and sour, ranch, and green anchovy.
We opted for a succulent half bird with ranch and green anchovy sauces, which are served separately and packed with flavor. We couldn't resist sampling a bowl of schmaltz potatoes (the ones cooked in the rotisserie) sprinkled with coarse salt, which shouted comfort food. A staff member brings the dishes to your table as they're ready. In addition to the chicken, we were impressed with a beet-cured salmon salad with cannellini beans, cubed beets, pickled green beans, and feathery dill sprigs. The carrot-apple salad, tossed with Dijon mustard, was also a standout. A Hubbard squash soup—the vegetable is named after one of the first farmers to grow the winter squash in the U.S.—was a knockout, with ginger, star anise, and a swirl of optional sour cream atop the orange elixir.
The Diehns have elevated their PA-sourced birds to star status with their own style of trimmings. Forget the pot. Go for Chachi's rotisserie.

CHACHI'S 2223 Maryland Ave. HOURS: Tues.-Fri., 5-10 p.m.; Sat.- Sun., 3-10 p.m. PRICES: From the rotisserie: $8-27; from the kitchen: $6-15; drinks: $5.