Review: Charm'd Kitchen
Charm'd Kitchen lives up to its name in Butcher's Hill.
Baltimore has enjoyed a profusion of lavish new restaurant openings in recent months. If you are a devoted foodie with deep pockets and an appreciation for interior design, the city is your oyster. These days, the reputations of our town's opulent eateries have extended far enough that Baltimore is considered an emerging dining destination in the Mid-Atlantic.
But even as the critics fawn, the influencers post, and the valets rush to park the next fancy ride, Baltimore is also experiencing a renaissance in thoughtful neighborhood spots that can be just as exciting. Lobo and 1157 Bar + Kitchen are two examples that have now fully matured into hot spots beyond their original aspirations, but they're hardly alone. We have been hearing about Charm'd Kitchen for a few months now and it was time to find out if it is part of this exciting trend.
University of Maryland graduate and former Cincinnati Bengal Andrew Crummey and his partner, Lindsay Crummey, opened CK about a year ago with the aim of offering Butcher's Hill a corner spot to grab some grub and say hello to their neighbors.
Based on our visits there, they have clearly succeeded. On one weekday morning we breakfasted at the bar, sunlight cheerily filling the compact space, as parents with strollers streamed in for a coffee to-go, young professionals fueled up on house-made waffles, and night-shift nurses rinsed off the strain of a tough night at Hopkins with a round of mimosas. The staff was uncommonly friendly and relaxed, offering menu help while greeting every local by name, a requirement if you're going to call yourself a neighborhood place.
The waffles, listed on the menu as Da Waffle, were indeed delectable without being overly indulgent, and we applaud a breakfast that arrives with real maple syrup. Delectable, too, was the salmon and cream cheese bagel, always a risky order outside of New York City, but this version delivered. Our choice was an everything bagel, piled with seductively smoky salmon and a rich schmeer of cream cheese garnished with fresh tomato and red onion. We eagerly washed it all down with a cappuccino from Ceremony Coffee Roasters of Annapolis. Ceremony has their own uncompromising standards that must be met if they are to partner with a restaurant, so we were impressed and grateful that CK made that commitment.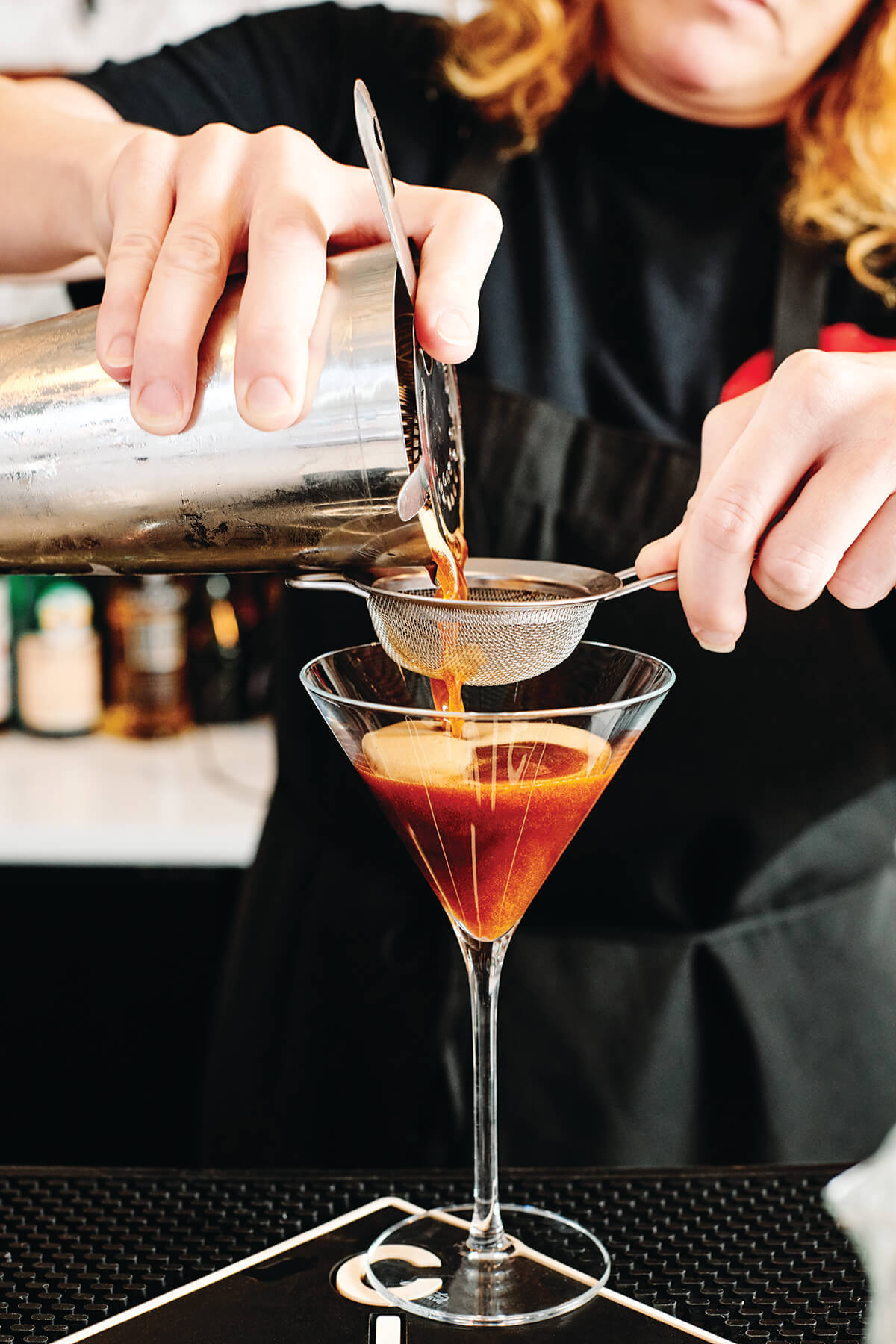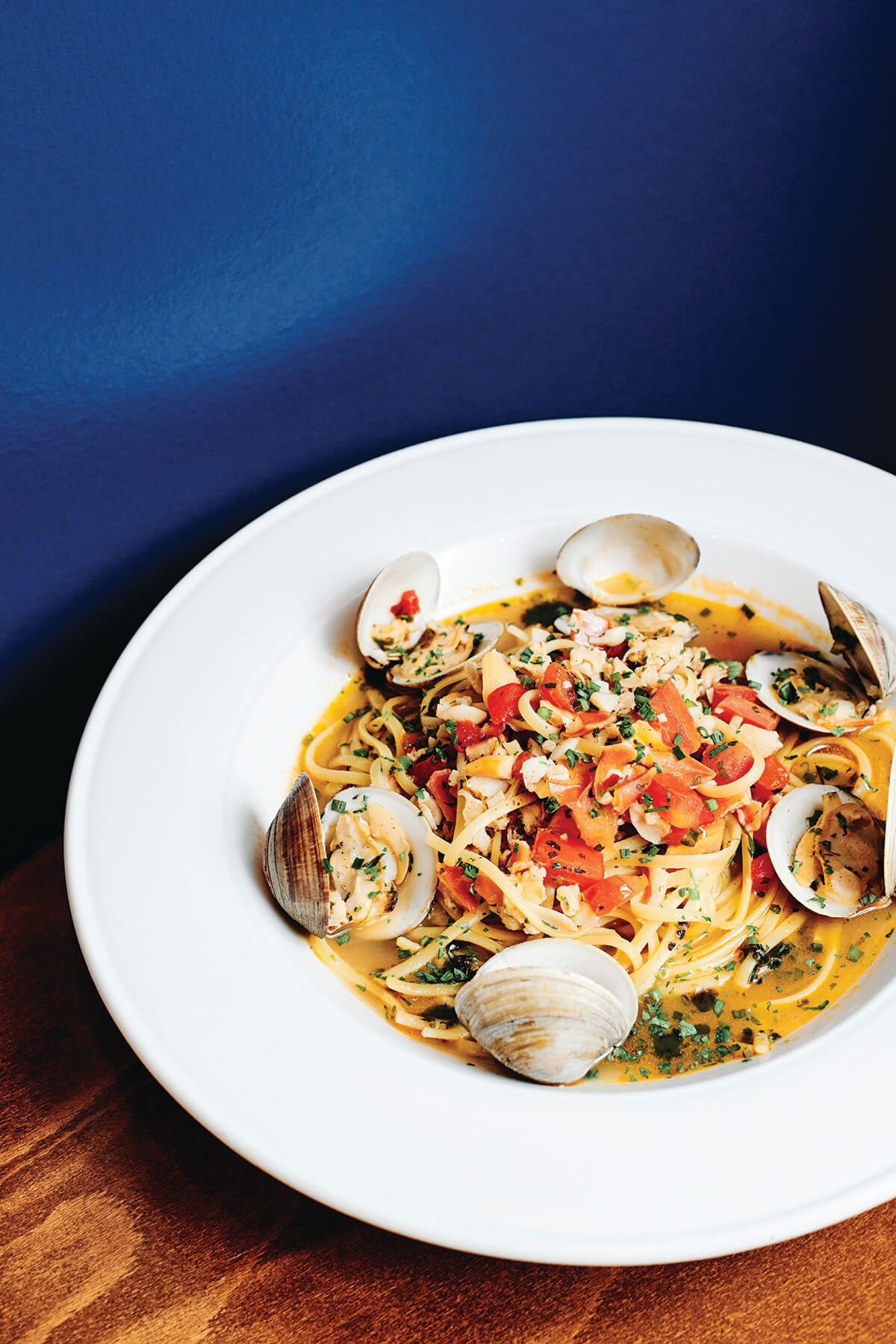 The staff reprised their friendly and relaxed performance on our dinner visit as well. Our group was instantly at ease in CK's comfy surroundings. This time, sun cascaded through the large windows, accenting the warm tones of exposed brick walls, brightening the bar's subway-tiled workspace, and nourishing the potted plants. Works by local artists decorate the walls, too.
Happy Hour cocktails arrived swiftly, with a delightful strawberry-inflected riff on the Shirley Temple tagging along for the younglings in our group. There were wee ones at two other tables, belonging to young families all too relieved to let CK do the cooking. And cook they did.
A cup of cream of crab soup was rich and savory, offering up plenty of meat in a creamy broth. A trio of bruschetta featured steamed lobster meat, mushroom and truffle oil, and thinly shaved prosciutto.
Mains ran the gamut from a simply presented but juicy cheeseburger on a brioche bun to seared scallops resting on a purée of sweet corn. In the latter case, the scallops were seared too long to preserve their succulent essence. We were willing to forgive it, for the linguini and clams was a buttery, garlicky delight. We also appreciate that a restaurant of this size and demeanor put genuine effort into its beverage offerings. Interesting cocktails, tempting craft beers, and some adventurous wine choices comprise a compact but rich assortment of offerings. We opted for a crisp and slightly briny white wine from the slopes of Mount Etna in Sicily, and it was perfect with our seafood-themed meal.
The kids were hoping for desserts, and we were, too, but CK had not developed a dessert menu at the time of our visit. We understand that for a new place doing so many things well, there is still room to grow and improve, so we will happily return to check out the sweets in the future. If every 'hood in Charm City had a gathering place like Charm'd Kitchen, we would be lucky, indeed.
---

CHARM'D KITCHEN 123 S. Chester St., 443-627-8369. HOURS: Sun. 8 a.m-2 p.m., 4 p.m.-midnight; Mon. 6:30 a.m.-2 p.m., 6 p.m.-midnight; Tues. 6:30 a.m.-2 p.m.; Wed.-Fri. 6:30 a.m.-2 p.m., 4 p.m.-midnight; Sat. 8 a.m.-2 p.m. PRICES: (Dinner only): soups, salads, starters: $7-18; entrees: $12-24. AMBIANCE: Upscale cafe.