Root Cause
Encantada goes green with vegetable-based plates.
If the term "museum restaurant" conjures up images of cafeteria trays and tired salad bars, let go of what you know. From The Modern—Danny Meyer's Bauhaus restaurant inside the Museum of Modern Art—to restaurateur Ralph Brennan's quick bites bistro Café NOMA inside the New Orleans Museum of Art, a new day is dawning at cultural institutions across the country. With the opening of Encantada, set inside the American Visionary Art Museum (AVAM), restaurateur Robbin Haas is hoping to make his mark.
Like the visionary artists whose works are displayed in the museum, Haas, who also owns Birroteca and The Nickel Taphouse, has a unique vision, a veggie-themed fantasy that taps into the trend of vegetables as the new meat. (Close your eyes and you'll find that the fried cauliflower dabbed in house-made buffalo sauce is as satisfying as any piece of protein.) And while the theme of Encantada, which means "enchanted" in Spanish, highlights locally sourced, plant-centric plates, the menu, designed by former Birroteca executive chef Melanie Molinaro, is not strictly vegetarian or vegan. Also, know before you go that dishes come and go with the seasons.
On our first visit, a gorgeous September evening, my companions and I were seated on the terrace with its spectacular views of Federal Hill and Vollis Simpson's gargantuan whirligig seemingly within arm's reach. The entire space, which includes a 64-seat dining room with church-pew seating evokes a Tim Burton set piece with its fanciful Suzani fabrics and works by visionary artists such as Deepak Chowdhury and Mary Proctor on the walls. The space is the artful expression of Haas and AVAM founder Rebecca Hoffberger,
who closely collaborated on the design. And while the interior is extraordinary, the kitchen still has some kinks.
The entire space evokes a Tim Burton set piece with church-pew seating and fanciful fabrics.
As we moved into our meal, we sampled an array of small plates, including fried chickpeas seasoned with house-made barbecue sauce (a crispy and light play on barbecued chips), house-made honey wheat bread with fig jam (sadly not much better than what comes out of my own bread machine), and a dish of "deviled" turnips with puréed chickpeas and tofu as a stand-in for eggs.
While I appreciated that this dish dared to be different, and the stuffed turnip successfully mimicked a deviled egg in looks and taste, the texture was a bit crunchy, and I found myself craving the real deal. Still, vegans will likely find this non-dairy option an appealing alternative. More noteworthy noshes included a creamy house-made burrata paired with grilled peaches and English peas and an heirloom tomato salad brightened by black garlic purée and a sprinkle of sea salt. The tomatoes were flecked with olive-oil powder—olive oil mixed with maltodextrin—which is meant to deliver a concentrated flavor as it melts in the mouth. I found it more distracting than delicious.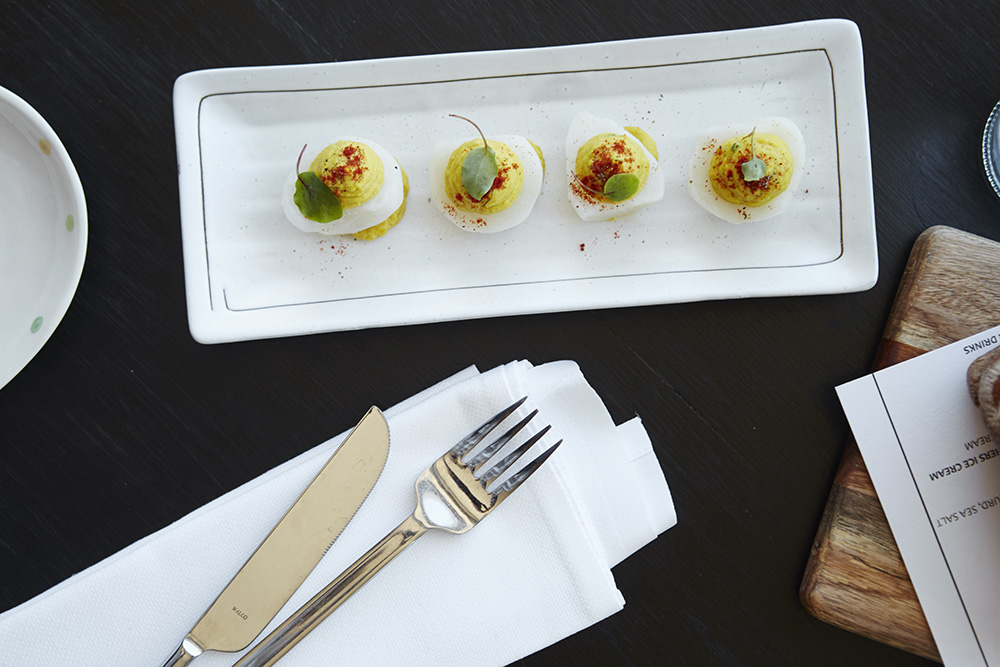 While veggies are the focus, there are several offerings that include small pieces of protein, and this is where the menu really shone. High praise goes to a postmodern-looking plate of wagyu accompanied by beets prepared three ways (roasted, pureed, powdered). Although the veggies—including a divine demi-glaze fashioned from puréed beets, black garlic, thyme, and shallots—were central to the plate, the accompanying meat was ultra tender, and we loved the addition of horseradish cream, which delivered depth and a hint of heat. Also on the plate were flash-fried Brussels sprouts, which echoed the sweetness of the beets. With the arrival of every dish, as carefully curated as a work of art, the wow factor was high, and each plate earned an A-plus for originality, including desserts. (Behold the Goose that Laid the Golden Egg, a cross between chocolate pudding and gananche with a blanket of edible gold leaf.)
A week later, a lunchtime visit was more seamless. The daytime menu features some dinner dishes, but also fare unique to the midday meal. We appreciated the inclusion of a Roseda beef burger for the carnivore at the table and forged ahead with a tasty, though overdressed, panzenella salad. But the real menu masterpiece was a heavenly bowl of bacon and lemongrass dashi with ramen noodles, crispy pork belly, and a soft-boiled egg that convinced me that this newcomer needs time to grow. The broth and springy miso-infused noodles imparted a riot of umami, and the tender pork belly, slow-cooked over seven hours, was smoky and deeply flavorful. Days later, we were still reminiscing.
As every artist knows—including AVAM's Wayne Kusy, who took years to build a 25-foot ship out of toothpicks—inspiration takes time. Haas certainly has his work cut out for him. To date, no other restaurants, including Spike and Charlie Gjerde's Joy America Café, have succeeded in the space. Even so, we're rooting for Encantada. As the restaurant continues to work its charms, we're eager to see what happens next.
---

ENCANTADA 800 Key Highway, 410-752-1000.
HOURS Wed.-Sat. 11:30 a.m.-10 p.m., Sun. 11:30 a.m.-4 p.m.
PRICES Starters: $5-14; entrees: $11-21; desserts: $6-9.
ATMOSPHERE Artsy.