Small World
Small plates boast big flavors at Gnocco.
As devoted fans of both Fork & Wrench and Salt, we were delighted and intrigued to hear that Brian Lavin—former executive chef at both venues—had opened up his own shop in a snug corner row house in Brewers Hill. Lavin's cooking features subtle but oft-surprising combinations, like a fondly remembered sweet-and-sour date purée and tzatziki pairing devised to accompany an oven-roasted duck at Salt.
We wondered if that sensibility would translate to this new venture's menu, which features a narrower range of Italian and Spanish flavors on display in a roster of mostly small plates and pastas. And we wondered, too, if the challenge of running his own kitchen would blunt his talents. Happily, Lavin seems more than up to the task. On the outside, Gnocco looks like your typical neighborhood haunt, but on the inside, Lavin is serving up some of the most inventive cuisine around.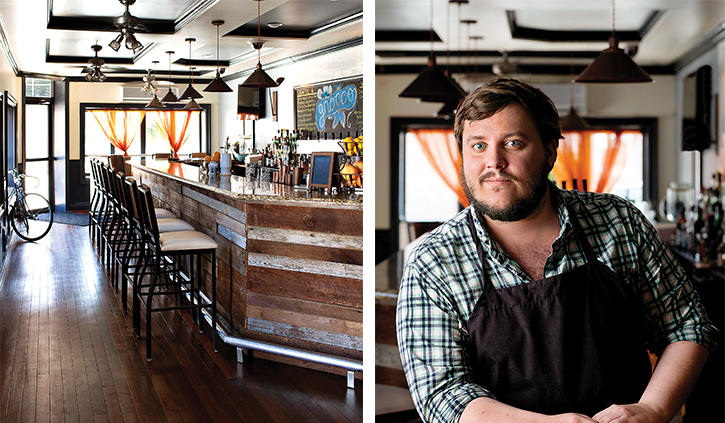 Food takes pride of place here. The rustic simplicity of the environs—repurposed wood, fresh flowers, dark colors—seems designed to provide a quiet backdrop to plates that are often spectacular in their colorful artistry. There's a bar on one side, a small dining room on the other. We love that there's Prosecco on tap, Italian aperitivo and digestivo, a well-curated wine list, and some beautiful craft cocktails on offer (try the Negroni Sfumato with smoked rhubarb amaro). And we love the thoughtful, attentive service. But the noise level? Not so much. When the place gets crowded—and as word spreads, this is increasingly the case—it's deafening, the single glitch in our overall experience. But focus on the food and you'll soon forget that you have to shout to convey how fabulous it is.
This is especially true of the ever changing roster of nine or 10 small plates, each one a gem of execution. A succulent mound of lobster salad floats over cool cucumber soup dotted with tarragon. Pale, silky scallop crudo gets color and spark from bright bites of tomato escabèche and basil. Grilled head-on shrimp, draped over romesco sauce and showered with bits of crispy garlic, melds beautifully with creamy roasted leeks.
On our first visit, we especially loved the grilled octopus. You wouldn't think there'd be much you could do to make octopus look pretty, but Lavin manages it. The tentacles (nicely charred on the outside, tender on the inside) sat atop a salad composed of contrasting pale and bright green fennel and arugula, a circle of deep purple grapes echoing the cephalopod's faintly violet hue. It's typical of the great care that goes into plating here, a thoughtful approach that doubles your dining pleasure. The dish had disappeared from the menu by our next visit, but we happily discovered a new seafood favorite: crispy polenta-crusted oysters beside a pool of green goddess dressing.
---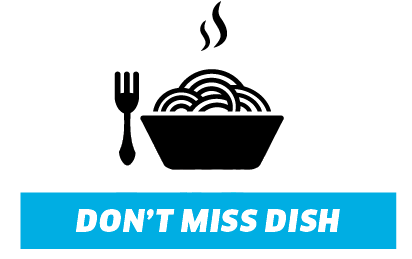 Veal Sweetbreads
Nestled on a bed of grilled green onions, lightly breaded veal sweetbreads reveal a creamy richness beneath their crisp coating. They sit atop a purée of roasted corn that brings out the "sweet" in the sweetbread and underscores their delicate flavor.
---
Three small pasta dishes round out the trove of small plates. One night, delicate thyme tagliatelle with chanterelles and sweet corn made us swoon. A little later in the summer, a heartier squid ink gnocchi with tomato-braised calamari and mint had us slowly tasting to discern the way each element complemented the others. We admit we've been so captivated by the smaller dishes that we've only tried one of the two entrees on offer—a sweet-fleshed, whole, grilled red snapper garnished with snap peas and pickled onions.
We only tried one dessert: warm ricotta doughnuts glazed with fennel honey and served with ginger ice cream. These made my dinner partner clap her hands with childlike glee.
Next time, maybe we'll eat nothing but entrees and desserts. And rest assured, there will be a next time. There's a braised wild boar shoulder in chickpea stew we'd love to catch when it's available, and a yummy sounding chocolate panna cotta with blueberry jam that we hope will stay on the dessert menu. We're dreaming of Lavin's way with autumn's bounty already.
---

GNOCCO 3734 Fleet St., 443-449-6540. HOURS Tue.-Thu. 5-10 p.m.; Fri.-Sat. 5-11 p.m.; Sun. 10:30 a.m.- 3 p.m., 5-9 p.m. CUISINE Mediterranean.
PRICES Appetizers and small plates: $9.95-18.95; pastas and entrees: $16.50-25.95; desserts: $8-19. ATMOSPHERE Rustic.