Soul Mates
David and Tonya Thomas bring modern soul food to downtown Baltimore.
Even before you bite into your octopus po' boy slider or a take of sip of the rummy Promised Land, you get a good sense of the story Ida B's Table is trying to tell. There's the hostess who oozes Southern hospitality as she greets you at the door, an indoor wrought iron "fence" that evokes the porches of the Deep South, and Baltimore artist Ernest Shaw's portrait of the restaurant's titular heroine and triple threat—newspaperwoman/suffragist/co-founder of the NAACP Ida B. Wells—presiding over the place. Next to her portrait is an inscription that reads: "The way to right wrongs is to turn the light of truth upon them." 
While shining a light on soul food, Ida B's is also redefining the genre. Owner/chef David Thomas (formerly of Parkville's Herb & Soul) and his wife, Tonya, offer up a new, modern take on a complicated cuisine, whose origins go back to slavery, when heavy seasoning and spices helped extract the flavor from the scraps and rations slaves received. 
Chef Thomas, whose Greensboro-born grandmother, Anna Poole Thomas, was the daughter of a slave, grew up watching her toil in the kitchen as she ground her own salt, spices, and cornmeal. In many ways, this spot is built on the memories of his grandmother's soulful cooking. 
Have a conversation with the chef and you're likely to get a history lesson. He will tell you that the term "soul food" is most commonly used when describing the foods from the Deep South and was coined in the '60s, when "soul" was commonly used to define anything affiliated with Black-American culture. And while his restaurant is on a mission, Thomas' goal is to provide a narrative that doesn't, in his words, "hit people over the head." 
Melding the traditions of Africa, Europe, and the Americas, soul food is one of the original fusion cuisines, but Thomas takes it a step further with his own interpretations.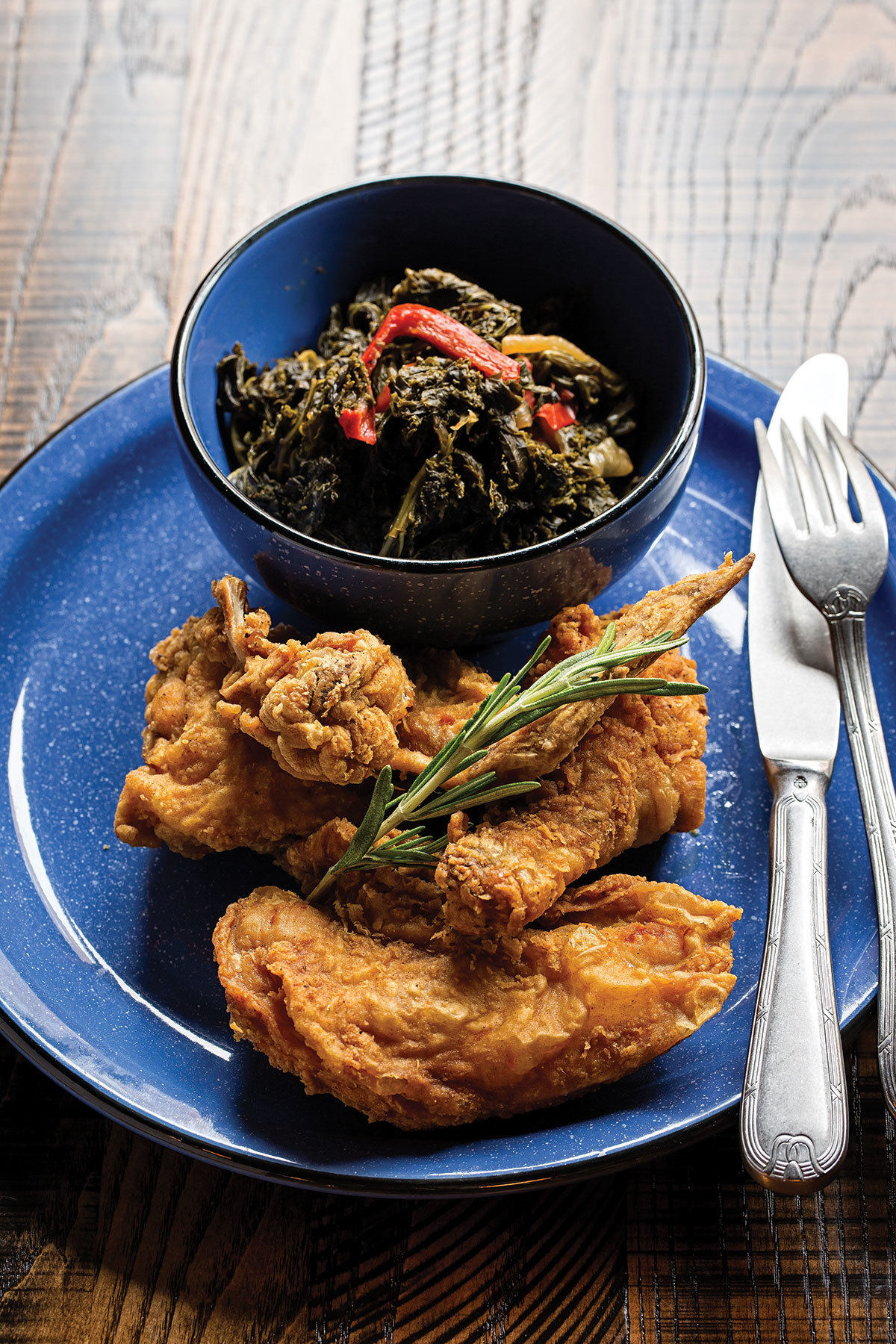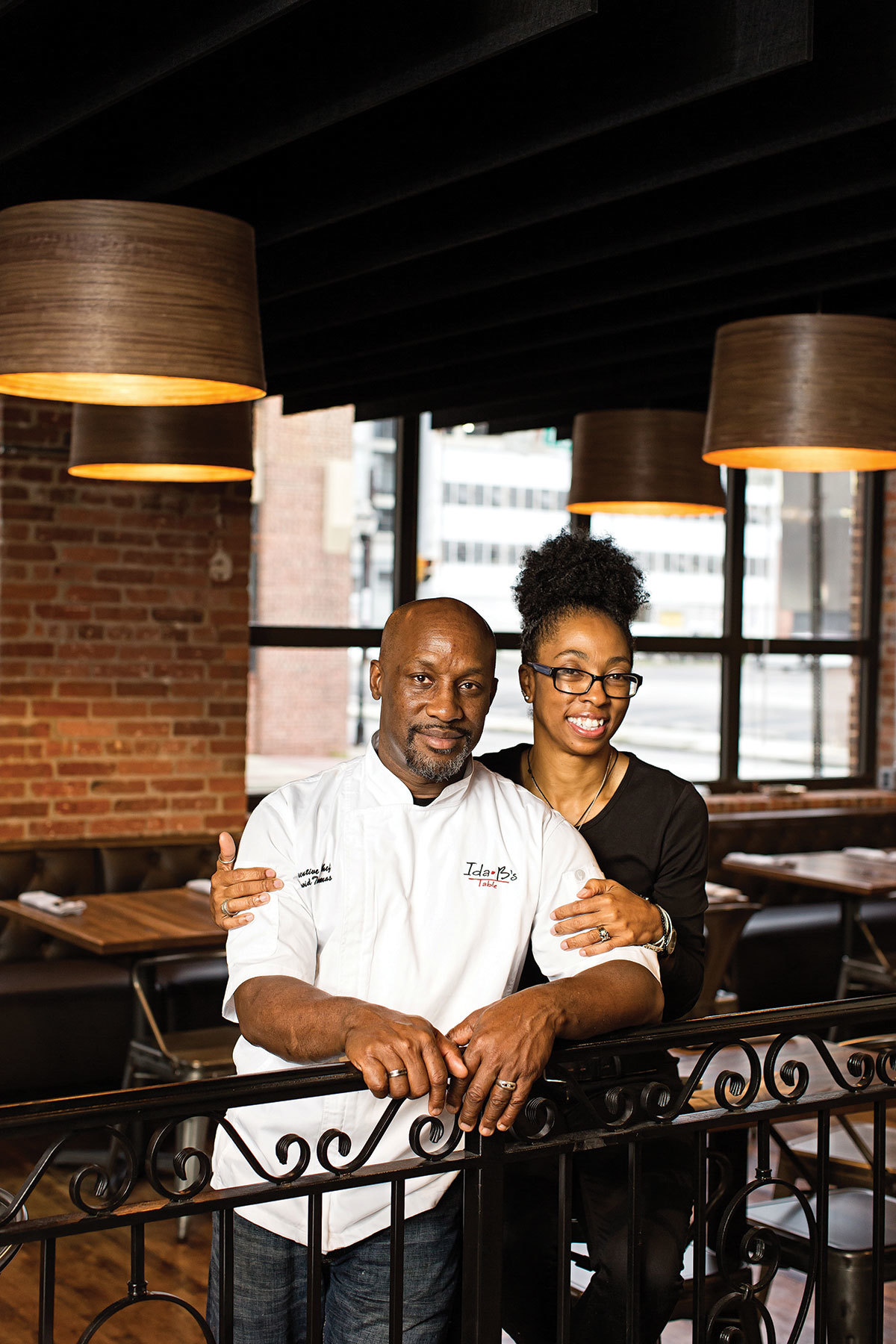 The fried chicken and Liberian greens; David and Tonya Thomas. —Scott Suchman
Open for breakfast, lunch, dinner, and brunch, the menus—compact, but wide-ranging—cleverly carry through a newspaper theme not only to honor Ida "B" Bell Wells-Barnett, but as a nod to the partnership between the Thomases and The Real News Network (with which it shares a building). On the dinner menu, appetizers are "Leads," entrees are "Features," sides are "Sidebars," and desserts are "Final Edits." (Sure, it could be hokey, but it makes the menu a fun read.)
Over several visits, I was most impressed with the intensity of flavor in each and every dish—Thomas does his grandmother proud. In the Leads section of the menu, we enjoyed the clever take on Buffalo wings—crispy curry wings with sweet and spicy curry glaze. Another hit was the Herb and Soul Rolls (pulled jerk chicken paired with Liberian greens, candied yams, and house-made barbecue sauce tucked inside a deep-fried spring roll wrap). Within minutes, the plate was completely clean.
We also enjoyed the inventive so-called Southern sushi, a concoction of rice, blackened chicken, and pickled vegetables rolled in a collard exterior and perfect for the non-red meat eater at the table. In the Features section, the fried chicken, dredged in flour, Old Bay, and garlic powder, was exactly what we'd hoped for—velvety on the inside and crackly on the outside. The dish (offering excellent value at $12 for two pieces) arrived with Tonya's buttery house-made buttermilk biscuit and a choice of sides. Our server suggested we pair it with the mac and cheese with penne and aged cheddar and the Liberian greens (spiced collards), and she did not steer us wrong.
---
THE COCKTAILS
Technically they're not a "dish," but don't skip the well-crafted (and cleverly named) cocktails by Chelsea Gregoire including The Seventh Son with gin, lemon, lavender, and berries.
---
Seafood offerings included a beautifully plated piece of local blue catfish that is served on a bed of stewed tomatoes and nicely offset by a rich cheddar faro risotto. The seared scallop special—five fat pieces of shellfish bathed in brown butter and burrowed into a bed of red quinoa—was also fantastically fresh and flavorful.
A visit at lunchtime revealed other gifts from the kitchen. Among them, a Southern spun kale Caesar salad dotted with cornbread croutons and heads-on blackened shrimp. The ultimate fusion dish was the Southern Seoul Reuben. Thick slices of pastrami were piled between two slices of marble rye and slathered with mustard aioli, then topped with crunchy collard kimchi.  It was a playful soul-food-meets-Korea-meets-Jewish-deli take on the classic Reuben.  
If you want to end on a sweet note, keep in mind that Tonya turns out all of the house-made desserts, so it's best to save the diet for another day. The coffee-cake bread pudding drizzled with crème Anglaise and topped with sorghum whipped cream was possibly the most delectable dessert we've eaten all year. 
Adding to the exceptional experience, service was impeccable without feeling intrusive. On our lunch visit, we particularly enjoyed meeting Dave and Tonya's server son, Brendan. Despite the lunchtime rush, he remained attentive, informed, and effortlessly amiable. Above all, the restaurant succeeds in its mission to serve as a much-needed gathering spot. Somewhere out there, Ida B. is smiling. 
---

IDA B'S TABLE 235 Holliday St., 410-844-0444. HOURS Sun. 10 a.m.-3 p.m.; Tues.-Thurs. 9 a.m.-3 p.m.; 4-9 p.m.; Fri.-Sat. 9 a.m.-3 p.m.; 4-10 p.m. PRICES Appetizers/salads: $5-10; entrees: $12-32; desserts: $2-9. AMBIANCE Artsy industrial.