French Revolution
French food gets redefined at Le Garage Beer Bar & Frites in Hampden.
In America, the garage is a place where anything goes and ingenuity and experimentation can flourish freely. (To wit: A young Steve Jobs tinkering in his parents' Silicon Valley shed.) In Hampden, Le Garage Beer Bar & Frites (actually, more of a subterranean space than a garage) is where French food has been retooled for the 21st century. With its novel take on a cuisine often associated with pricey pâtés, complicated sauces, and intimidating plates, Le Garage (on the site of the former The Dogwood restaurant) is the perfect fit for working-class Hampden, billing itself as featuring "approachable" French fare in an understated industrial setting.
When we stopped by Le Garage on a Saturday night, six weeks or so after it opened its doors in May, our intention was to throw back a few pints of beer or a Family Mule cocktail, order a few bar snacks (the chicken-fried country pâté had our full attention), and come back with the more serious purpose of crafting critical commentary at a later date. (We'll let you in on our trade secret: Most times, our policy is to give a restaurant several months to establish itself before writing a review.)
But as the food came out of the kitchen, we realized that this place had the potential to be great right out of the gate, so we settled into our quintessential French garden cafe chairs and, steno pad and pen in hand, took notes.
Even if you think you don't like French food, this menu, with open-faced tartines (sandwiches), an onion soup made with braised short-rib stock, and more substantial entrees such as a grilled sausage bourguignon with fingerling potatoes or an indulgent Roseda Black Angus Farm burger with foie gras butter, will have you eagerly crossing culinary borders in no time.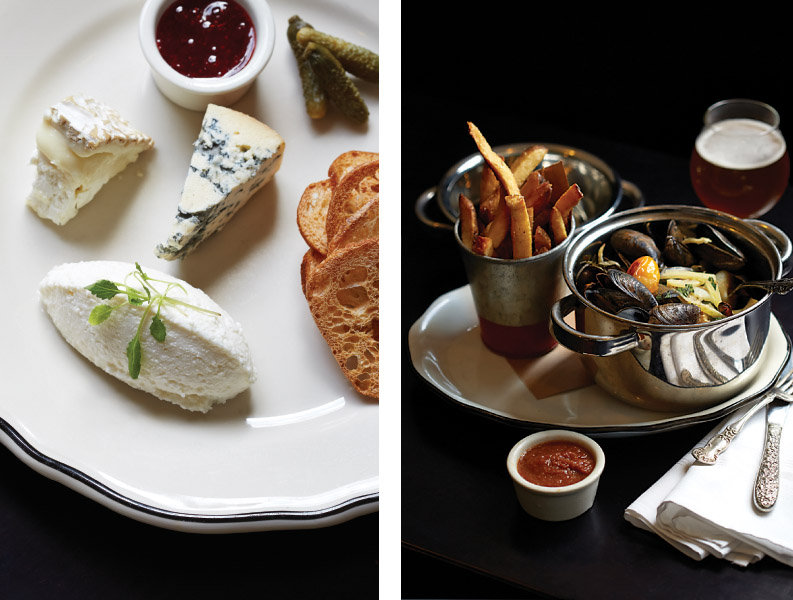 Le Garage's executive chef Sarah Acconcia, on The Avenue again after leaving 13.5% Wine Bar for Maggie's Farm in Lauraville, puts a spin on blue-white-and-red flag favorites. We started with a small but satisfying plate of boucheron, an intensely tangy wedge of the classic goat cheese, served with a compote of raisins and cranberries, and toasted brioche rounds. At $6, the cheese, which can also be ordered as a dessert course, was unfussy, differentiating Le Garage from many other French spots where ordering the cheese plate can feel like an overwrought ordeal.
While there are some solid staples, the changing menu also features seasonal fare. On our visit, it was a creamy, chilled asparagus soup, a combination of chives and crème frâiche highlighting the flavors of the fresh Eastern Shore asparagus. Less to our liking was a tartine advertised as containing bacon, tomato jam, and egg on a brioche. Instead, we received a thick slice of buttery brioche featuring a fatty hunk of braised bacon beneath a fried egg. We were expecting the same crisp bacon featured on the burgers passing by, so we weren't prepared for the pork-belly-style cut of meat, which we found overwhelmingly fatty and too rich as an appetizer.
Our main courses were more successful, including a salad niçoise. We liked that some of the salad components were classic, such as niçoise olives and fingerling potatoes, while other elements—like the chunks of sushi-grade tuna, snap peas (a stand-in for haricots verts), and ramp dressing—offered a fresh take on tradition. The pan-seared soft-shell crab special served on house brioche with green goddess and ramp kimchi and a fried-green tomato was fantastically fresh, and the brioche "bed" was an original addition. (We also experienced ordering envy as we watched the steak salad with arugula, watermelon, and blue cheese go by and made a mental note to get that next time.) Of course, we had to try the namesake fries, paying 75 cents extra to sample an additional sauce. Our favorite was the gochujang aioli with its kicky chile paste marrying well with the blander spud sticks.
Several weeks later, a weeknight visit was equally pleasant as we settled into sharing a pot of P.E.I. mussels swimming in a white wine and buttery broth confidently flavored with chorizo sausage and fennel, plus fries on the side. Also arriving at the table, was a hearty stroganoff-style homemade pasta, offering an earthy blend of crème frâiche, exotic mushrooms (oyster, royal trumpet), some shallots, garlic, white wine, pieces of pecan, and serious shavings of grana Padano. The dish was a great choice for the avowed vegetarian at our table.
On both visits, desserts prepared by Rachel Theisen, a former Woodberry Kitchen cook, were a menu highlight. The s'mores profiteroles with gooey marshmallow and rich chocolate sauce were dense and delicious, while the croissant bread pudding with Taharka Bros. cinnamon ice cream, served in a cast-iron skillet, stole the show. Le Garage is the perfect fit for its Hampden 'hood—a culinary Silicon Valley of sorts where we fully expect to see more great discoveries coming out of the kitchen.
---

LE GARAGE BEER BAR & FRITES 911 W. 36 th St. 410-243-6300.
HOURS Sun.-Thurs. 5 p.m.-12 a.m.; Fri.-Sat. 5 p.m.-1 a.m.; closed Mondays.
CUISINE Modern French bistro
PRICE Snacks and appetizers: $3-12; entrees: $17-24; desserts: $3-8.
ATMOSPHERE Cozy, cloistered industrial bistro, with a stunning bar area.