Review: Limoncello
When Locust Point gives you Limoncello, you'll feel like you're actually in Italy.
From pepperoni pizza to garlic bread and chicken Parm, most of what we consider iconic Italian food in the United States is more of a construct created for Americans than something you'd actually find in Italy. In fact, Italian cuisine has become so popular and ubiquitous in the U.S., it's almost as American as apple pie. Rare is the restaurant that actually feels like it holds an Italian passport.
Enter Limoncello, located on the first floor of Anthem House in Locust Point, with a sister spot in St. Michael's. This southern Italian restaurant focuses on the cuisine from the Campania region, where its three owners have their roots. And the general manager (and chef's first cousin) Vincenzo Schiano, who also hails from the region, likes to joke that, having recently moved to America, he "just got off the boat and still has salt on his skin."
But while the restaurant itself arrived only a few months back, thanks to polished service and perfectly executed plates, it feels incredibly established. Of course, it helps that this is chef-owner Gennaro DiBenedetto's 10th restaurant (others include Bacco Italian+Wine Bar in Abingdon and Rockfish Grille in Chestertown). "I want this to be the best, my legacy," says DiBenedetto.
To that end, Limoncello is all about insistence on authenticity and a celebration of an agriculturally rich region whose waiters teem with an astounding array of fish and shellfish. "No corners are cut," explains Schiano. "If we can't make it, we import it from Italy."
This means that delicious aged mozzarella di buffala, known as "white gold," is air-shipped daily from Campania. Ditto the prosciutto di Parma for the paninis and mortadella ground into the meatballs. Even the boxed Barilla pasta, while available locally, is shipped from Italy, because it's better than what you can buy stateside and, with its higher starch content, ensures the sauce sticks to the noodles. The authenticity also means that the namesake liqueur is made with whole-grain alcohol (not vodka as it is with the Americanized version), which allows the citrus to shine.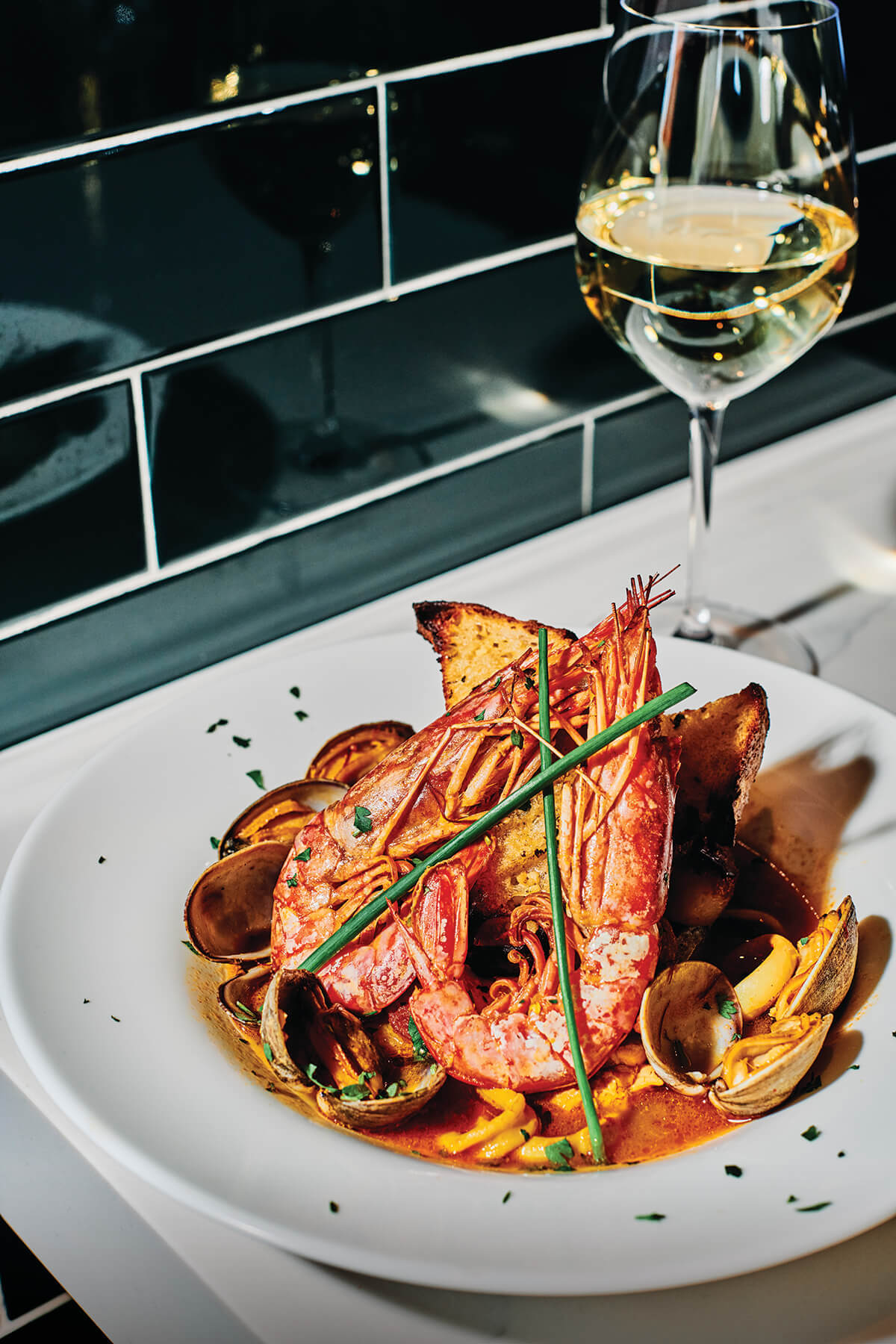 Full disclosure: As a critic, I waiver between ordering what I want and what I think I should get. But with a menu focused on two of my favorite foods—fresh seafood and pasta—I can, quite happily, do both at the same time here.
On my first visit, a busy Saturday night in November, my dining companion and I ordered a lineup of terrific appetizers from Italy's version of comfort food, thin slices of fried baby eggplant in ragù with mozzarella, as well as an order of the marvelous meatballs made with kobe beef, mortadella, and ground pistachios. My favorite dish of the night was a luscious pesce al brodetto (fish stew), chock full of clams, calamari, head-on shrimp, scallops, and fish swimming in a soupy saffron bisque that offered great fishy flavor.
Similarly, the head-on branzino, dressed with salt, pepper, and a splash of oil, was a paragon of the less-is-more style of Italian cooking. It was served with lovely fingerling potatoes, a tomato, and escarole salad. A pungent olive oil, lemon, and garlic sauce for drizzling was served on the side. With both dishes, though not for the squeamish, I was impressed that the fish and shrimp were served with the head on—and, yes, that was me chowing down on a shrimp head. That's really where you find the flavor.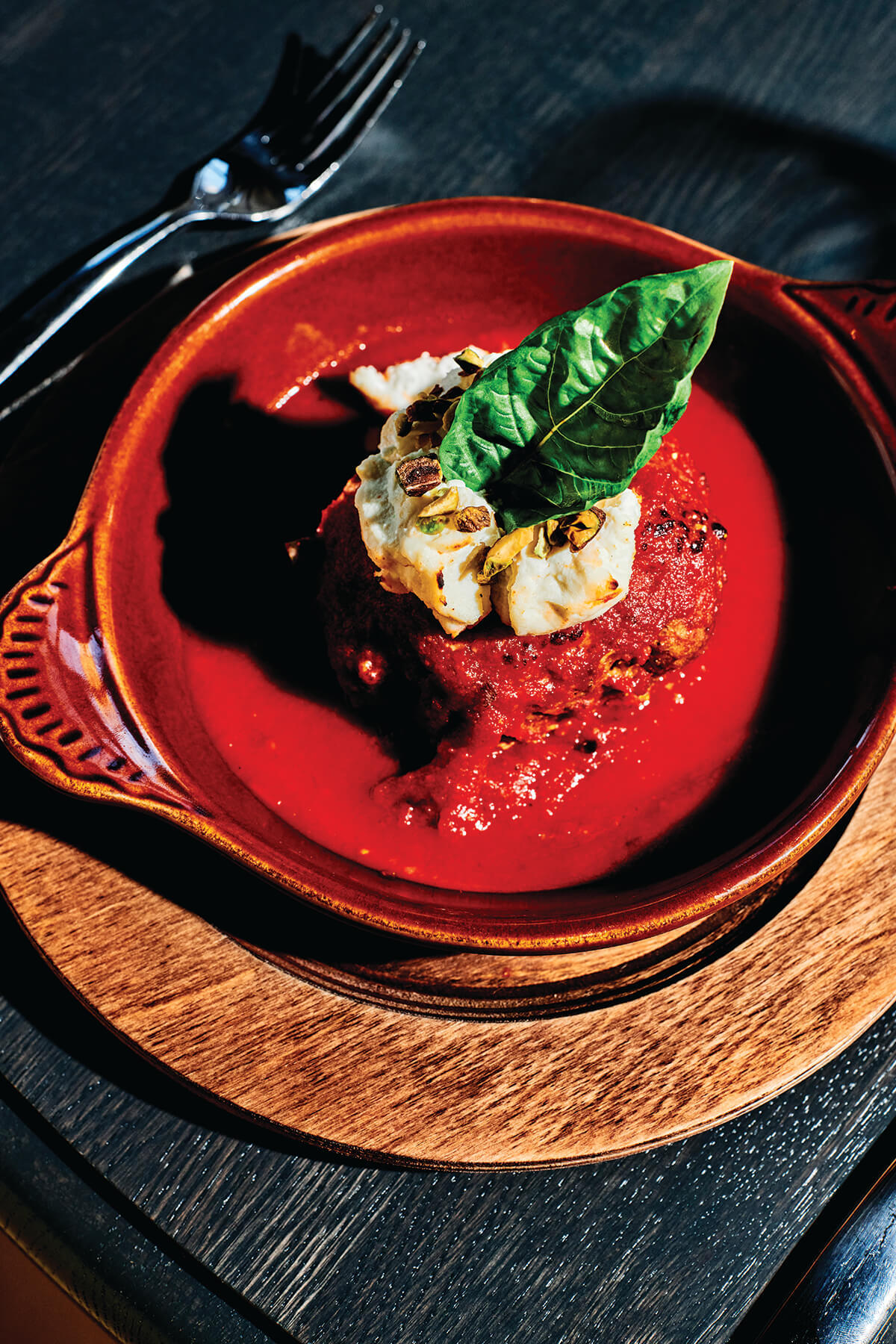 The meatball appetizer.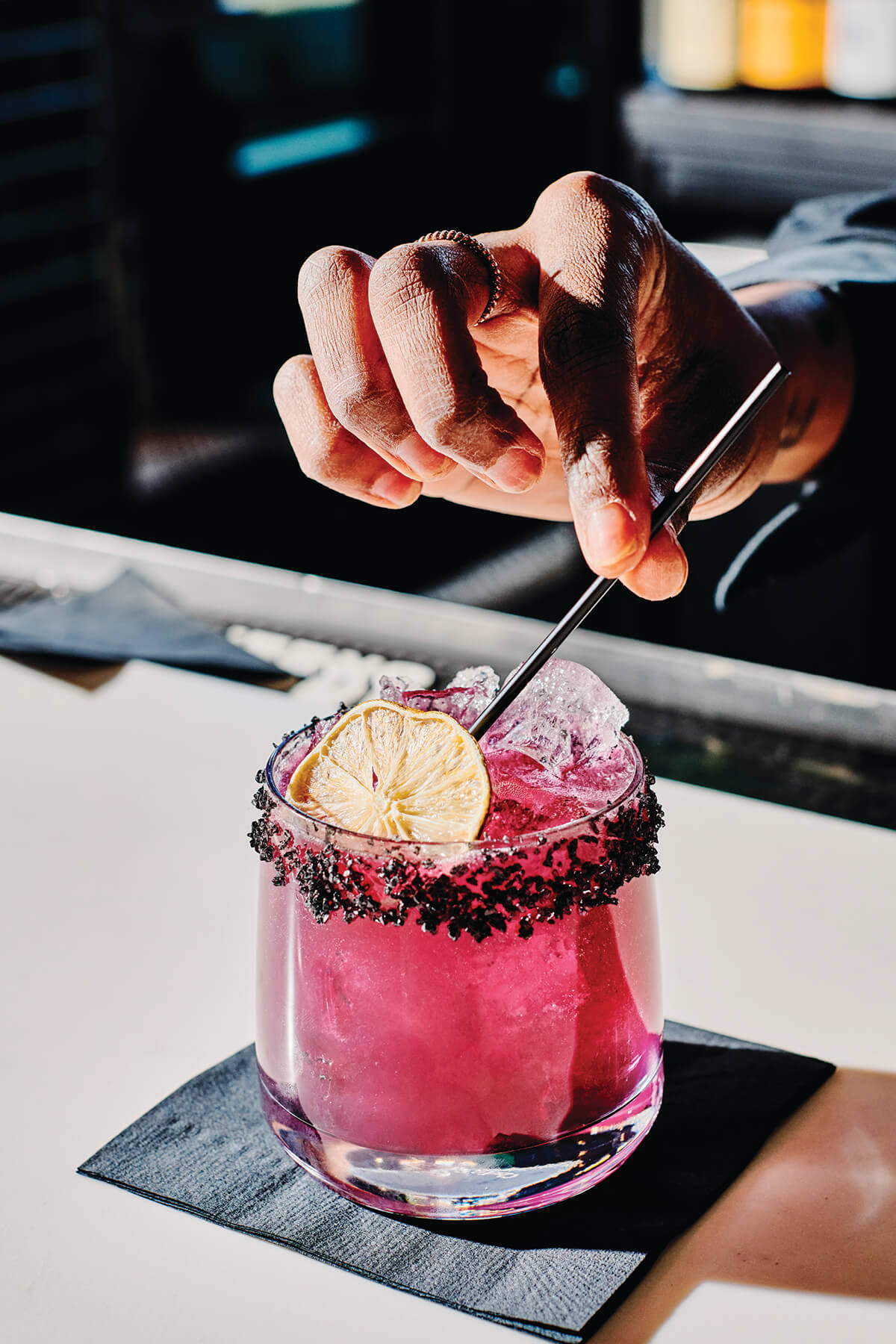 A craft cocktail.
A second visit was similarly successful, though there were minor missteps. The bread, made in-house daily, was somewhat stale, and the Sicilian-inspired arugula salad with fennel and blood orange accidentally arrived undressed and a bit wilted. That said, when we asked for "more" dressing, our server delivered it promptly.
Despite the slow start, we took our server's advice and ordered her favorite dish, the pappardelle zafferano, fat ribbons of house-made pasta bathed in a golden yellow saffron cream sauce and topped with a tangle of shrimp, scallops, and lump crabmeat. It did not disappoint. The addition of saffron lent a floral note and accentuated the sweetness of the shellfish.
We also enjoyed the grigliata di mare, grilled seafood including whole calamari, head-on shrimp, chargrilled octopus, and swordfish, with the same olive oil, garlic and lemon sauce served on the side that was paired with the branzino. Again, the simple preparation of of this dish and its high-quality ingredients made for a perfect example of letting the seafood stand on its own.
Beyond the food, the yellow and blue décor, echoing sun and cerulean sky, a lemon tree, lettered lights spelling out "Ciao," and driftwood mounted to the wall are an attempt to invoke Italy's coastal region. Okay, so the Patapsco isn't exactly the Mediterranean, but once you eat that first tender tentacle of charred octopus, you could be convinced. "Our goal," says Schiano, is "to express ourselves through our food."
Mission accomplished.
---

LIMONCELLO 900 East Fort Ave., 443-708-1540. HOURS: Lunch and weekend brunch 11 a.m.-2:30 p.m.; dinner: Mon.-Thur. 4-10 p.m., Fri.-Sat. 4-11 p.m., Sun. 4-10 p.m. PRICES: Appetizers: $12-22; entrees: $10-39. AMBIANCE: Italian coastal.