Ice, Ice Baby
Loch Bar swims into Harbor East.
While Baltimore and the Chesapeake area are often associated with seafood, when you get beyond the crab houses, there are surprisingly few seafood-centric spots. All that changed when Alex Smith and his Atlas Restaurant Group partner, George Aligeorgas, entered the scene. Smith and Aligeorgas clearly have a thing for all the fish in the sea, whether it's bronzino from the Aegean at Ouzo Bay or Sawagani crabs from Japan's famed Tsukiji Fish Market at Azumi.
But now the duo is catching closer to home with their latest venture, Loch Bar, which sits on the site of the former LaMill coffee shop in The Four Season's Baltimore Hotel and sets its sights on Chesapeake seafood, as well as pristine products from all over the East and West coasts and Mexico. A 12-foot raw bar dominates the space and glistens with Maine lobster, Alaskan king crab, mussels, clams, and oysters nestled in some 250 pounds of ice.
While Loch Bar's bragging rights include the self-proclaimed largest whiskey selection in the state (350 bottles, including a lengthy list of rare offerings such as Laphroaig 32-year-old scotch whiskey), it's equally focused on haute pub grub.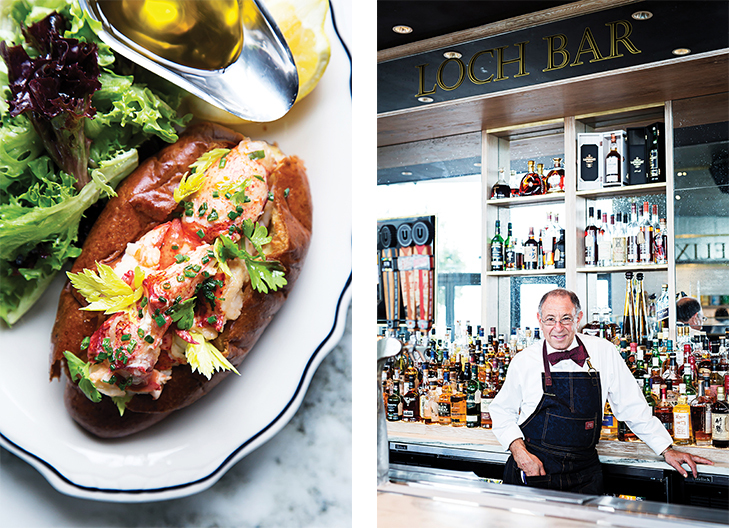 If Jay Gatsby owned a bar, it might be something along the lines of this luxurious lair. Designer Patrick Sutton, who always astonishes, has given rise to a 1920s-style space that oozes with best-of-everything appeal: burgundy Chesterfield-style leather booths, swirling marble surfaces (culled from a quarry in Vermont that was also used to build some of the Washington, D.C., monuments), shiny brass finishes that offer a nautical nod to the past, and one of the most magnificent plein air patios in the city. Even before the bourbon gave us a glow, we felt glamorous just sitting there. (Know that you'll need a reservation to snag one of the few coveted booths facing the water.)
The menu is equally decadent. If you're in the mood to indulge, you can find sky-high shellfish towers (including one for $250), plus both Russian Kaluga ($220 an ounce) and sevruga caviar ($200 an ounce) served with blinis, crème fraîche, and caper berries, as well as oysters from near (the Chesapeake Bay) and far (the Puget Sound). But more affordable options like oysters Rockefeller, moules frites (mussels and fries), and charcuterie and cheese boards are available for nibbling through the night (or at lunchtime or happy hour, as we did on subsequent visits, if you're so inclined).
While some spots take a while to get started, Loch Bar, open since early April, seems fully formed. On our visits, the bar area thrummed with the young, the well-heeled, and the thirsty. We had no complaints over service, which was eager and efficient and is often the last element to get up to speed in new spots.
---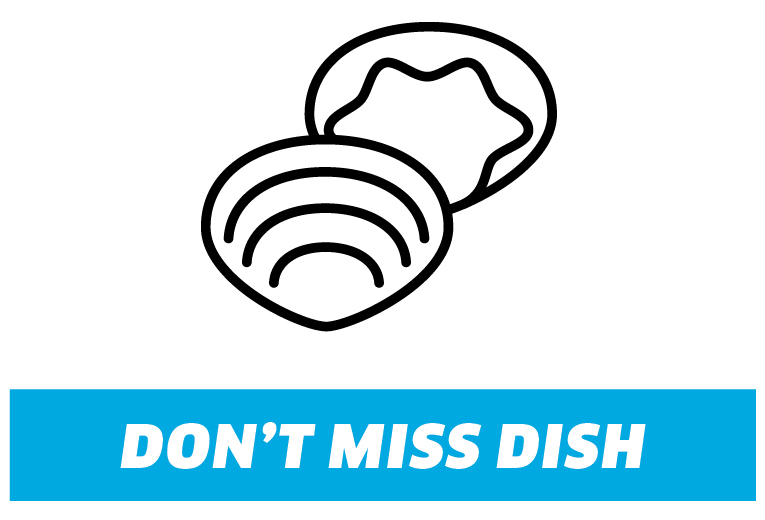 Scallop carpaccio: The scallop carpaccio with Meyer lemon and bright green Castelvetrano olives, served in a scallop shell, "cooked" in lemon confit, and topped with a charred spring ramp chimichurri and chili flakes, is a tangy, briny combination that hits different palate points.
---
Over the course of many hours, we sampled much of the menu, from the tuna and avocado poke (a delicate delight with a boost of bite from soy-ginger dressing and chili oil), to an assortment of shucked-just-right oysters, to lobster poutine (proletariat pub grub getting the Rolls-Royce treatment), and a properly butter-poached lobster roll as good as any I've ever eaten in Maine. While the spotlight is on seafood, one of my dining companions insisted on ordering the pastrami, which arrived on thick slices of dark Russian rye. The recipe has become chef Matthew Oetting's closely guarded secret. It was fantastically fatty and flavorful, and was bolstered by braised cabbage.
Less successful were some of the Maryland standards, including a crab cake (which fell apart and featured not enough seafood seasoning, if any) and a Chesapeake crab dip (which got points for being locally sourced, but deductions for having a paste-like consistency). We suspect that Oetting, whose experience spans chichi eateries from Miami to New York and who is a graduate of Le Cordon Bleu, is still getting a feel for Charm City standards.
To finish the night, we dug into a hefty slab of house-made Smith (no relation to owner Alex) Island cake and felt sated as we watched the boats bob in the dark waters of the harbor.
---

LOCH BAR 280 International Dr., 443-961-8949.
HOURS Sun.-Tue. 10:30 a.m.-10 p.m., Wed.-Sat. 10:30 a.m.-12 a.m.
CUISINE Regional seafood.
PRICES Appetizers: $6-18; entrees: $19-48; desserts: $8.
ATMOSPHERE Modern oyster bar.