Mod World
Modern Cook Shop has something for everyone.
It's Saturday night at Modern Cook Shop and the place, like much of Fells Point after dark, is a swirl of activity. At the back-of-the-house bar, barrel-aged cocktails and craft beers are flowing for a group of raucous revelers, while, across the 120-seat space, a barista brews lattes for the coffee crowd.
Meanwhile, in the open cooking area, chef Michael Gliniecki (formerly of Waterfront Kitchen and The Fork & Wrench) sears salmon as kitchen-theater devotees watch appreciatively from their Italian-leather barstools. Lastly, in the center of this culinary circus of sorts, more committed diners sit at wooden tables while feasting on house charcuterie and pan-seared salmon with turnips.
As patrons wander in—from a couple navigating their double stroller around the perimeter, which is well-stocked with small-batch pantry items (bee pollen, organic oatmeal, hot sauce), to locals stopping by the newsstand area to page through the newspapers on hand—it's clear that this spot typifies the something-for-everyone restaurant trend springing up in urban markets.
As the name suggests, Modern Cook Shop, in the Union Wharf building at the corner of Wolfe and Thames Streets, is very much a model of modernity, a multi-use space that caters to every customer.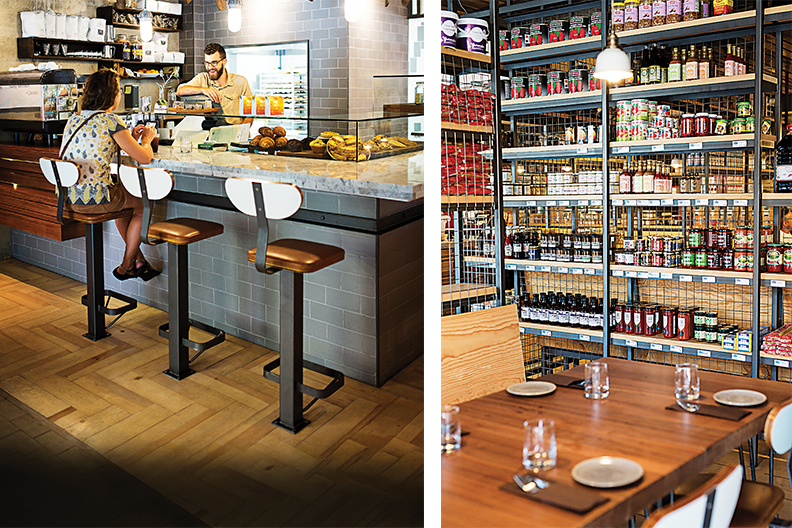 Co-owners Andy Gruver and Jason Sanchez, the duo behind boutique "dive bar" The Fork & Wrench, are known for their creative concepts. This one was inspired by New York City's corner-store bodegas, an ubiquitous part of Big Apple life.
The duo's unique, of-the-moment concept is in full force here, from the repurposed Ponderosa Pine and California Redwood furniture that Gruver built with his own hands (and plans to sell at the shop in the future) to the concisely curated, seasonal menu with a strong slant toward vegetables.
The dinner menu is divided into three sections: plates to share, main plates, and small plates. On our visit, appetizers included a prettily presented dish of whole baby roasted carrots with peas, parsley, and a carrot purée kissed with cumin.
Our grazing continued with a plate of aptly named Simple Greens from Urban Pastoral Farm. With greens this good, no dressing was needed. This particular presentation—a creatively chaotic pile of farm-fresh greens, multi-colored carrot curls, tomato, radish, and rapini, with a buttermilk pool at the bottom—seemed straight out of Mr. McGregor's garden. A milky burrata paired with heirloom tomatoes, basil, and several slices of toasted focaccia was also a winning way to begin the meal.
---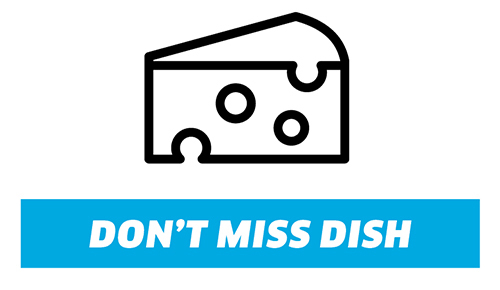 Pimento Cheese
On most menus, the pimento cheese appetizer is a blip, a bite, a way to bide time before the main meal. But this rendition, with pickled chilies and crisp house-made nigella seed crackers, is a stirring starter and festive way to kick off your meal.
---
For our entrees, we sampled both surf (cioppino and rockfish) and turf (steak.) The seafood stew featured a heap of scallops, clams, and mussels in a tomato broth tinged with garlic and herbs, and it was accompanied by several slabs of crusty toast. The composition was flavorful and light—perfect for a sticky summer's night, though the broth could have been boosted with additional garlic. The just-caught rockfish, commingled with a mélange of succotash-style corn, fava beans, and tomatoes, added tremendous flavor to the otherwise mild meat.
For those with a heartier appetite, I highly recommend the strip loin steak. While not necessarily novel, it was dense and delicious with a minerality that was grounded by potatoes, browned Brussels sprouts, and caramelized candy onions.
Worth noting: For those who don't mind dining alone, Modern Cook Shop is the ideal spot to fly solo. On a midday visit, I parked myself at the coffee counter and dug into a grain salad—a hearty and healthy, seeming bottomless wheat-belly-be-gone bowl of quinoa, wild rice, farro, arugula, and red onions topped with goat cheese. In the course of the hour, several others joined the singles scene.
If you don't want to eat in at all, take inspiration from the menu, browse the market area, and re-create the experience at home. Chef Gliniecki will happily share his secrets. And Gruver will be more than happy to sell you a stool.
---

MODERN COOK SHOP 901 S. Wolfe St., 443-627-8032.
HOURS Daily 7 a.m.-2 a.m. CUISINE Seasonal American
PRICES Shareable plates: $2-14; small plates: $8-14; entrees: $14-29
ATMOSPHERE Bodega chic.