Review: Orto
Bottega begets Orto in Station North.
Following the comings and goings of restaurants in Baltimore can sometimes feel like a game of musical chairs. In one of the most recent rounds, Adrien Aeschliman's Colette closed after a short stint in Station North, his other restaurant Bottega moved in briefly (after relocating from around the block), and then, when the chef-owner decided to leave town, he contacted his friend Elan Kotz and asked him if he'd be interested in occupying the spot a few doors down from The Charles Theatre. By late January, Orto was open and the very same cabaret chairs were still warm from Bottega patrons.
Got that? No matter. All you need to know is that, while Bottega was beloved for its inventive plates of Tuscan cuisine, Orto, in the words of its chef Stefano Porcile "is finishing what Adrien started." Bottega was a sleeper hit, and Orto, which means vegetable garden in Italian, is derived from a similar DNA with high-quality ingredients and flavor combinations that wow—not surprising given that the talented Porcile worked as a cook there. At Orto, Porcile forges a new identity, something that's a bit more grown up than Bottega, but with the same emphasis on fresh ingredients and exciting flavor combinations.
Orto is instantly appealing from the minute you step past the candlelit bar area and into the snug dining area with its plaster walls and mix of old-world still-life paintings and contemporary artwork. Everything about the space works in harmony. And that extends far beyond the décor. Orto strikes a perfect balance on all fronts, from its size (not too large with 78 seats and a handful of small plates, pastas, and entrees) to its ambiance (not overly formal, but still special) to its dishes that are simple yet showstopping. The menu is composed of house-made pastas, salads, steaks, seafood, and poultry, as well as dishes that heavily highlight seasonal vegetables and classic Italian ingredients.
Porcile, who describes his menu as "classic Italian with contemporary sensibilities," has worked in many kitchens around town. Way back when he was pursuing his passion for cooking, he visited the illustrious Culinary Institute of America. After touring, he came to the conclusion that he "didn't want to do the same shit that everyone else was doing." So, he drove home to work at Woodberry Kitchen and Fork & Wrench and learned by doing how to compose plates full of flavor with nuanced ingredients and sophistication.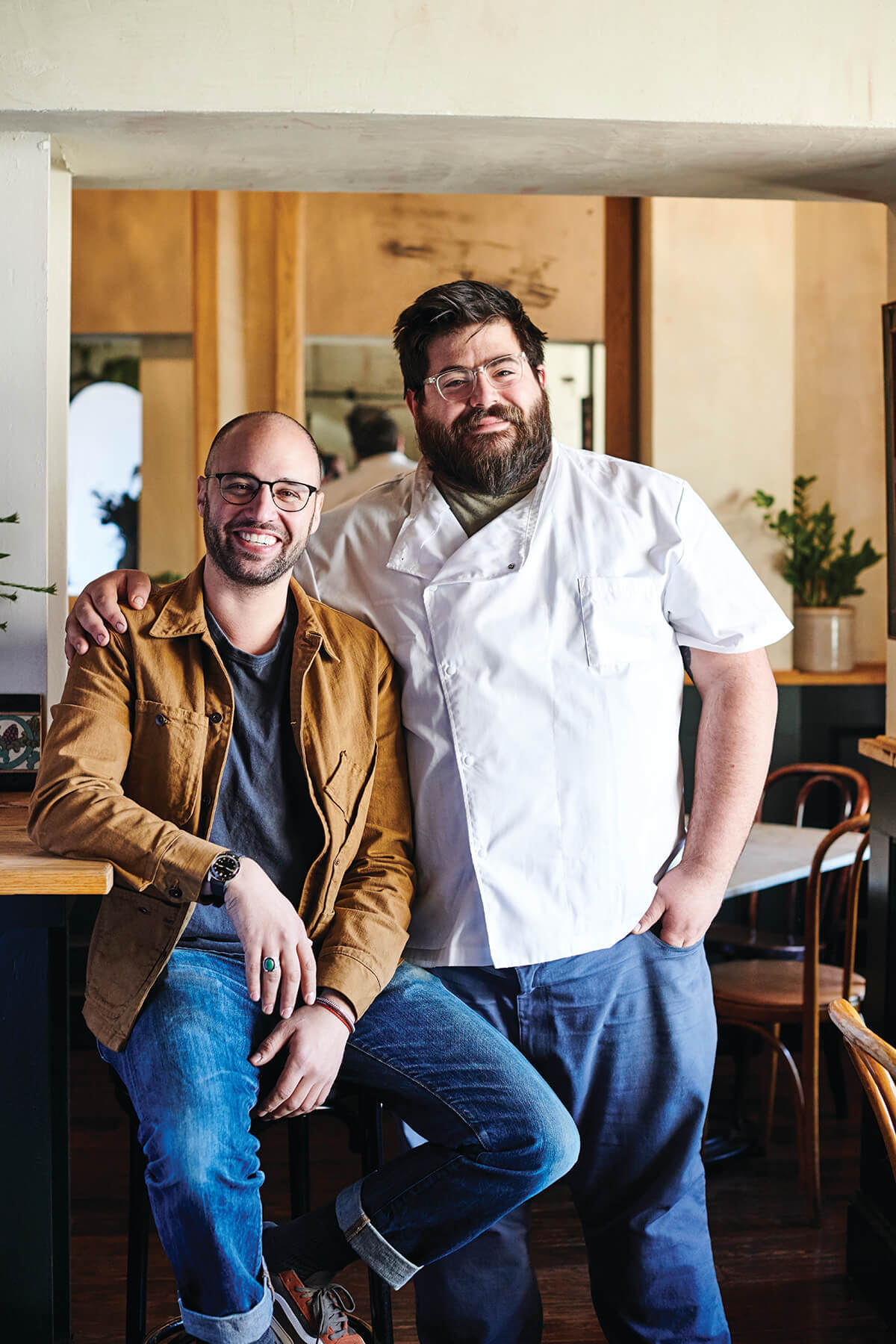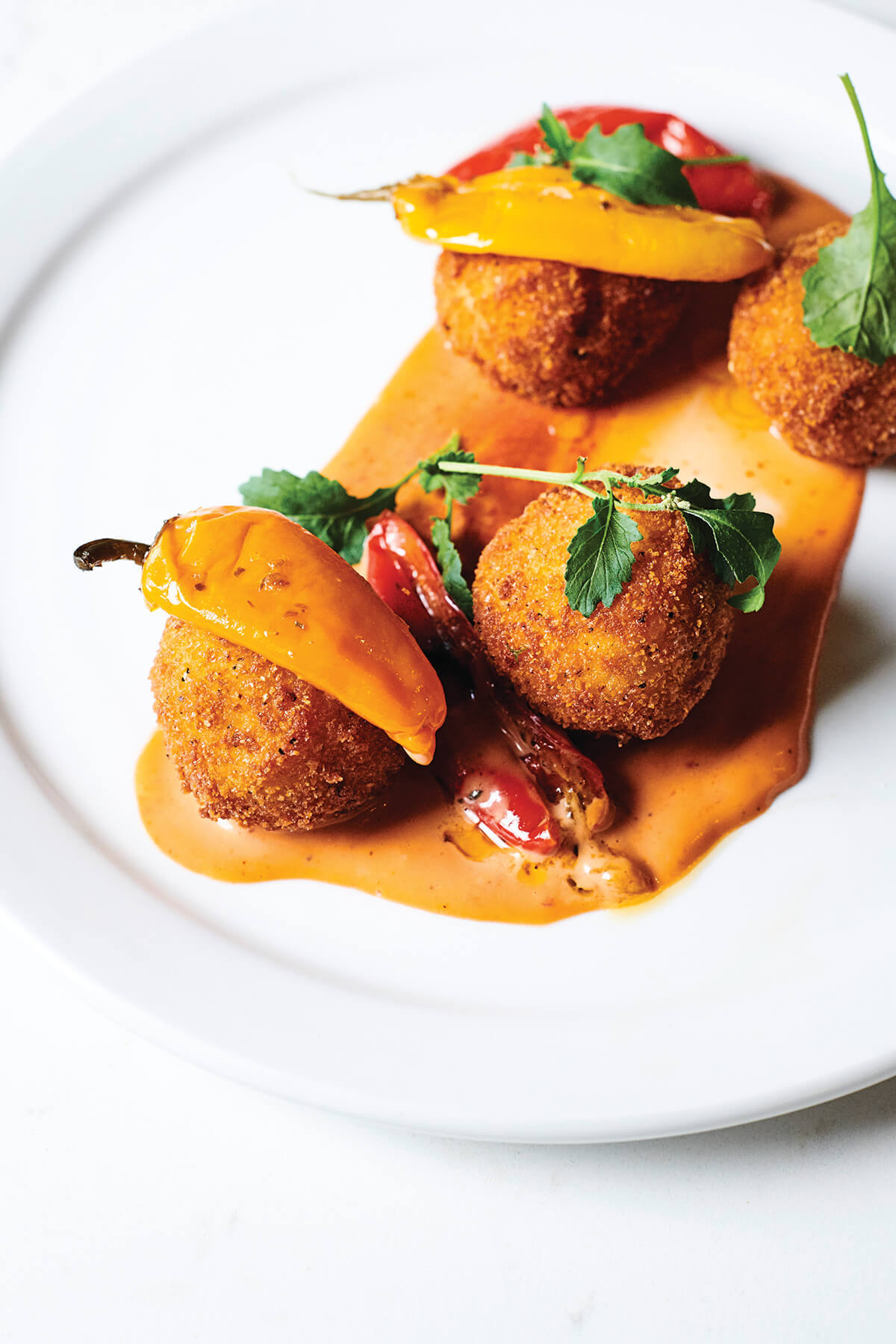 Owner Elan Kotz and chef Stefano Porcile; the arancini with peppers. —Kate Grewal
Service at Orto only enhances the experience. On our first visit, we were tended to by the former general manager at Woodberry. "What catches your eye?" she asked. She was so good at expounding on the menu that we just couldn't decide. Pretty much everything vied for our attention, but after two outings, we were practically pros. Begin with a glass of Peroni and some "conservas" appe-teasers as you peruse the menu (olives marinated in fennel and citrus peel filled the void), then move on to whichever pasta you're lucky enough to find. They're all stellar, but pray for the butternut agnolotti splashed with Madeira and tossed with brown butter and sage.
On our first visit, the chef himself arrived at our table to deliver the ravioli stuffed with ricotta cheese, Sicilian tomatoes, chive, basil, and butter, as well as instructions. "Do me a favor," he said. "Bite into everything at once." As I bit into the delicate and delicious house-made noodle, the sweetness and acid of the tomatoes played perfectly with the floral notes of the basil. Basil was also used to great effect in the ricotta cavatelli, with hazelnuts standing in for the more traditional pine nuts. They added a pleasing sweetness, especially when paired with a luscious dollop of whipped burrata. I was far from alone in my dish bliss. As I watched the same plate of pasta land at another table, I overheard another patron utter the words, "Oh my god," after her first bite.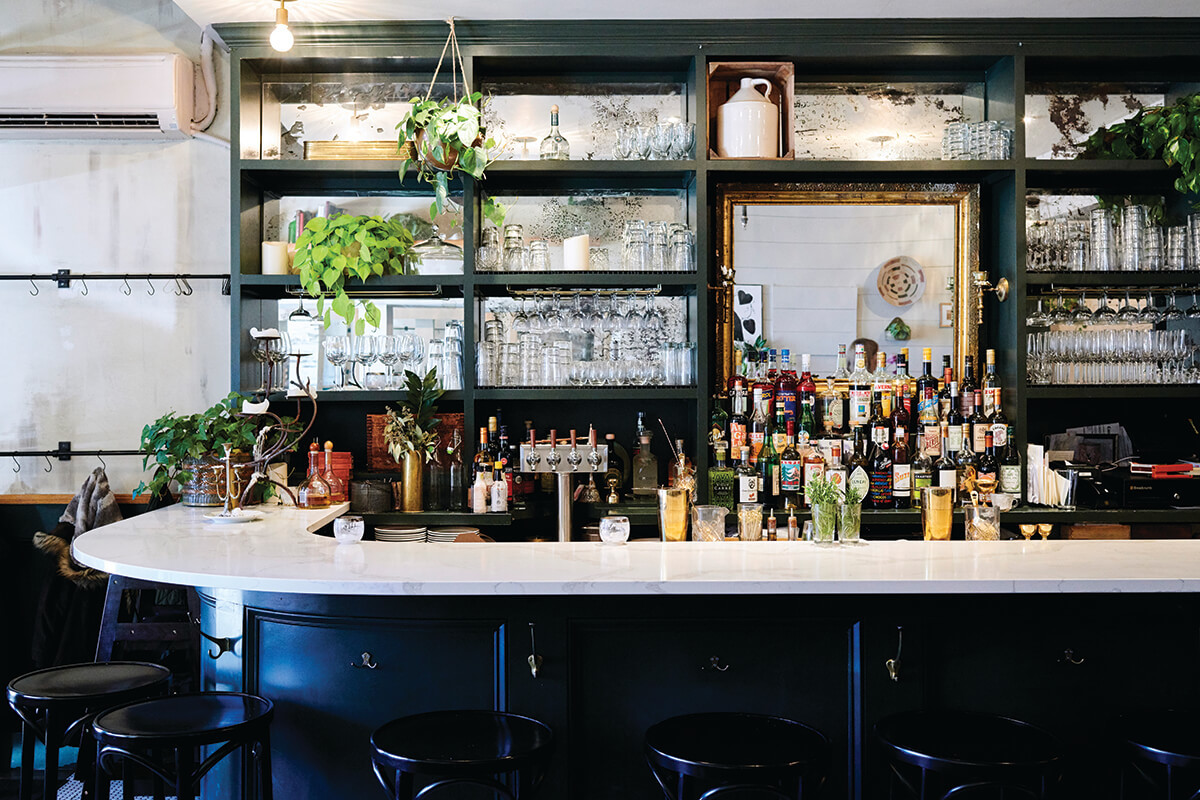 The bar area at Orto. —Kate Grewal
Before ordering your pasta, you'll also want to try a shareable salad such as the charred radicchio with shaved Brussels and a touch of balsamic grapes or the arugula salad with just a hint of pecorino, fennel, pear, and walnuts. Even something seemingly ordinary, like, say, a small plate of crispy Brussels sprouts tossed with Calabrian chili honey, chive oil, and torn basil, provided a master class in sweet-heat. You'll also want to share some of the more sizeable "principales," like an irresistible buttermilk-soaked fried chicken Milanese paired with a little gem Caesar, an ideal matchup of crispy and creamy.
Orto feels like the kind of place that you could wander into without reservations to get a glass of wine and a quick plate of pasta at the bar before a movie. But don't make that mistake. The restaurant has definitely gotten an early bump from Bottega loyalists, but diners are fast learning that it's well worthy of a visit in its own right. Even as it was opening, prime time tables were hard to come by, and, on one Saturday night, every table was filled. If you're not able to snag a spot, no worries. Come back—Orto is going to stick around for the foreseeable future.
---

ORTO 1709 Charles St. 443-759-7200. HOURS: Sun.-Sat. 5-10 p.m. PRICES: Small plates: $11-17; medium plates: $14-18; entrees: $21-30. AMBIANCE: Romantic.