Well Preserved
Preserve brings farm-to-table to Annapolis.
As we tooled down I-97 toward Annapolis and Preserve, I was a bundle of nerves. I pondered the wisdom of testing out a tiny, popular new restaurant on a Friday evening—one that didn't take reservations—with a carful of friends old and new. And I worried, too, about dragging everyone to yet another farm-to-table eatery. At a time when even McDonald's touts its "locally relevant" offerings, maybe being locavore isn't something to highlight anymore. I pictured the five of us lined up for an hours-long wait on Main Street after circling the city for parking, only to be confronted with boring borage salads and pallid plates of air-chilled chicken.
But that's because I hadn't counted on the smarts and ingenuity of Jeremy and Michelle Hoffman, the husband-and-wife team responsible for this sophisticated, high-energy gem, whose calling card is a focus on pickled, fermented, and, as the name suggests, preserved preparations, and whose menu also boasts contemporary twists on homespun comfort food—another culinary cliché the Hoffmans
finesse with wit and wisdom.
As my buddy Charlie slipped into a miraculously open parking space directly in front of the restaurant, I began to feel a tad more optimistic. Our party of five was seated immediately—arrive early and that can happen—and relaxed into this brightly sleek but subtle jewel box of a restaurant, with its whitewashed brick and golden maple. It was a lovely early fall evening, and the restaurant's roll-back windows were open to the breeze. Within the hour, the place filled with happy, handsome diners enjoying and sharing deeply satisfying food.
If you're with a crowd, order up as many of those pickled and preserved things as you can: exemplary sauerkraut dressed up with bright dabs of grain mustard; draped ribbons of silky kimchi; a brilliant "quick pickle" platter of every vegetable under the sun, each bathed in a singularly inventive brine. The pop of these bracing items contrasts beautifully with a smoky lentil dip. The platter also includes another farm-to-table mainstay, deviled eggs, stuffed with a surprisingly addictive mix of minced turnips in chili-garlic sauce. Queen of the starters? An even more addictive pile of crispy kale gilded with giant dollops of cumin-spiced yogurt and generously sprinkled with a dice of red onion. Everyone at the table loved it so much that fights threatened to break out. (Fancy that, Mom: fighting over kale.)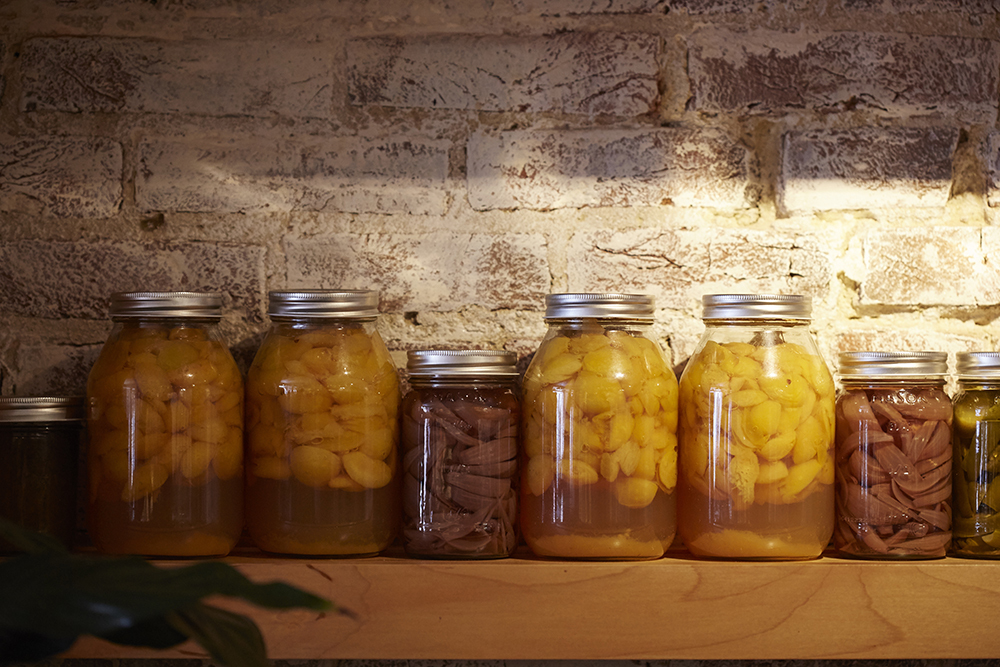 Entrees kept the good vibe going strong. A dish of fork-tender braised pork and more of that sauerkraut was home-styled into nirvana by superlative mashed potatoes. The perfectly pan-roasted rib-eye features a fine potato salad to soak up the steak's jus, and this, too, became a coveted item as we passed around our dishes. Vegetarians (and meat eaters) have at least two meatless choices for dinner that show off the menu's way with texture and contrast: Pillowy gnocchi nestled on a bed of Parmesan cream get an extra kick from roasted cherry tomatoes that burst pleasantly in the mouth and a pile of microgreens. Griddled rice cakes were garnished with fried sunchoke chips and sparked with spicy harissa, yogurt, and mint, combining heat and cool, crunch and lushness.
These are simple dishes elevated by great ingredients and the obvious care the Hoffmans lavish on every component. The two boast excellent pedigrees: Both trained (and met) at the Culinary Institute of America, followed by stints as chef (Jeremy) and manager/maître d' (Michelle) at some of New York's most fabled restaurants. They were a constant presence in the exhibition kitchen and on the floor at Preserve, overseeing both the expert food and service. Our lovely and knowledgeable young waitress ably shepherded us through the menu, including a list of colorful artisanal cocktails and a compact but sophisticated wine list.
The only misses on our visit were a starter of charbroiled oysters lost beneath a gratin of garlic butter, Parmesan, and breadcrumbs and a fairly ordinary entree of cornmeal-crusted catfish, both of which suffered in comparison to the inventiveness of everything else. We were split on the desserts. The Tandy Cake is a clever play on a Tastykake: yellow sponge cake with chocolate icing. Too cloyingly sweet for some of us—me included—but eagerly set upon by the sugar lovers in our little group. A mound of house-made ricotta ringed with fresh peach preserves spoke to me but others found it too savory for dessert. But the mistakes and missteps were small and few, and we all agreed we'd travel again to Annapolis for dinner at Preserve in a heartbeat. This is one farm-to-table restaurant that doesn't shout its trendiness—it goes about its business as a matter of course, quietly reminding you of why the trend took hold in the first place.
---

PRESERVE 164 Main St., Annapolis, 443-598-6920.
HOURS Wed.-Sat. 11 a.m.-3 p.m., 5-10 p.m.; Sun. 11 a.m.-3 p.m., 5-9 p.m.
PRICES Appetizers: $4-16; entrees $19-29; desserts $5-6.
ATMOSPHERE Farmhouse chic.