Sex and the City
Rec Pier Chop House adds glam factor to Fells Point.
Baltimore has always had character to spare. We're charming, with our cobblestoned streets, genteel 19th-century architecture, and decades-old crabhouses. We're hip, in the form of cool coffeehouses and cocktail bars. And, of course, we're quintessentially quirky. (Hello, John Waters and toilet races.) 
But the one thing we've never had much of until now? Sex appeal. 
Enter Rec Pier Chop House. Set inside Under Armour CEO Kevin Plank's gleaming Sagamore Pendry Hotel in Fells Point—a place which has fast become a private playground for locals—it positively oozes glamour. On a typical Saturday night, Maseratis and Mercedes pull up to the dramatic glass-wall façade, as well-toned—and well-dressed—bodies spill onto the street and through the doors, past a velvet rope, across limestone floors, and then finally into the swanky dining room appointed with luxe leather booths and cypress-green velvet banquettes. You can practically feel the pheromones here.
It goes without saying that we're not on the former set of Homicide: Life on the Street anymore. Instead, we've been transported to an Italian rosticceria chop house, as imagined by ever-talented designer Patrick Sutton and James Beard Award-winning, Michelin-starred chef Andrew Carmellini of New York City's Bar Primi and The Dutch, among others.
With massive hunks of meat for two, house-made pastas made for twirling, aphrodisiacal artichokes puréed into creamy soup, and a robust wine list, the menu for this modern steakhouse is full of temptation—and see-and-be-seen Baltimoreans have taken note. Among them, former Baltimore mayor Stephanie Rawlings-Blake, who was dining there on one of our several Saturday night visits.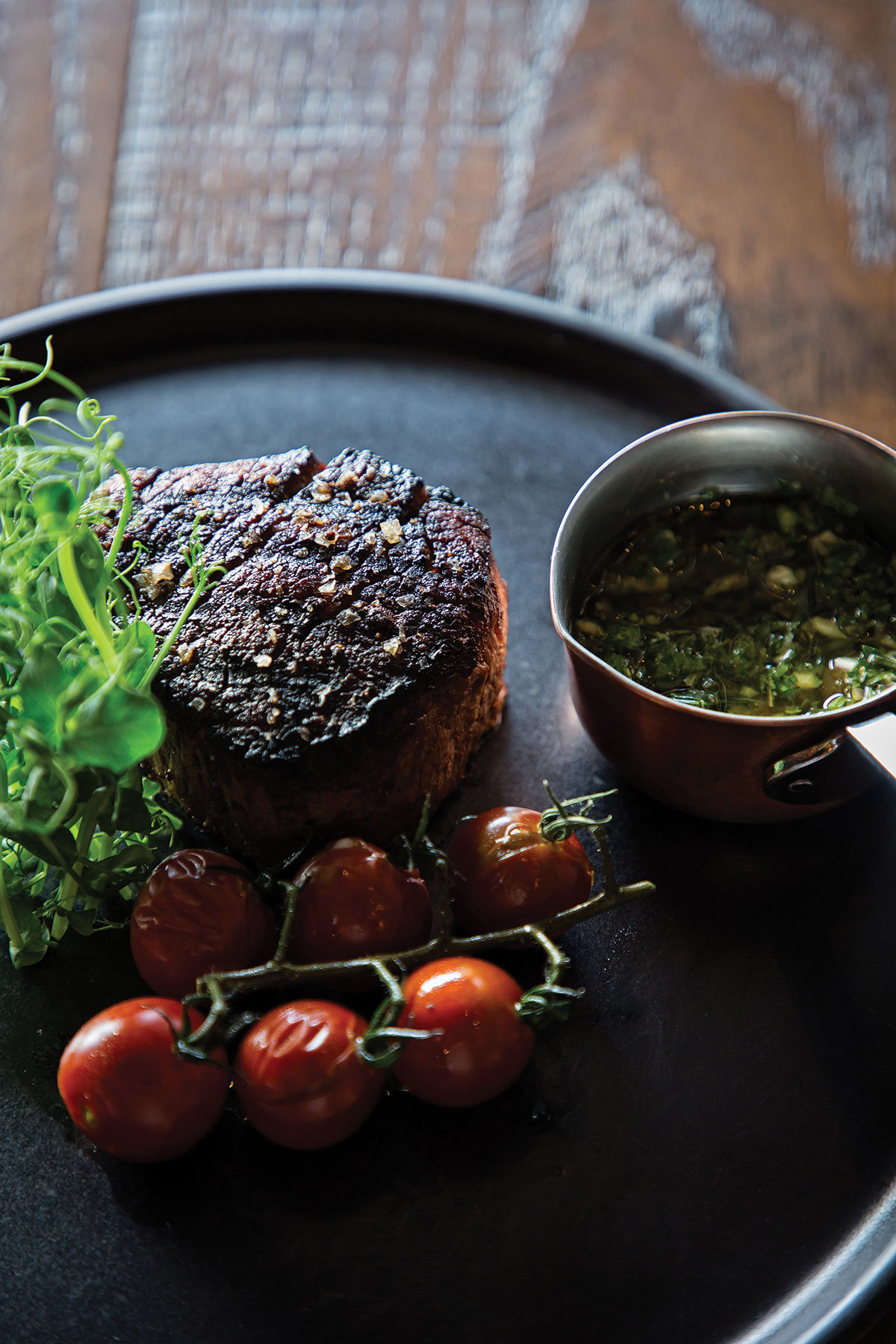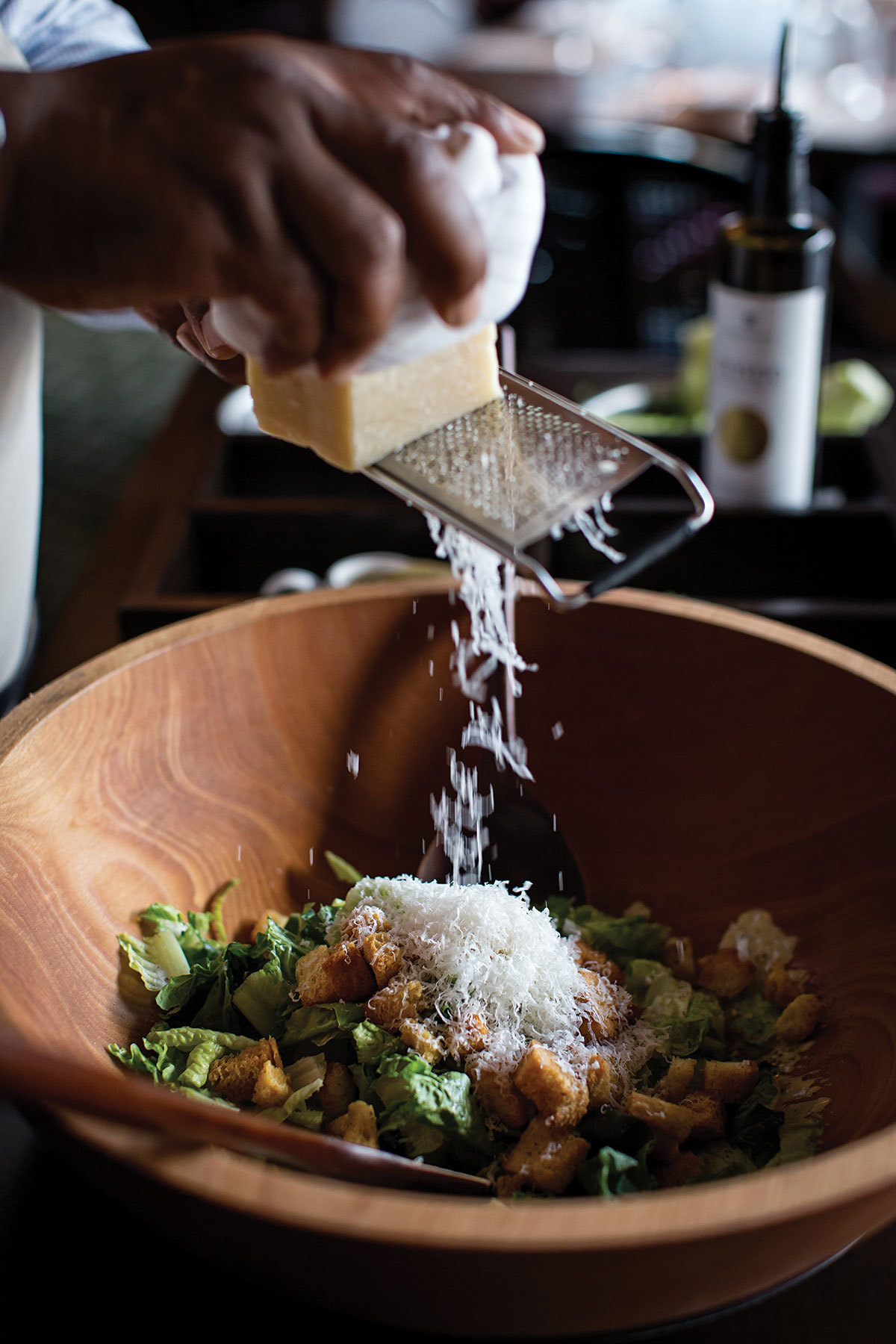 On each of our visits, we kept coming back to the classic Caesar salad made tableside—it's a highlight not only because it's a proper Caesar loaded with garlic and house-made croutons, but because watching salad specialist Miles tend to each lettuce leaf with some tongs and a set of kitchen shears is pure dinner theater. (Other servers toss, too, but Miles is masterful—ask for him.) Other star starters include a creamy puddle of burrata pleasingly partnered with pepperonata and pine nuts and ringed by a drizzle of spicy arugula pesto that adds depth of flavor and texture to the mild cheese. A dramatically composed yellowfin tuna crudo drizzled with a bracing black-olive aioli also provides a lovely beginning to the meal. The crab cake appetizer, swimming in marinara sauce and blanketed by Hollandaise, was more of a miss and something that likely only out-of-towners will order.
Our state crustacean is used to greater effect in a simple, soulful dish of house-made linguini tossed with slivers of jalapeño, flecks of Calabrian chili, and a sauce offering intense tomato flavor that plays well with the sweetness of the crab. Similarly successful was an order of spaghetti and meatballs, Carmellini's nod to the thousands of Italian immigrants who landed in the New World at Rec Pier. What an homage it is: The toothsome noodles are a wonderful foundation for the house-made marinara sauce, and the meatballs, a classic combination of ground veal, pork, and beef, feature a surprise center—a chunk of fontina.
Steaks and chops are also prominently featured. On one visit, we enjoyed an 8-ounce petit filet sitting almost monk-like on a plate adorned with a stem of roasted cherry tomatoes. If you're looking for something lighter, the rockfish cacciatore—a white filet of pan-roasted fish singed just so and served with olives, chunks of tomatoes and peppers, fried herbs, and roasted garlic—is simple but special.
Despite an overall excellent experience, I do have a few minor quibbles. Service was adequate across our visits, but the waitstaff had only shallow knowledge of particular preparations and ingredients. But I suspect that will improve in time. And maybe it's just a personal peeve, but the paper placemats were immediately stained with dabs of extra-virgin olive oil when it arrived in a saucer for dipping the tasty foccacia. (Woven vinyl placemats would have been preferable.)
We'll leave you with one more tip: Go on your birthday. Chances are, when your tiramisu arrives, you'll end up with some sparklers set inside a replica of the Ferdinand Botero bronze horse that presides in the hotel's courtyard. Doesn't get racier than that.
---

REC PIER CHOP HOUSE 1715 Thames St., 443-552-1300. HOURS Breakfast: Mon.-Sun. 7 a.m.-11 a.m.; Brunch: Sat.-Sun. 10 a.m.-3 p.m.; Lunch: Mon.-Fri. 11:30 a.m.-3 p.m.; Dinner: Mon.-Sun. 5-11 p.m. PRICES Appetizers: $6-58; entrees: $17-125; desserts: $7-12. CUISINE Modern Italian. AMBIANCE Industrial chic.