Rye Street Tavern is Serious Culinary Contender
A one-time industrial wasteland offers destination dining.
On my first trip to Rye Street Tavern, after snaking through a wall of traffic across Lombard Street, exiting off I-95 North, and getting dumped by my GPS onto a jug handle that led me past billowing smoke stacks, I found myself in an industrial No Man's Land that most locals would be hard-pressed to find on a map. In fact, my dining companion, a lifelong Baltimorean, skeptically asked, "Where are we going, anyway?" But as the global headquarters of Under Armour and the triple-diamond racing logo on the Sagamore Spirit distillery water tower came into view, the answer was apparent. Approaching our destination, there was the tavern—a stone barn-like structure with walls of windows, Adirondack chairs along the water, and the adjacent distillery rising in the distance like some sort of Emerald City. 
Welcome to Kevin Plank's Field of Dreams, his reimagined vision for Port Covington, a one-time garbage dump and abandoned rail yard where grain and coal and merchandise were once loaded onto the piers along this peninsula on the Patapsco. As the Under Armour CEO attempts to develop the 266-acre parcel by building a city within a city, Rye Street Tavern (sprung from the site of a defunct Walmart) is destination dining, at least until Port Covington starts to develop. And it's more than worth the drive it can take to find it. Clearly, others agree—woe to the patron who doesn't make a reservation.
The restaurant itself is meant to evoke Plank's Reisterstown property at Sagamore Farm, where water burbling steadily from the farm's springhouse is being used in the production of his Sagamore Spirit whiskey. Inside, interior designer Patrick Sutton, who has seemingly designed every new upscale restaurant in Charm City, has topped himself with this stunning ode to Plank's thoroughbred farm (think worn leathers and wagon-wheel lighting fixtures), along with touches that call to mind the Eastern Shore, such as oyster shells artfully arranged in wooden bowls and a coil of nautical rope on an entryway table. 
In addition to the spectacular setting, Rye Street is also a serious culinary contender: Leading the charge is Michelin-starred, James Beard Award-winning chef Andrew Carmellini of New York's NoHo Hospitality Group (the same group that gave us Rec Pier Chop House in Plank's Sagamore Pendry).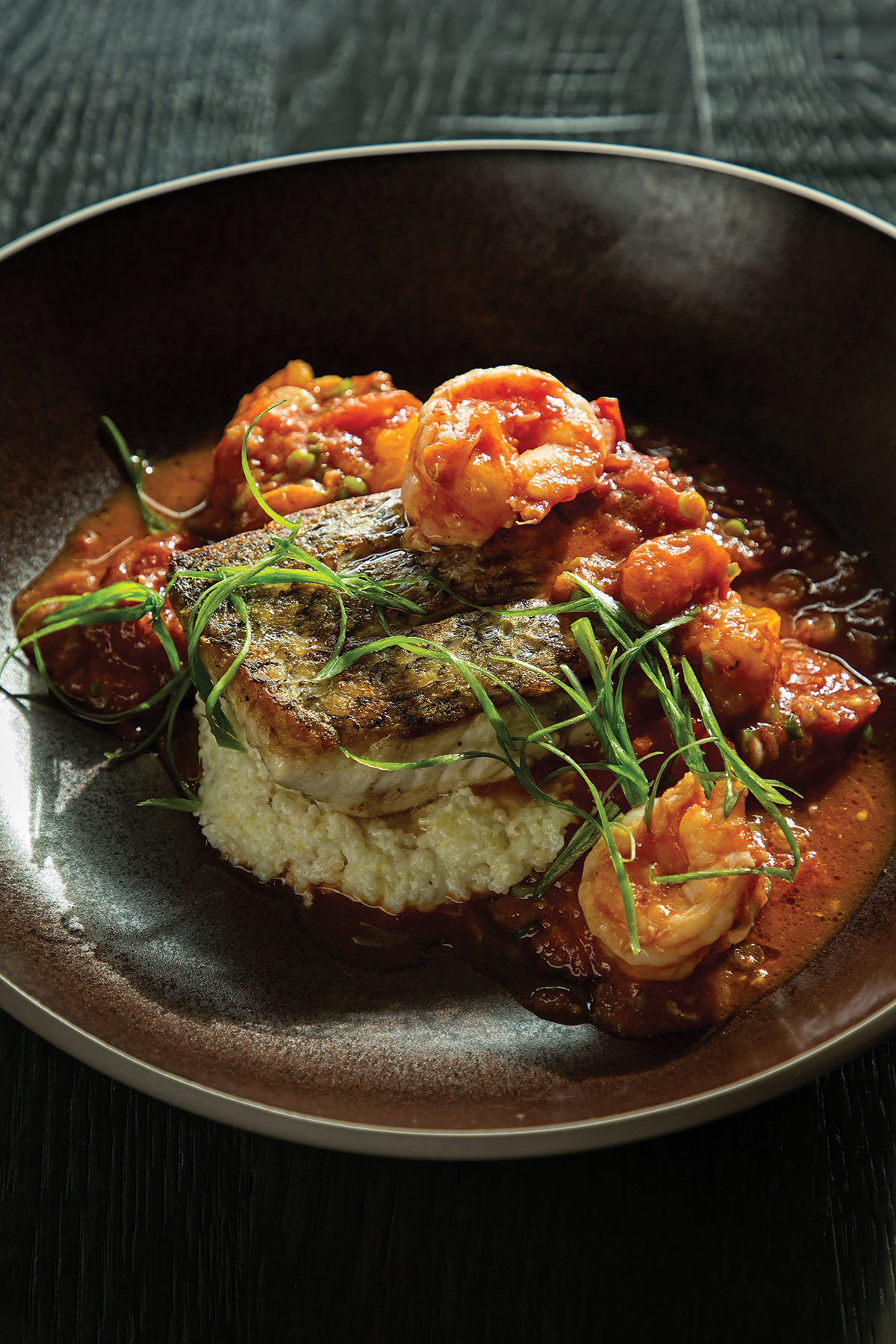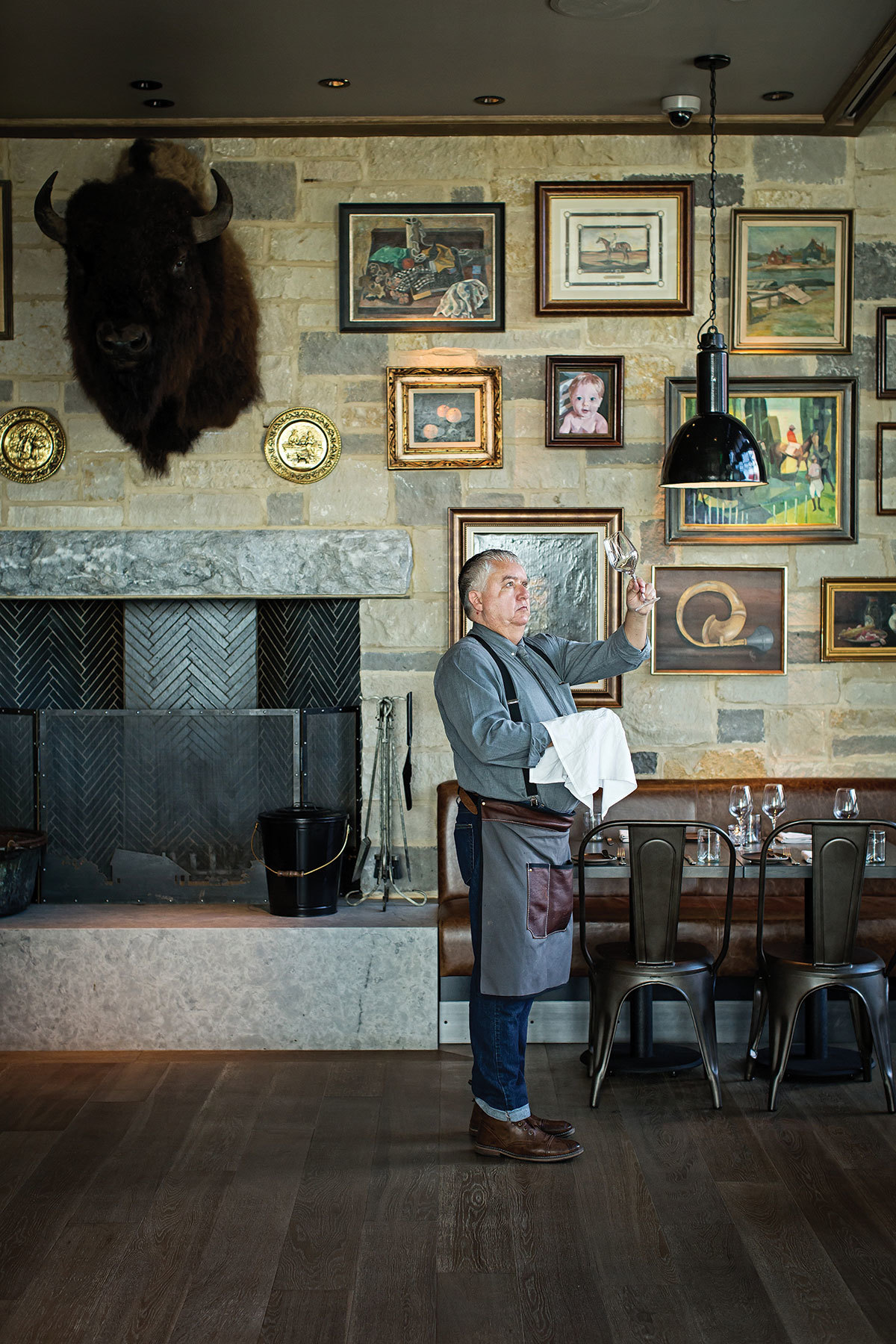 Wood-grilled Maryland rockfish; preparing for service. —Scott Suchman
With a focus on New American/mid-Atlantic comfort foods, the dinner menu is divided into appetizers, a raw bar (including ceviches, crudos, and East Coast oysters), sandwiches, and mains, including the trifecta of tavern classics (fried chicken, ribs, and burgers), an assortment of wood-fired seafood, simply prepared steaks, and a "Crab of the Day" dish. 
Over several months, I visited Rye Street five times and didn't have a bad bite. You should start with the ceviches or crudos. My favorite was the Peruvian-style striped bass ceviche, slices of the flavorful and firm fish, marinated in aji amarillo (yellow chile peppers) and fresh lime juice to make "tiger milk," then crowned with Andean corn, red onion, radishes, and fresno chillies. 
Another signature of the spot, and rightfully so, is AC's Famous Fried Chicken with pickles salted and fermented in whiskey barrels and house-made biscuits. In the '90s, Carmellini made a fried chicken road trip to taste his way through the South. The result is this boffo bird—not served in a bucket, but still something to add to your Baltimore bucket list. Whoever is working the fryer also dazzles with a simple fried-fish sandwich, a crispy hunk of flounder paired with yuzu pickled cucumbers and served on a sturdy house-made seeded bun slathered in Old Bay aioli. Also a highlight is the wood-grilled Maryland rockfish served with shrimp, grits, and smoked tomatoes. With its intensely smokey-sweet flavor profile, it was possibly the best single seafood dish I consumed in all of 2017. 
---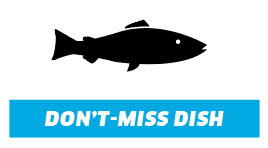 Bacon-Wrapped Trout
This dish, stuffed with Swiss chard, breadcrumbs, and a touch of beurre blanc, and served with Sea Island red peas and chow-chow relish, is a must. It was inspired by the Low Country dish hoppin' John.
---
And if you don't mind a little neck-craning from adjacent tables, don't miss Rye Street's seafood twist on a traditional potpie. Filled with carrots and peas, the dish is fairly classic, however the presentation—with a crab claw dramatically cracking through the crust—is anything but. 
Service is also excellent, and on one busy Saturday night when a large party was kept waiting, all appetizers were on the house. What impressed me most is that the waitstaff was equally versed on the menu's liquids (many of them Sagamore Rye-based, natch) as they were on the solids. 
Whether for lunch, brunch, or dinner, Rye Street is the perfect place to impress an out-of-towner or a first date, or just a spot to commune with your nearest and dearest. On one of our visits, we spied Ravens kicker Justin Tucker breaking house-made cornbread with a table of friends. And as one might expect, Kevin Plank is also a frequent patron. 
In Field of Dreams, another starry-eyed Kevin (Costner) stands in an overgrown cornfield when he hears a whisper out of nowhere: "If you build it, he will come." Plank is counting on all comers.