Sugar, Sugar
Mt. Vernon gem Sugarvale is beautiful from floor to ceiling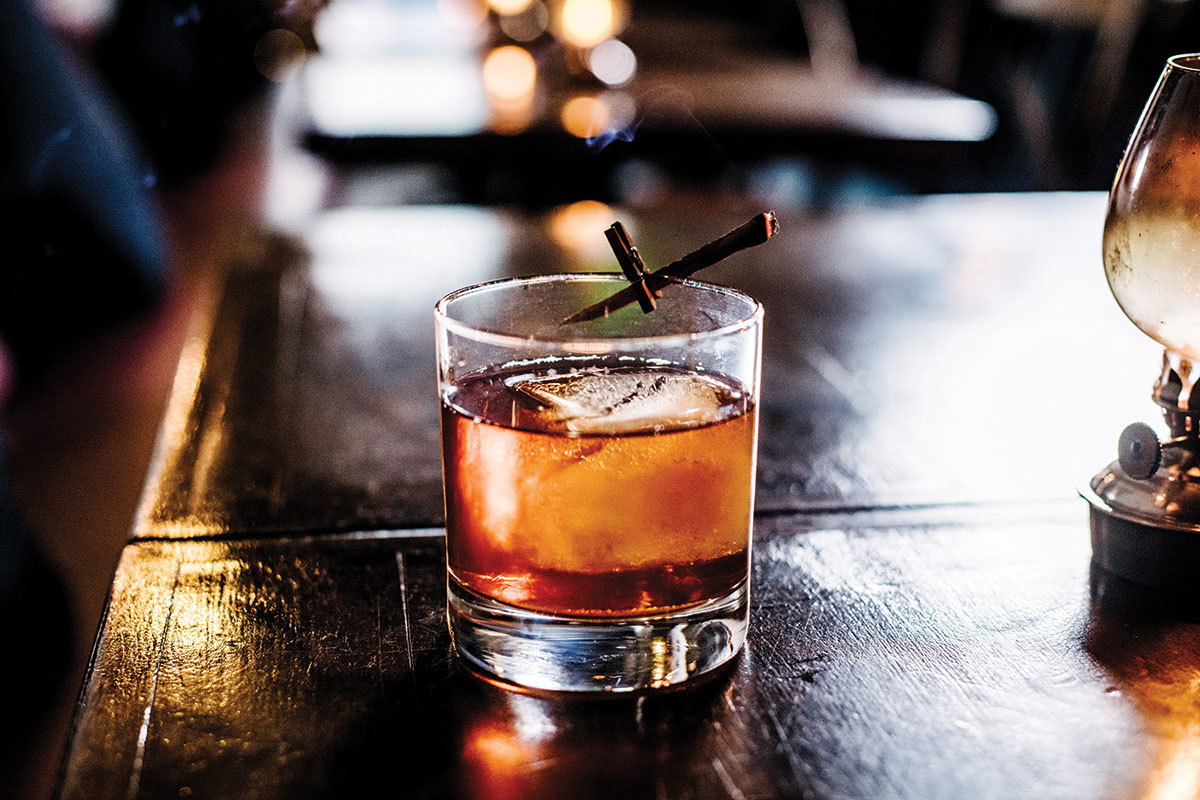 We've always loved the idea of descending stairs to enter bars—especially in the winter. There's something cozy and, yes, a little bit clandestine about these buried treasures.
And once you enter the doors of Sugarvale (4 W. Madison St., 410-609-3162), the city's grit and grime become a distant memory. The truly beautiful candlelit space with polygon-patterned tile floors features a pleasant post-punk soundtrack and rotating ceiling décor that will keep you staring skyward at flowers in the springtime and snowflakes in the colder months.
But look down and you'll notice that the creativity carries over to the menu, as well. This comes as no surprise once you discover renaissance man Phil Han—of Dooby's, Sundays, and Noona's fame—owns this bar, too. (In fact, he named it after the street he grew up on.) Back when it opened in 2015, cocktail bars like this, featuring local spirits and craft beers as much as possible, still felt like pioneers in the city.
The cocktail menu changes often, and we love the way in which it's always cleverly divided into "shaken" and "stirred" options. On our visit, this was especially apropos, since the bar was playing a Goldfinger VHS on a tiny TV in the corner. We decided on the Beauvoir, a well-balanced and hearty mix of bourbon, madeira, amaro, and pineapple-cinnamon cane syrup. Most of the dozen or so drinks on the menu contain house-made tinctures and syrups, which lend a culinary feel to the menu.
If it's real food you're after, there's a menu of small bites that includes many varieties of Dooby's-style signature buns, such as the popular Korean fried chicken (KFC for short) with daikon, purple cabbage, and sweet pickles.
And while Sugarvale is a fun place to experiment and try new things, we also appreciate the old standbys such as the simple negroni, gimlet, or Manhattan—which are all on special during the bar's generous happy hour (Monday-Saturday, 5-7 p.m. and a dangerous Sunday 3 p.m.-close).
Whatever drink you order, whichever VHS tape is playing that night, or however the ceiling is decorated that season, it's hard to have a bad night at the bottom of the Sugarvale stairs.