Review: The Alexander Brown Restaurant
With some tweaks, The Alexander Brown Restaurant could be on the money.
Though you might not know much about Alexander Brown other than his name, the textile trader-turned-banker was a local bigwig, emigrating from Ireland to Baltimore in the late 1700s. He came from humble beginnings, but by 1800, his business, Alexander Brown & Sons, became the first investment bank in America—and Brown became one of its first millionaires.
Today, the bank's former home at the corner of Baltimore and Calvert Streets (ironically now in the shadow of The Block) remains a symbol of the American Dream and Edwardian opulence. And the building, which is still owned by the Brown family, has been transformed from a bank to The Alexander Brown Restaurant.
With soaring marble columns, a Tiffany dome skylight, original artwork (a commanding portrait of Brown and his three sons presides over the place), and deep green walls reminiscent of the color of money, A.B.—as it's been nicknamed—has splendor to spare. Since its February opening, it has become one of the grandest dining spaces in the city.
It didn't take long for the word to get out. A.B. has become a go-to place for the well-heeled movers and shakers of the city to enjoy martinis, veal sweetbreads, and A-5 wagyu for two—which, at $175, might require you to break into the still-extant bank vault to see if there's any spare change.
But with a growing number of white tablecloth fine-dining options in Charm City, is A.B. worth the fuss? I wanted to love it, but simply put, the food didn't always measure up to the majesty of the space, particularly on our first visit.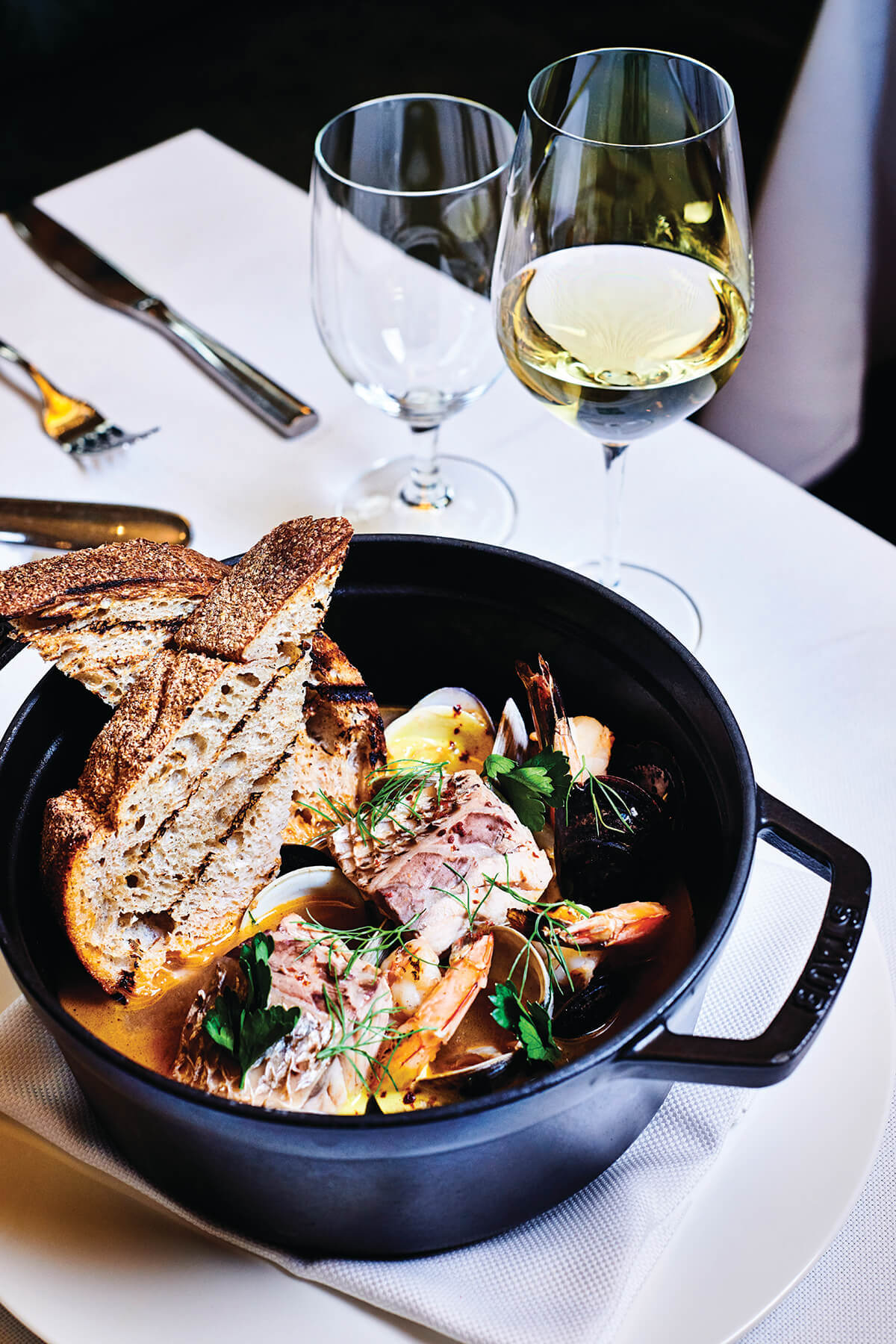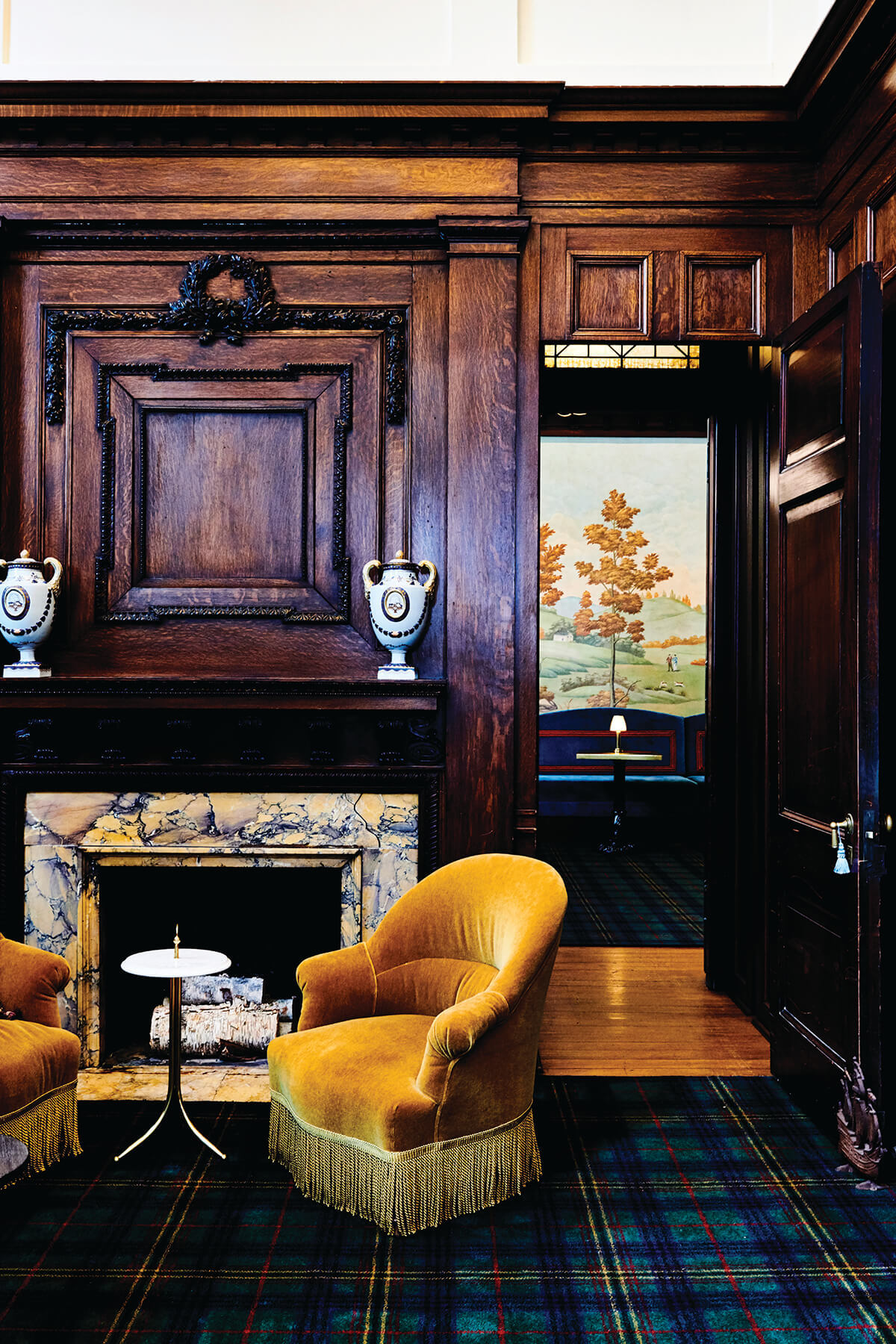 The cioppino; The glorious interior of The Alexander Brown Restaurant. —Kate Grewal
As part of its nod to Brown's travels as a trader, chef Andrew Fontaine's menu spans the globe—with influences from Asia (duck breast with black rice congee), Italy (gnocchi with kale and pesto), France (foie gras), India (salmon with chickpea panisse, cauliflower, and raisins), and the American south (fried chicken, collards).
But as delicious as the dishes sound, there is way too much restraint when it comes to seasoning. At least on our first visit on an early spring day, many of the dishes had none of the flavor promised by the descriptions on the menu—and almost every dish needed a healthy dose of salt. (We did request a salt shaker, but nothing came out when we tried to use it, so we relied on one of my dining companions to sprinkle her personal stash of Maldon salt across the offerings.)
A crab beignet appetizer mixed with herbs and crème fraîche was a clever Maryland take on the NOLA classic. It was fried to a golden crisp and had little filler but could have been buoyed by more Old Bay. A root vegetable salad with beets, roasted carrots, and radish tossed with goat cheese and honey-yogurt vinaigrette was tasty, but a squeeze of acid and a sprinkling of salt would have added brightness and drawn out some natural sweetness.
Entrees were equally bland. A cioppino for two was dramatically presented in a black Le Creuset pot strewn with a generous portion of high-quality littleneck clams, mussels, prawns, and a fat filet of rockfish, but the tomato-saffron aioli broth was watery and didn't deliver. A piece of rockfish was nicely seared and the best seasoned piece of protein on the table, but the accompanying coconut-jasmine rice was bland, and we couldn't detect any hint of the tom yum, which came on top of the fish in the form of foam.
As for the waitstaff, our server was efficient but not able to add any information beyond what we'd already gleaned from the menu. When we repeatedly pressed her for recommendations, she was completely noncommittal and seemed almost annoyed by our solicitations. "I don't know what you want me to say" was how she responded after one inquiry.
Our second visit, sitting in the bar area, was a different story.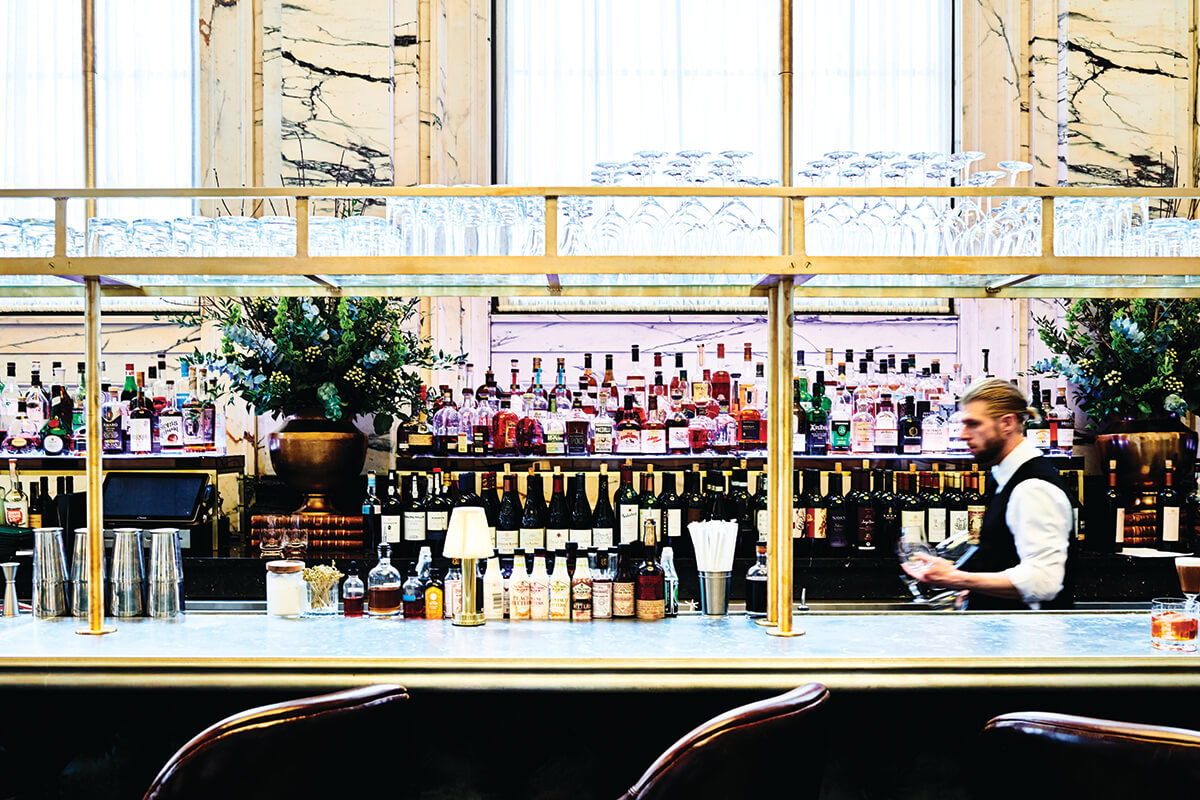 On this outing, we stuck to bar snacks and sizable sides from the main menu. The fried Brussels sprouts with pistachios, an orecchiette mac and cheese, and collards with chunks of lardon were total standouts. A charcuterie board—with its dabs of house-made fig jam, house- made mustard, and selection of meats and cheeses—was first rate and allowed us to nibble in a leisurely fashion while also oohing and aahing over the space. A chicken box for $5, plus a mound of fries, all served in a wire basket, was a nice nod to Baltimore and truly fantastic. And a round of Old Fashioneds, served with a giant ice cube to keep them from getting diluted, went down all too easily and left us pleasantly giddy.
Wherever you sit, don't skip dessert. The espresso-infused chocolate ganache—made by pastry chef Caitlin Kiehl, formerly of Woodberry Kitchen and Charleston—was a study in taste and texture with its small squares of dense date cake, crunchy cocoa nibs, and creamy espresso ice cream. And Kiehl's mignardises (a complimentary dessert after the dessert)—in this case mini lavender macarons, strawberry jellies, and sesame-seed squares—were luxurious and rich. What more could you ask of a dessert made in a former bank building?
With some tweaks, the forecast is favorable—I'm banking on it.
---

THE ALEXANDER BROWN RESTAURANT 135 E. Baltimore St., 443-438-4540. HOURS: Mon.-Fri. 11 a.m.-4 p.m., 4-10 p.m.; Sat.-10 a.m.-4 p.m., 4-10 p.m.; Sun. 10 a.m.-4 p.m. 4-9 p.m. PRICES: Snacks and appetizers: $5-24; entrees: $25-175. AMBIANCE: Edwardian opulence.