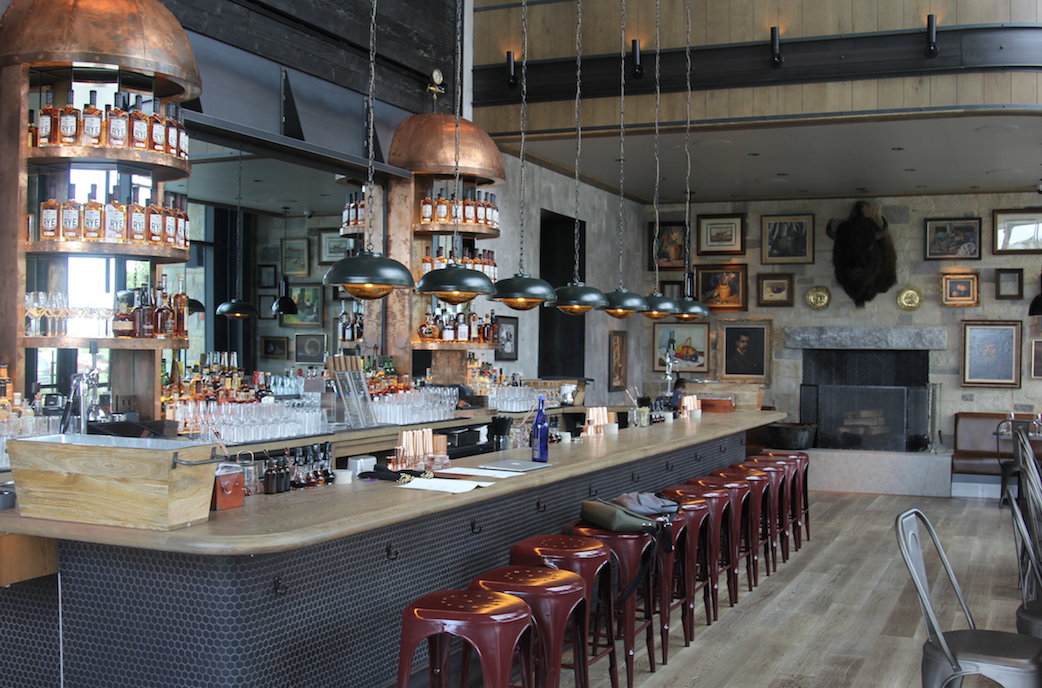 Photography by Jess Mayhugh
With more than a dozen restaurant concepts scattered from New York to Miami operating under his reign, James Beard Award-winning chef Andrew Carmellini is no stranger to the jitters of opening night.
"You have to break the machine to figure out where the holes are," he says. "I can make the recipes no problem, but it's the human component that's the hard part. Luckily, we've had a lot of practice."
Carmellini will celebrate yet another opening night on Tuesday, September 12, as he welcomes diners to Rye Street Tavern on the campus of Under Armour CEO Kevin Plank's Sagamore Spirit Distillery in Port Covington. The restaurant marks Carmellini's second venture into Charm City dining, the first being the Italian-influenced Rec Pier Chop House that opened inside of Plank's Sagamore Pendry Hotel in Fells Point last spring.
With a focus on American cuisine, the 315-seat restaurant will feature Carmellini's spins on classic comfort foods that incorporate the flavors of the Eastern Shore. Among the token dishes will include crab pot pie, classic fried chicken, Bloody Mary blue crab salad, roasted local carrots with popped sorghum (a grain similar to popcorn), and an array of wood-fired seafood bakes.
Carmellini credits visiting area purveyors—think Calvert's Gift Farm in Sparks and Whistle Pig Hollow in Reisterstown—and exploring aquaculture on the Eastern Shore as being some of the most exciting aspects of landing on the local food scene.
"Baltimore is very diverse, and no one really knows that," he says, describing the area's many microclimates. "A sense of place is important. You always want to be respectful of the community in executing it, while also presenting things from another point of view."
Developed by local designer Patrick Sutton, the restaurant's cozy interior is a fitting accompaniment to the menu of comfort foods. Filled with wooden and copper accents, the space is also a nice complement to the neighboring Sagamore Spirit Rye distillery. The building is comprised of a front bar (boasting exclusively domestic wine and spirits), main dining room, upstairs area for private events, and outdoor space complete with firepits and Adirondack chairs overlooking the water.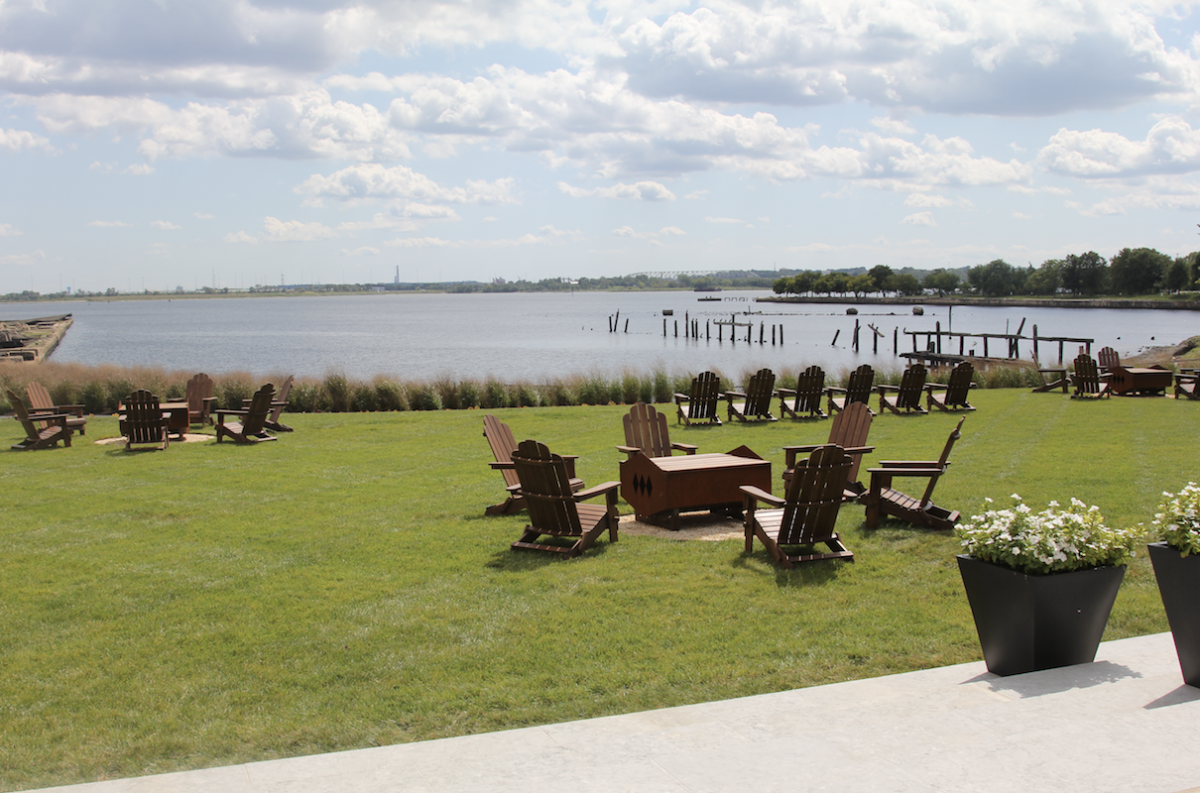 "To me, a good tavern should have a little sense of home when you walk in," Carmellini says. "That's what I want it to be—a mix between a destination and a neighborhood place where you just stop by for a bite to eat."
Aside from its own wood-burning fireplace and an elevated platform to host live music, the front bar also features a collection of vintage paintings surrounding a huge taxidermy buffalo.
The 65-seat dining room highlights a killer waterfront view, as well as elements like exposed wine racks, interior greenery, leather booths, and a chef's table overlooking the kitchen's hearth oven.
"Cooking with wood is a long American tradition that goes beyond just barbecue," Carmellini adds. "A good part of the menu is cooked over wood, so seeing it all happen creates a special connection."
Upstairs, the tavern houses two loft rooms overlooking the front bar, a dual-climate wine cellar, and two pieces of the original American flag that flew over Fort McHenry that have been framed and put on display. The top-level also pays homage to the restaurant's proximity to the distillery with a non-functional copper column still and a hallway lined with whiskey barrels.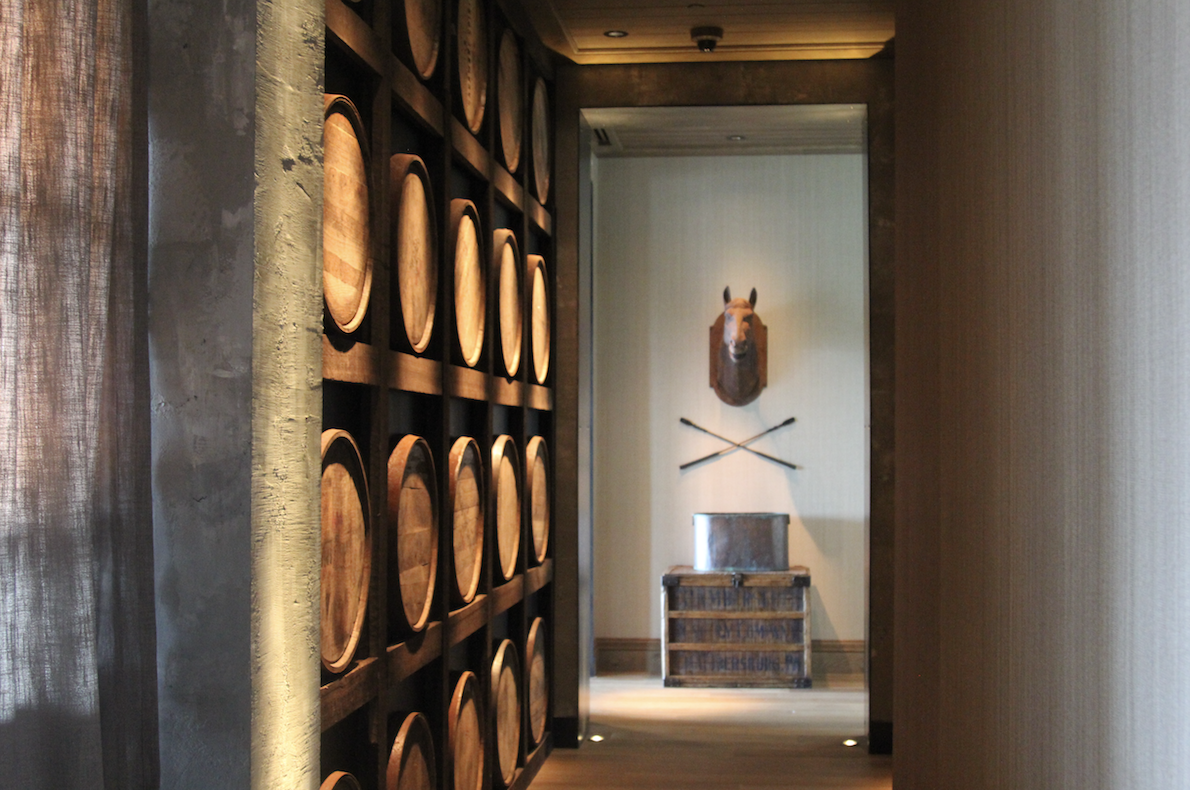 "I'm a big fan of whiskey and bourbon, and obviously wanted to incorporate that into what we do here," Carmellini says, mentioning that his team has fermented ingredients like pickles and hot sauces inside some of the reclaimed whiskey barrels. "I will say one thing about Baltimore is, man, you guys like to drink."
Other than the city's burgeoning booze scene, Carmellini says that he's enjoyed getting acquainted with the community's quirk.
"Baltimore is pretty weird, man," he says with a laugh. "There are a ton of characters around that should be embraced and celebrated. Here, you have that grit. As far as food culture goes, it's all about finding a way to maintain that organically."