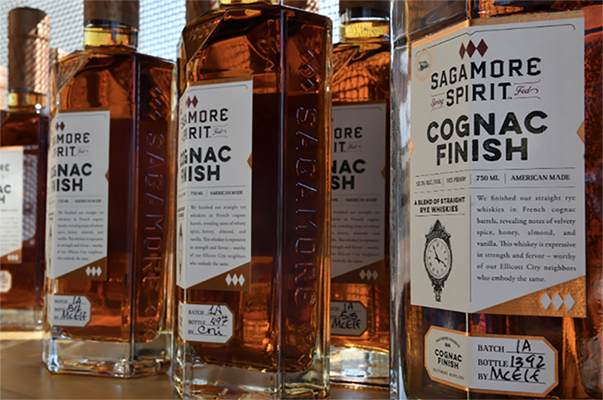 Pam Long Photography
Like many Marylanders, Brian Treacy sat devastated as he watched news footage of flood waters rushing down Main Street in Ellicott City on Sunday, May 27. The town's second catastrophic flood in two years had wiped out businesses, overturned vehicles, and taken the life of Sgt. Eddison Hermond, a heroic National Guardsmen who was attempting to rescue a resident when he got caught in the torrent.
"My heart just went out to them," says Treacy, president of the Sagamore Spirit distillery in Port Covington. "Less than 18 months after the first flood, these folks were going through this again. I immediately sent off an email to my team saying, 'I don't know what it is, but we need to do something.' By the time I came in on Monday, people were standing there at the door ready to talk about what we could do to help."
At the time, Sagamore's limited-release Cognac Finish—a rye whiskey five years in the making—was just about ready to go to market. But instead of shipping the bottles through distributors and retailers, the company decided to sell them directly from the distillery and donate 100 percent of the proceeds to flood relief efforts led by the Ellicott City Partnership (ECP).
"It was a challenging decision for us in some ways because we wanted to get it as far out into the market as possible," Treacy says. "But the way things are set up in the three-tier system, there would be one third or less of the money left by the time we went through that process. We wanted to make sure the Ellicott City community had every dollar."
This Saturday from 11 a.m. to 5 p.m., the Cognac Finish will be on full display at a special iteration of Sagamore's ongoing Whiskey on the Waterfront event. Aside from featuring the usual live music by local bands and eats from neighboring Rye Street Tavern, this weekend's outdoor fête will focus on selling all 1,000 bottles of Cognac Finish.
Priced at $70 per bottle, the limited-release rye is 105-proof—featuring notes of spice, honey, almond, and vanilla from its time spent finishing in French cognac barrels.
"We proofed it pretty high, so it's nice and strong just like the Ellicott City community," Treacy says. "We thought it would be a great dedication to them. They're extremely resilient, and they're worthy of one of our best whiskies yet."
More than 30 Ellicott City shops and restaurants have reopened since the flash flood, and officials are anticipating that traffic on Main Street could resume as early as this weekend. But there are still many residents and business owners who will benefit greatly from Sagamore's direct donation.
"As sad as a devastating flood is, I'm uplifted each day by the generosity of people all over who want to help," says Heather Gaetano, ECP board member and promotions committee chair. "When we're having our rougher moments, it really helps to know that we're still supported and people still believe in our town."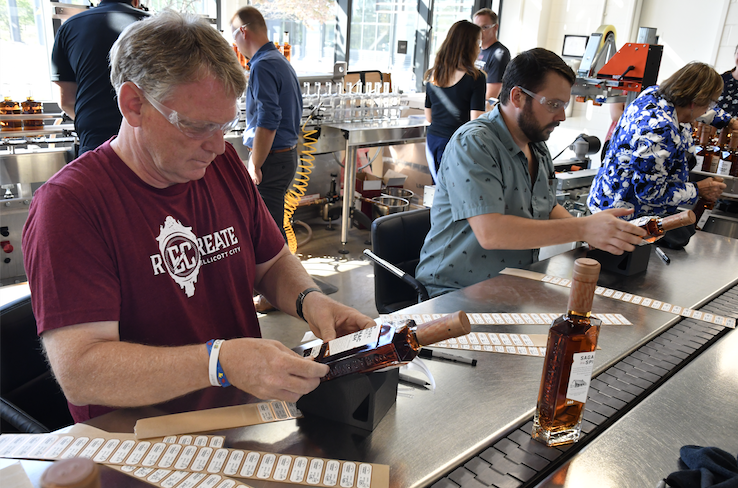 In the spirit of community, Sagamore invited Ellicott City executives to the distillery campus earlier this month to participate in the bottling of the Cognac Finish. Gaetano—along with Howard County Executive Allan Kittleman, County Council representative Jon Weinstein, and other officials—were involved in every step of the process, and even got to initial some of the labels.
"Many of our hours are usually spent agonizing over individual stories and difficulties," Gaetano says. "So this was a really positive way to be together and feel supported. It's nice to see that people don't want to let go of the magic that is Old Ellicott City."
Treacy, who describes the bottling event as a "career highlight," is looking forward to expanding that experience to the community this weekend. Though organizers are hoping to sell out at Saturday's event, any leftover bottles will be available for purchase at the EC Marketplace on Saturday, July 28—which will be followed by the 2018 ECStrong 5K around the neighborhood.
"It doesn't end once these bottles sell," Treacy says. "Ellicott City knows they have a big lift in front of them, and they do it with a smile and they don't complain. It's our job to keep checking in to see what we can do."