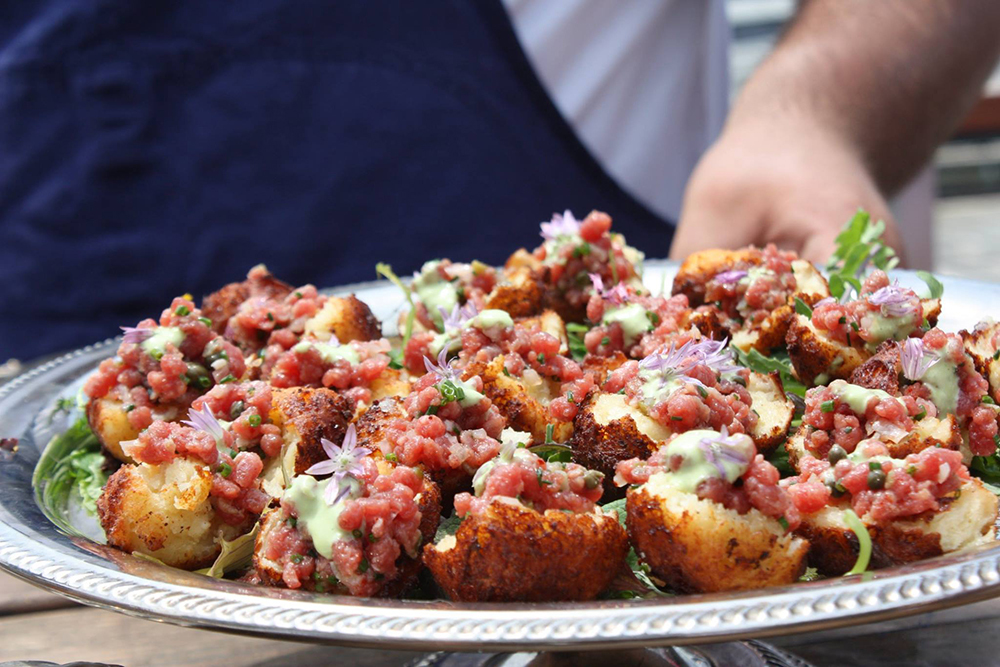 Leslie Heigh/Barry Heigh for SobeSavvy.com
Charity fundraisers conjure up a lot of images: white tablecloths, a big-ticket silent auction, and plenty of fancy gowns and tuxes. But organizers at the Cystic Fibrosis Foundation of Maryland conceived of a different model when launching the inaugural Feastival last year.
"There's a much younger crowd that the $10,000 table doesn't really work for," says Kari Mutscheller, the local CFF chapter's senior development director. "This event spans a much bigger age bracket and it's an afternoon of eating and drinking downtown. This is mostly a party, but with a really great cause attached."
This year's event, Saturday, June 17 on the waterfront promenade at Four Seasons Hotel Baltimore, boasts more than 20 food and drink options from around the region, including some new faces like Gnocco, Diamondback Brewing, Center Cut Donuts, La Food Marketa, Belle Isle Spirits, Ground & Griddled, and Modern Cook Shop.
"Our goal is to promote and get to know the more up-and-coming restaurants," Mutscheller says. "This is a nice way for our guests to discover some new offerings in the city they may not have already tried."
In addition, restaurant options include more well-established locations like Wit & Wisdom, Hersh's, Clavel, and Atlas Restaurant Group's Azumi and Loch Bar. In fact, it was Atlas owner Alex Smith who helped to co-found Feastival last year with fellow CFF board member Mack McGee.
"Those two are the founding chairs of this event," Mutscheller says. "It was their idea to take this kind of thing out of the ballroom and really into the streets."
Something new for 2017 is that Feastival appointed five Cystic Fibrosis ambassadors to help get the word out about the event and disease through individual happy hours and social media. Each ambassador—which includes Katie Rose Broadhurst of Mix 106.5 and local advocate Katharine Scrivener—was tasked with trying to raise $3,000.
"One thing people don't understand about CF is just how invisible it can be," says Scrivener, who was diagnosed at 16 years old. "There are always shocked because most of us, even at different stages in the disease, look relatively healthy. This event gives us a chance to explain our stories."
In fact, each ambassador created videos that they could share to do just that. One of the many challenges of CF is that patients can't be around each other in close quarters because of certain bacteria they carry, which can lead to serious infection. But because this event is spread out and outside, all of the ambassadors can attend with their friends and family.
"Even though we'll never be able to sit around a table in the same room, this will be a great way to spend the day in the same place with the same goal," Scrivener says. "The way the local food community has come together, how hard the other ambassadors have worked, and the support of my friends and family is why an event like this is so fulfilling and purposeful."