Shaking up Salt
What happens to a successful restaurant when the chef steps down?
When Salt opened in 2006, Baltimore was agog over the inventive
cuisine that was presented in the friendly tavern setting on the cusp of
Patterson Park. Co-owner/chef Jason Ambrose may have single-handedly
put duck-fat fries and foie-gras-and-Kobe-beef burgers into our
collective consciousness—and stomachs. Local publications raved about
the food; it garnered four stars from The Sun and several "Best of" nods from others, including Baltimore magazine. About the only complaint was the lack of parking in the neighborhood.
As the years passed, the restaurant under Ambrose and his business
partner and mother, Jane, continued to flourish. The parking issue had
also been somewhat addressed with new angled spaces.
But there was a glitch. The chef was getting restless. "I wanted a
little bit of a break," Ambrose says. "I'd like to do something else."
He wasn't just going to bail on Salt, though. After all, he and his
mom still own the place. For his replacement, he looked no further than
his own kitchen, turning to sous chef Brian Lavin, who had been with him
for three years. "He seemed to embrace it," Ambrose says. "He has a
strong work ethic."
On recent visits, Lavin, 26, appears to be keeping the cooking vibe
alive and well at Salt. And while the new executive chef is adding his
own interpretations to the New American menu, many of the offerings are
familiar from the restaurant's early days: those duck-fat fries, for
instance, and the sliders, now made with Wagyu beef.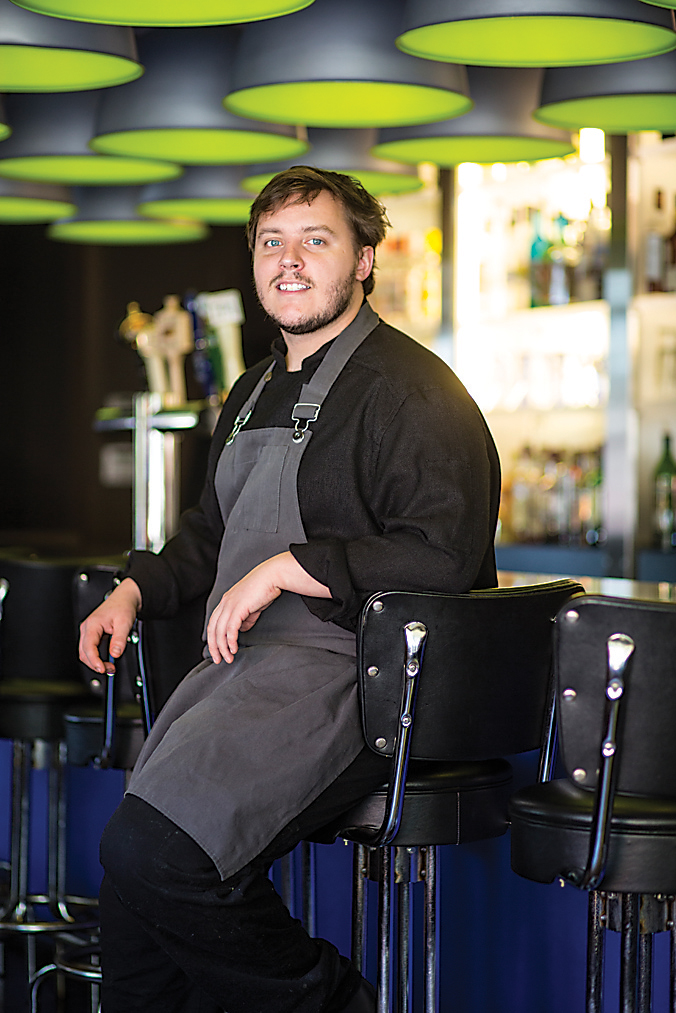 Another mainstay is the coriander-and-pepper-crusted tuna. After
sampling the sushi-grade fish with the spicy coating and ginger-soy
glaze, we can understand why it remains a staple. The Asian flavors
resound with a mound of delicate seaweed salad and tender pot stickers
bundling shredded tuna.
The ambiance of Salt continues, too, with its still-trendy wood
floors, exposed brick walls, and free-flowing jazz emanating from a
sound system. The congenial space is divided into a small dining room on
one side and a bar with tables on the other. The dome green lights
hanging from the ceiling cast a signature glow.
Service is casual but efficient. On one visit, we were enamored with
an oven-roasted duck surrounded by date purée, roasted figs, chickpeas,
and tzatziki sauce. The bird's rosy meat was so moist and succulent, we
asked our waiter about its origins. He quickly went to the kitchen to
inquire, returning to explain that it was a Rohan duck raised at a small
farm in New York state.
That's the kind of select sourcing the restaurant is doing, whether
it's a Duroc pork chop, Skuna Bay salmon, or East Coast halibut. Lavin
also mixes up his starters and entrees with various accompaniments on a
constantly fluid menu. On another evening, the duck breast was served
with grilled porcini and farro salad, strawberry purée, and sherry
gastrique.
When we ordered the chicken-liver pâté to start, our server praised
the chef's preparation of pâtés and terrines. Indeed, the velvety
mousse-like spread was earthy and delicious, especially spread on
grilled bread (we could have used more) with blueberry jam and spiced
pistachio butter. Another appetizer, the crispy pork-belly confit, was
as beautiful as it was mouthwatering with charred white-corn polenta and
a melon-and-cherry-tomato salad enhancing the pleasantly fatty meat.
A few weeks earlier, we had started our meal with a
wild-sockeye-salmon crudo (tartare) with a cucumber-and-radish salad
dressed in fresh herb oil and a chilled melon-and-cucumber soup with
shaved Serrano ham, black-pepper yogurt, and watercress oil.
Our main meals were successful then, too—from a free-range grilled
half poussin with gnocchi, morel mushrooms, roasted garlic, and arugula
to pan-roasted halibut with eggplant caponata.
The dishes constantly sing with ingenuity as do the desserts. The
goat-cheese doughnuts, dotted with vanilla sea salt and drizzled with
lavender honey, have been on the menu for years. We're glad they haven't
been lost in the chef shuffle. We also appreciated the cheese plate
highlighting the intriguing flavors of a Spanish Manchego, Oregon smoky
blue, and Italian Quadrello di Bufala.
These days, you're likely to find Jason Ambrose in the front of the
house, schmoozing with diners instead of orchestrating meals. But he's
already planning his next venture. He recently signed a contract on a
building in Locust Point. It won't be another Salt, though. "It will be
nothing more than a bar that does food," he says.
Maybe he'll call it Pepper. Just saying. We haven't heard the last of Salt's founding chef.
---
›› Salt: A New American Tavern,2127
E. Pratt St., No. 1, 410-276-5480. Hours: Dinner: 5-10 p.m.
Tues.-Thurs., 5-11 p.m. Fri.-Sat., 4:30-9:30 p.m. Sun. Cuisine: Seasonal
New American. Price: Appetizers: $7-15; entrees: $18-28; desserts:
$7-10. Atmosphere: Neighborhood bistro setting in a corner row house
with a small, brick dining room and a cheerful bar with tables.