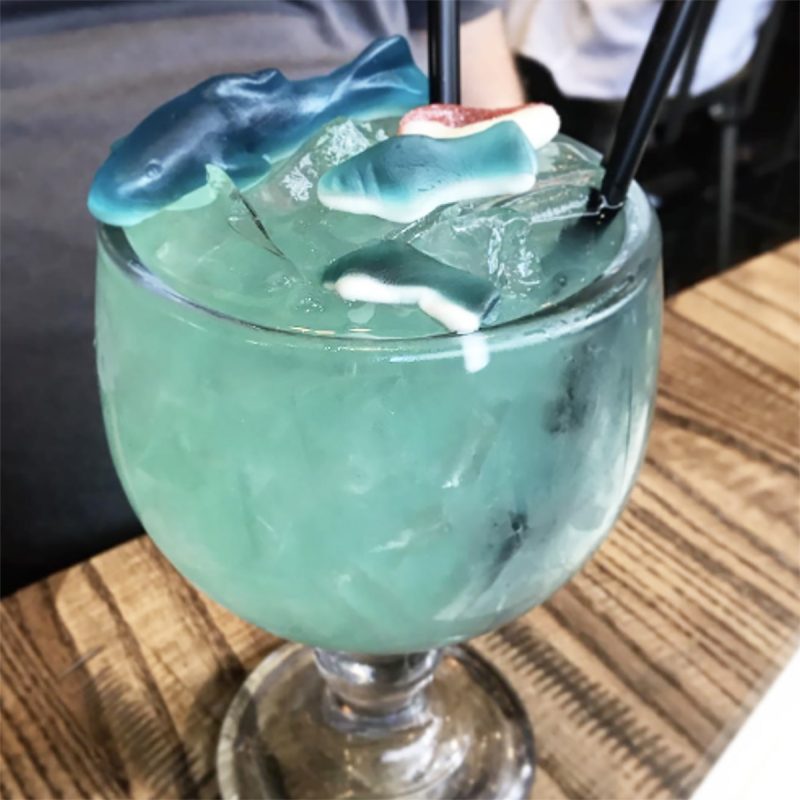 @scott98rock via Instagram
Just when we thought we had finally escaped the "Baby Shark" song invading our social media feeds, the ominous theme from Jaws will now begin playing on a loop as Discovery Channel brings back its annual promotion celebrating the gargantuan fish. Shark Week is officially upon us, and outposts all over the city are celebrating in style.
The National Aquarium, one of the Inner Harbor's crown jewels, is offering a specialized tour if you dare to walk with the sharks. But for those with cravings for more tasty shark-themed specials, there are plenty of ways to get in on the fun without going to the beach. From ocean-themed drinks to edible shark candy, here are a few highlights:
7/28-8/4: Woody's Cantina
Enjoy Shark Week with fin-credible specials at this rooftop spot in Fells Point. This Mexican restaurant is serving up (Great) White Claws or Landshark bottles for $5 or less. Of course, you can catch the main event—while taking in the rooftop views—with the 24/7 shark coverage on all of its TV screens.
7/28-8/4: Black Eyed Suzie's
Suzie's in Bel Air hosts regular specials like martini Mondays, kids-eat-free Thursdays, and daily happy hours from 2-7 p.m., but this week the neighborhood bar is partnering with Malibu and Jameson to bring you shark-inspired food and drink specials. You can drink like a fish at this celebration while tuning in to the weeklong Discovery Channel event.
8/3: Wayward Smokehouse Viewing Party
Head over to this party at Wayward Smokehouse in Federal Hill to get hooked on Landshark specials, shark-bite bombs, games, gifts, giveaways, and fittingly themed mini pools. Not into seafood? Classic American barbecue dishes are smoked daily by executive chef and pit master Josh White.
7/28-8/4: Atwater's
Swim over to Atwater's to find a shark lurking in your latte. In addition to the coffees topped with shark-designed latte art, the homegrown cafe will also have all of its signature sandwiches and salads for a meal you can really sink your teeth into. Don't let the lack of seafood fool you, shark week is in full swing here.
7/28-8/4: Nacho Mama's
This Tex-Mex favorite features margaritas famously served in hubcaps. For Shark Week, Nacho Mama's is serving up a scene from Jaws in the form of a blue margarita with a facedown figurine, splash of grenadine, and blue-gummy sharks circling. It might seem intense, but you'll be drinking in comfort on dry land.
7/28-8/4: Papi's Tacos
In Hampden, Papi's Tacos is mixing up a variety of ocean-themed cocktails. The newest location will bait customers with a frozen Shark Week house margarita featuring a gummy-ring life preserver. But, don't stop there. There's also an expanded drink menu including the tequila-infused "Mako-Rita," "Coral Reef" (Malibu rum, pineapple juice, grenadine, whipped cream), and the "Hot Hammerhead" with jalepeno-infused tequila and club soda.
7/28-8/4: Charm City Chocolate
This corner candy store made the perfect treat to lure in customers with a sweet tooth. The chocolatiers have fished out chocolate-covered blue raspberry gummy sharks, making the man-eater become the pray. In this case, we strongly encourage you to play with your food.
7/28-8/4: Frazier's on the Avenue
Any shark would appreciate these fishy specials, and Frazier's includes an array of seafood to devour. Chomp down on beer-battered ahi tuna bites, fish tacos, and salmon cake sliders. With these features, it is hard not to take the bait.