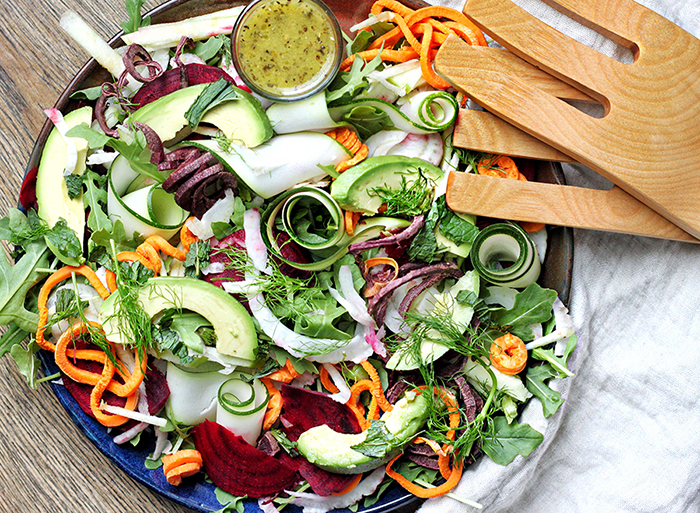 Allie Mason
Spring is finally here—meaning the birds are chirping, flowers are blooming, and we finally have an excuse to leave the house on the weekend to hit the farmers' market. Farmers' markets are the best way to scope out local, in-season produce and are a great perfect opportunity to meet your local farmers, ask what produce they recommend, and get fresh ideas on how to use it.
The warmer months of spring give us bright, delicious seasonal vegetables, which help liven up any salad or veggie dish. Great in-season spring vegetables to keep an eye out for include arugula, peas, carrots, spinach, artichoke, and asparagus.
Try to grab a variety of root veggies since they can be enjoyed several different ways. They offer a delightful crunch when raw, or are hearty and comforting when roasted.
Delicious spring root vegetables include beets, radishes, sweet potatoes, fennel and carrots. When raw, beets and carrots are a wonderful crunchy addition to any crudité platter, but they can also be enjoyed roasted or grilled. Similarly, fennel gives a fresh bite when added to salads, and adds a unique flavor when pureed into soups. The beauty of root veggies is that there are several ways to prepare them.
This salad recipe is a great way to incorporate all of your farmers' market finds. It also presents beautifully, which will make you the talk of any dinner party. Thanks to the bright colors of the veggies, it seems to look stunning no matter what. Next time you hit the local market, be sure to snag these ingredients to make a tasty spring salad.
Ingredients

For the salad:
1 fennel bulb
1 red beet
1 zucchini
1 green apple
1 large sweet potato (either orange or purple)
2 cups of arugula
½ ripe avocado
2 sprigs of mint
Goat cheese (optional)
For the dressing:
Juice from 1 large lemon
2 tablespoons extra virgin olive oil
1 teaspoon Dijon mustard
½ teaspoon honey or maple syrup
½ teaspoon dried basil
¼ teaspoon onion powder
¼ teaspoon salt
Instructions
For the dressing:
In a bowl, add lemon juice, extra virgin olive oil, Dijon mustard, honey, dried basil, onion powder and salt. Whisk vigorously for one minute until all ingredients are fully incorporated.
For the salad:
Preheat your oven to 400 degrees Fahrenheit. Spiralize or cube the sweet potato and add the pieces to a baking sheet. No need to add oil or seasoning to the potato. Once the oven has come to temperature, bake the sweet potato cubes or strands for 10 to 15 minutes until fork-tender. Allow them to cool to room temperature before serving.
Using a mandolin or sharp knife, thinly slice the fennel bulb, apple and beet. Be sure to set the beets away from the other ingredients to avoid color transfer.
Using a vegetable peeler, slowly run the peeler down the long side of the zucchini. Peel thin zucchini ribbons on each side until you reach the seeds. Stop peeling once you can see the seeds.
Slice the avocado into thin wedges.
On a large plate, assemble your salad starting with a bed of arugula. Arrange the other vegetables to your liking. Drizzle dressing on the salad at time of serving. Garnish with fresh mint, fennel greens and optional goat cheese.