Shore Pours
Stop by these craft breweries when you head down the ocean this summer.
At least in the mid-Atlantic, beer and the beach go together like vinegar and Boardwalk fries. We can't think of many more enjoyable summertime activities than cracking a crisp cold one in the sunny, salty air. So why not go straight to the source? These beach-area breweries are proving that Ocean City, Rehoboth, and the surrounding areas are hoppin' with tasty beer.
Before you even hit the coast, make a pit stop off of Route 50 at Evolution Craft Brewing (201 E. Vine St., Salisbury, 443-260-2337) in the college town of Salisbury. With humble roots that started in a small shack in Delmar in 2012, Evolution recently moved to its massive, 30,000-square-foot facility——complete with a tasting room, a full restaurant, and daily tours. Amber ale fans will appreciate the popular Exile Red Ale, which has notes of caramel and citrus that would pair well with the restaurant's brisket sandwich.
Just a 30-minute drive east is Burley Oak Brewing (10016 Old Ocean City Blvd., Berlin, 443-513-4647), one of the best breweries in the state and a place where people line the streets for new can releases and weekend events. With bold graphic designs and clever nods to music and pop culture, Burley Oak has been taking creativity to a new level, even getting in the local farming game to produce their own barley and malt. The brewery has perfected the art of the sour ale, as evidenced by Sorry Chicky or their latest J.R.E.A.M. series, using flavors such as piña colada and açai berry.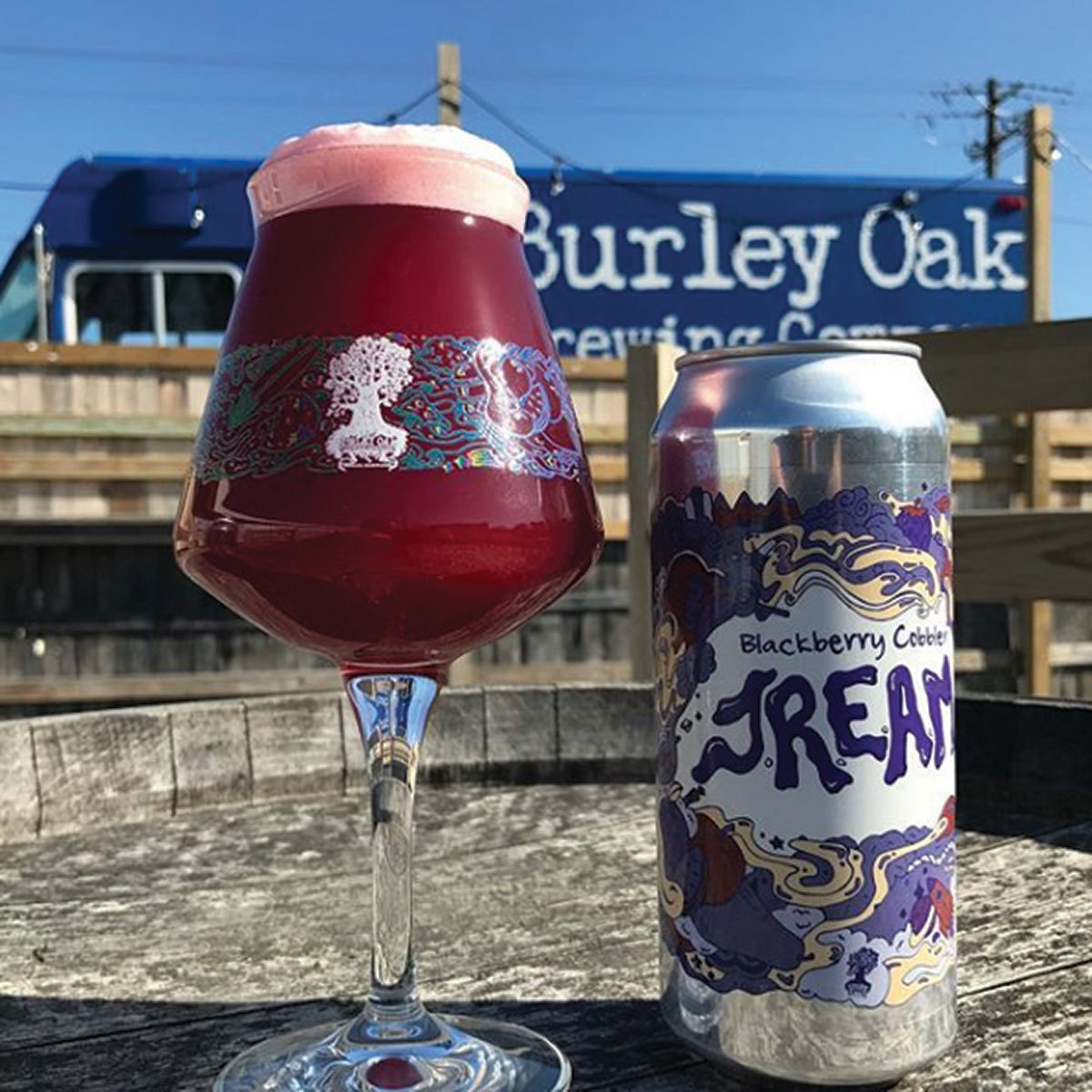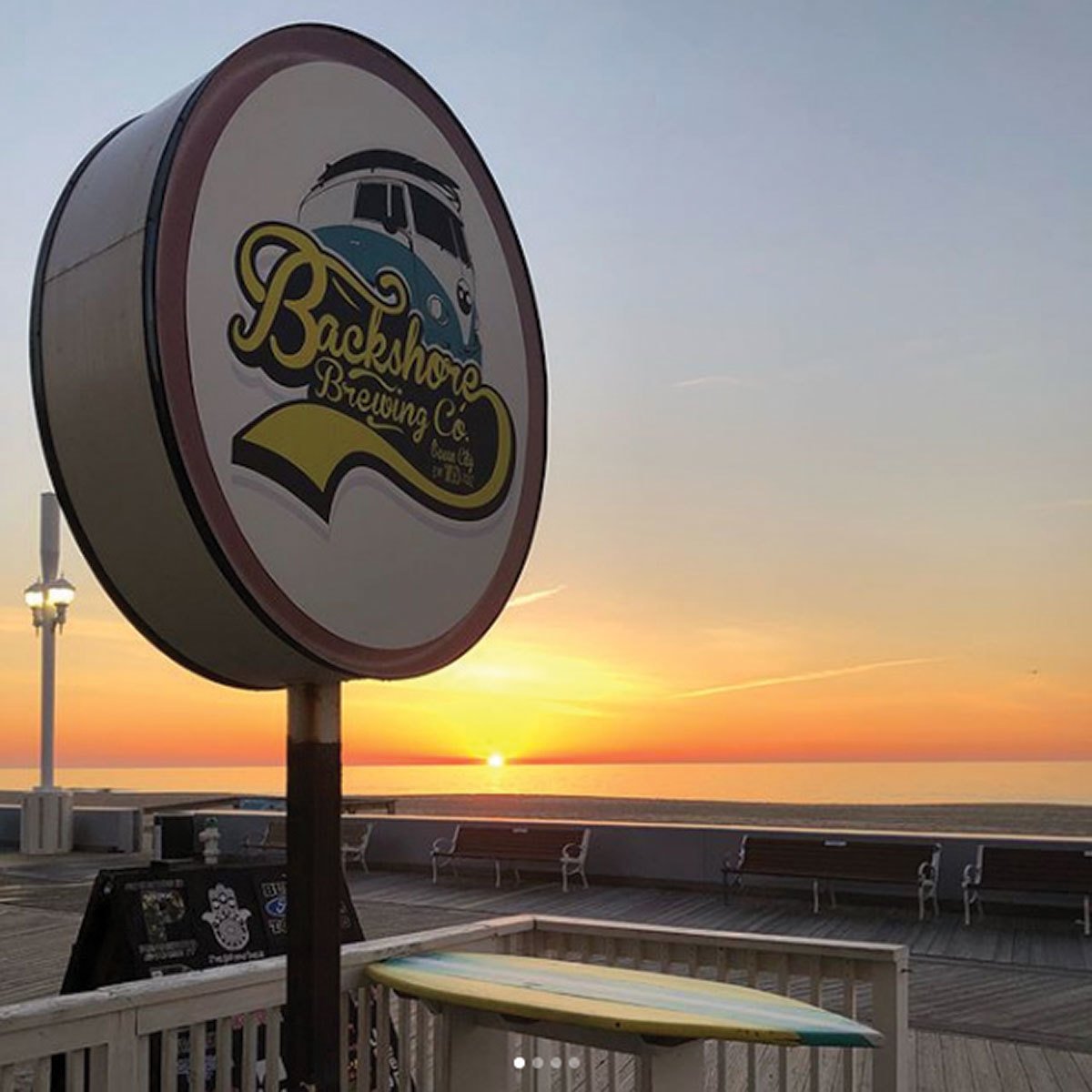 A blackberry cobbler beer at Burley Oak and sunset at Backshore Brewing.
Once you make your way to Ocean City, head straight to the Boardwalk to visit Backshore Brewing (913 Atlantic Ave., Ocean City, 410-289-0008). With a skateboard motif and punny-named beers like Down By The Peach—a strong and juicy peach saison—this is the ideal spot to grab a seat with an ocean view and watch the waves as the sun sets.
No beer lover's trip to the beach would be complete without a visit to Dogfish Head (6 Cannery Village Center, Milton, DE, 302-684-1000), the granddaddy of mid-Atlantic craft beer. With a brewery operation, its own distillery, and even a bed and breakfast on site, it feels more like a full-blown campus. Be sure to take a tour (offered on the hour, seven days a week) and stay for samples in the taproom.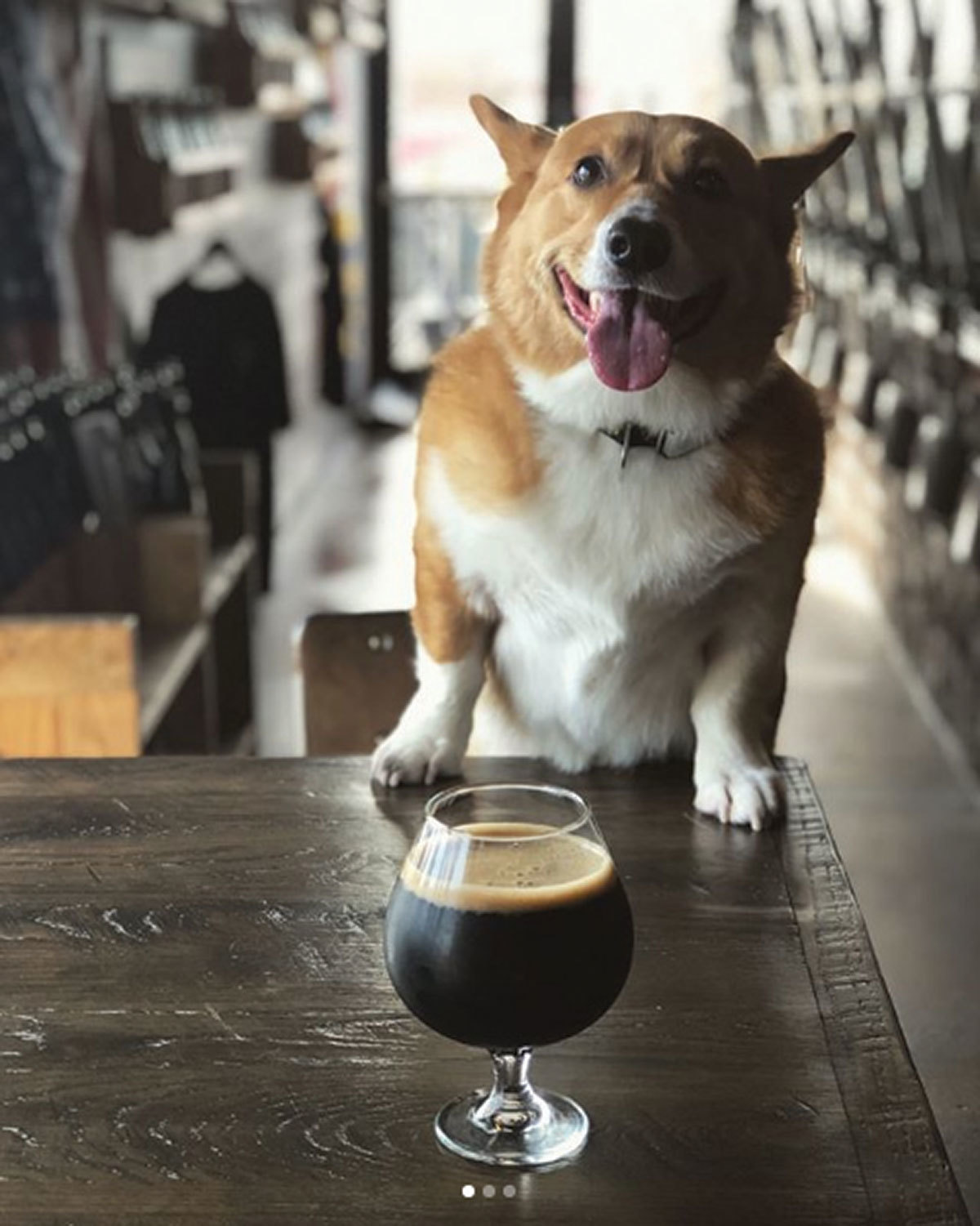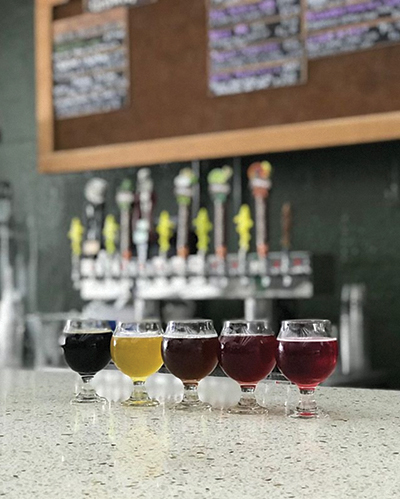 Pawed patron at evolution and a beer flight at Dogfish Head.
Dogfish Head is cranking out some amazing partnerships, including a dragonfruit pale ale they made with the Flaming Lips and a limey and sour SeaQuench Ale, with proceeds benefiting the National Aquarium in Baltimore.
Also making a name for itself in Delaware is Revelation Craft Brewing (19841 Central St., Rehoboth Beach, DE, 302-212-5674), which opened in July of 2016. The cozy taproom is just 1,500 square feet, extremely bike-friendly (even offering growlers that can fit into bike water-bottle holders), and often features food from DaNizza Wood Fired Pizza.
Nothing like a classic margherita pie paired with a Sussex County blonde ale to round out your beach weekend.